Hogs: Greenlaw keeps healing; RB competition; notes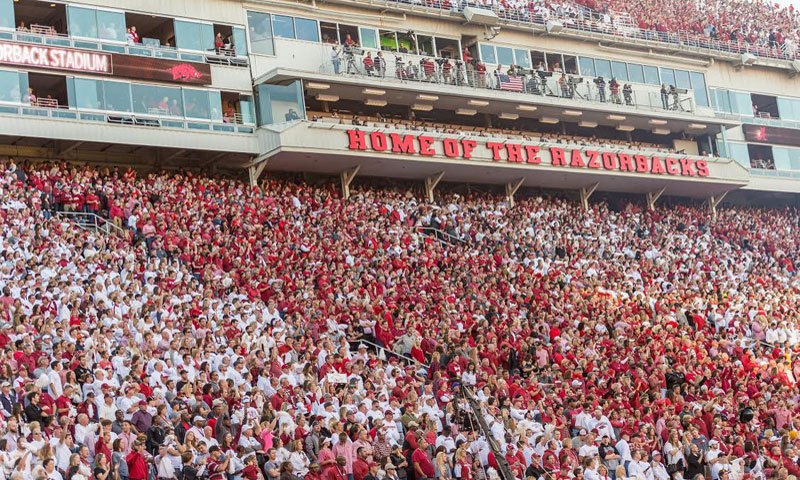 FAYETTEVILLE - You can tell how Dre Greenlaw is recovering from injuries by looking at his position coach.
Vernon Hargreaves coaches Arkansas' inside linebackers. They include Greenlaw, a junior and two-year starting weakside 'backer.
Greenlaw has practiced the most extensively this week, Arkansas coach Bret Bielema and linebackers coach Hargreaves have said, since breaking his foot during the 2016 Belk Bowl after breaking it the first time during last season's Alabama game.
"You see me smile?" Hargreaves said. "He's showing me what he can do. He's that guy at that position who can run and make tackles. I feel really good about him."

It's still not announced if Greenlaw will scrimmage Saturday, but Bielema and Hargreaves seem increasingly optimistic that Greenlaw will play in the Aug. 31 season-opener against Florida A&M in Little Rock. Greenlaw certainly will be ready by the Sept. 9 game in Fayetteville against TCU, Arkansas' most regarded non-conference opponent for 2017.

MORGAN EXCELS
In the meantime, sophomore walk-on Grant Morgan of Greenwood has practiced plenty at first-team weakside linebacker and practiced at first-team middle linebacker since sophomore De'Jon "Scoota" Harris was injured during Saturday's scrimmage.
Even if Greenlaw and "Scoota" Harris both scrimmage Saturday, Morgan should get plenty of time in the second scrimmage of preseason after recording eight tackles, including three for lost-yardage, in last Saturday's scrimmage.
Redshirt freshman reserve weakside linebacker Giovanni La France, also made eight tackles, including three behind the line.
"Obviously Grant Morgan has done an outstanding job," Hargreaves said. "I like where he is. Some guys have a really good knack. The difference between a guy like Gio (La France) and Grant is that Grant is a little more consistent than Gio."
Hargreaves did say La France progresses, and he touted redshirt freshman Dee Walker.
"Dee and Gio have stepped up," Hargreaves said. "Dee is doing a really nice job."
JOSH HARRIS OUT
Josh Harris, the junior starting special-teamer and reserve sophomore reserve middle linebacker from Watson Chapel, will miss "extensive" time with an injury during last weekend, Bielema said Thursday and Hargreaves confirmed Monday.
"He's gonna be out a little while," Hargreaves said. "He's trying to get back here (actively practicing) as soon as possible.

Harris, a walk-on lettered last season while collecting eight tackles on special teams.
WHALEY UPS HIS GAME
It seems sophomore Devwah Whaley has been coronated Arkansas' top  running back since Rawleigh Williams, a 1,360 rusher last season, suffered a career-ending neck re-injury last spring.
Whaley looks No. 1, but David Williams, the graduate student transfer from the University of South Carolina, and true freshman Aaron Hayden are pushing Whaley for first-team status.
Bielema said: "I think the applied pressure of David Williams and Chase and Maleek (Williams, also a true freshman) has made him realize, 'Hey, I'm not the man all by myself. If I want carries, I've got to earn them.' So he's been really, really good and has been locked in. Been phenomenal since fall camp started."
All the running backs help each other, Bielema and running backs coach Reggie Mitchell say, in part because they need each other to share and weather the season's physical grind.
WALK-ON KICKER
Place-kicker Cole Hedlund isn't kicking again just to prove he's over a nagging groin injury. Freshman walk-on Blake Mazza, five for five on medium-range field goals Saturday, challenges Hedlund for the place-kicking role.
"Blake Mazza has had a nice camp," Bielema said. "So, I'd say he and Cole are battling it out for the field goal job. Mazza's consistency day to day has been very good. And then Connor Limpert (the kickoff man incumbent) and Mazza are battling for the kickoff job."
Arkansas' Thursday and Friday closed practices were set to be lighter than Wednesday's hard practice. Bielema and his offensive and defensive staffs say they want their players fresh for evaluation in Saturday's scrimmage.