Hogs: receivers deep but frosh like Smackover's Jordan Jones should play; notes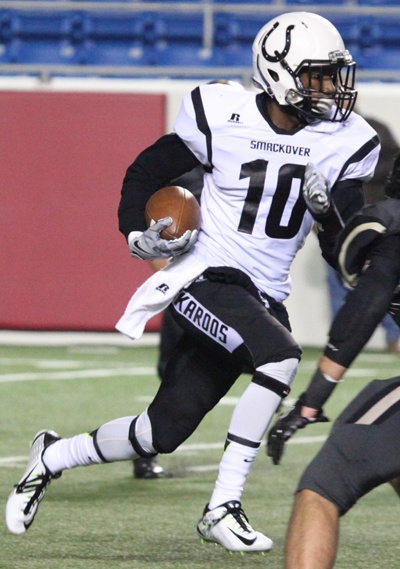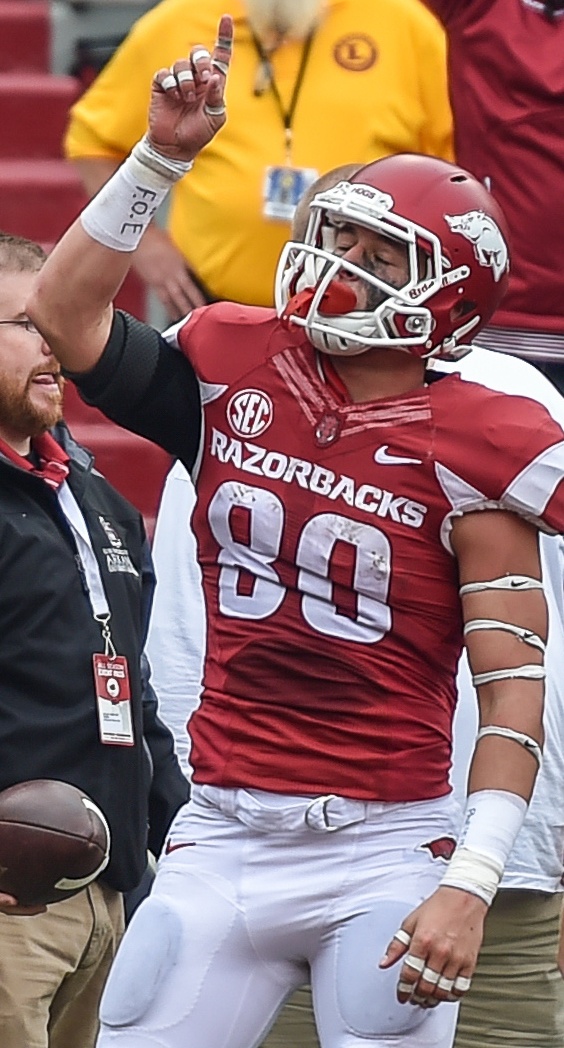 Sr WR DREW MORGAN
FAYETTEVILLE - Though blessed with five experienced receivers with NFL potential plus three second-year freshmen receivers,  Arkansas coach Bret Bielema foresees a role in 2016 for rookie receiver Jordan Jones.

Between the Razorbacks' first two-a-day preseason practices Wednesday, Bielema mentioned Smackover's Jones, fullback Hayden Johnson of Columbia, Mo., and running backs Devwah Whaley of Beaumont, Texas; and T.J. Hammonds of Joe. T. Robinson as true freshman who could impact Arkansas' offense this season.

"Jordan Jones, is gonna play for us, and he's going to turn some heads," Bielema said during his Wednesday press conference. "He and Hayden Johnson on have probably been the two biggest (freshman impact players on the offense)  and the two tailbacks as well."

Dan Enos sounds like an offensive coordinator who anticipates Jordan playing this fall rather than redshirting.

"He's been really good," Enos said. "He's really fast, really explosive. He's got good ball skills. Things come naturally to him. He's a very instinctive player for being a freshman wide receiver. He really understands how to throttle in zones and run away from man. And then you take the speed that he has, the acceleration, that puts him into another category. He's going to be a very good player."
DRAWING DREW'S EXAMPLE
Receivers coach Michael Smith has encouraged all the young receivers not to be discouraged because proven seniors Keon Hatcher, Greenwood's Drew Morgan, Camden's Dominique Reed, Cody Hollister and junior Jared Cornelius stand between them and playing time.

"I challenge them," Smith said.  "Last year, Drew Morgan started the season as the fourth guy on the field and at the end of the season, he's the man!  So I keep reminding them  of that."

Morgan matched his previous two-year total of 10 touchdown catches last season. Morgan led the Hogs in 2015 with 63 catches for 843 yards.
ANOTHER MORGAN EMERGING
Morgan's true freshman brother, walk-on linebacker and Greenwood High alum Grant Morgan, already surprises linebackers coach Vernon Hargreaves.

"Grant Morgan has done a really good job," Hargreaves said. "Obviously other than the size thing (5-11, 220), he is a good football player and knows what do.  I will be taking a hard look at him."
Bielema again named end McTelvin "Sosa" Agim as an impact true freshman as he has since the 5-star recruit from Hope graduated last December to enroll at the UA in January and practice in the spring. True freshman linebacker De'Jon (Scoota) Harris and sophomore junior college transfer cornerback Britto Tutt drew Bielema's defensive praise.

Defensive coordinator Robb Smith likes them, too.

"Britto has done some good things," Smith said Wednesday. "Scoota - De'John Harris - has flashed as well. Sosa, you can still lump him into that category, has certainly done good things. We will see more with the developmental work tonight and Friday morning, and I think that will be a big step for those guys after those days."
The Razorbacks hold their first preseason scrimmage late Saturday afternoon.
BEANUM STILL CAN FACTOR
Junior Karl Roesler and Agim continue running 1-2 at the defensive end opposite senior Deatrich Wise, who owns three preseason national awards.

Roesler and Agim promoted due to the undisclosed issues that have prevented fourth-year junior and incumbent starting end Tevin Beanum of Forrest City from practicing.

However, Bielema  reported optimism Wednesday that Beanum is close to returning, certainly by the Aug. 22 start of classes.

Given Beanum's savvy and experience, he could still factor in the Sept. 3 season opener against Louisiana Tech, Bielema and Smith said.

"I'm not overly concerned if Tevin didn't join us until the Monday when school starts," Bielema said. "That's two weeks out. He'll probably come in and look great with fresh legs because he can run so well."

Smith remarked: "Tevin has played a lot of football here.  We'll get him up to speed with what's going on.  He's always been a smart football player. He's a guy who we are certainly counting  on."

Bielema said Wednesday's offensive line again had starting senior right tackle Dan Skipper at left tackle.
BACKUP QB MYSTERY
Third-year sophomore Rafe Peavey is listed the presumed backup to starting junior quarterback Austin Allen of Fayetteville, but Enos, also the QB coach, didn't  have Peavey above redshirt freshmen QBs Ty Storey of Charleston and Ricky Town, the transfer from Southern California or true freshman Cole Kelley.

"We don't have a No. 2 right now at quarterback," Enos said. "They're all getting reps.  They all rotate through. They've all had up and down days. No one's separated himself, yet."

Peavey required minor back surgery from a weight room injury this summer but has practiced each practice.