Hogs: Froholdt shifts to center; more notes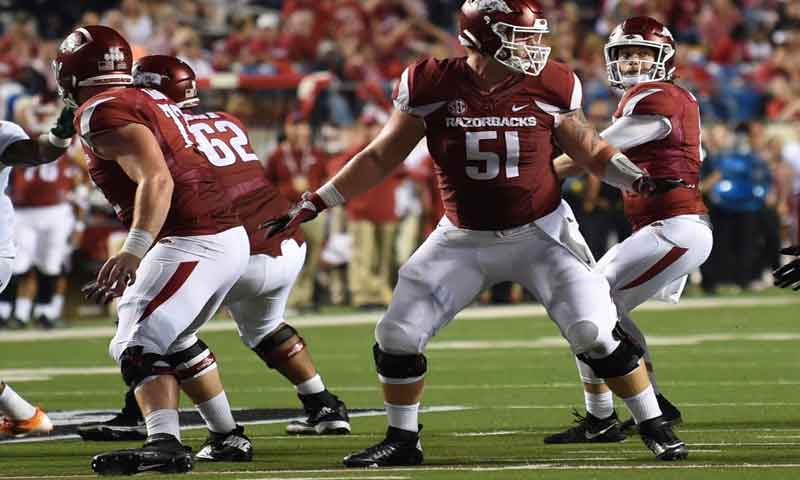 FAYETTEVILLE - Arkansas left guard Hjalte Froholdt (51 in photo) was snapping at center to provide emergency depth, but it appears he may start at center.
After Thursday's second full day in pads, new Arkansas coach Chad Morris referred to the senior's position switch as "moving" rather than cross training.
"Moving him there is going to help us out right now and help this entire football team," Morris said. "He's playing a lot of center right now. We've made that transition. It doesn't mean he's not playing some guard. He'll get some reps at guard. But he took over (center) the last few days. He's taken a majority of reps at center."
HAYS STILL IDLE
Third-year sophomore Dylan Hays, not an incumbent, started this preseason as the first-team center off of his spring ball performances but has been idled all week by an ailing back.
"I'm hoping to get Dylan back," Morris said. "If it's not for Saturday, for Monday."
Center is such a vital position that Froholdt, considered Arkansas' best lineman, may continue there since Hays and redshirt freshman Shane Clenin, who practiced at first-team center Monday and Tuesday, could play guard. Both were guards earlier in their Razorback careers.
Clenin worked at guard Wednesday and Thursday while Froholdt did the snapping with sophomore Ty Clary as the backup center. Redshirt freshman Kirby Adcock of Nashville also worked Thursday at left guard.
"He's (Froholdt) looking good," Morris said. "I think today was better than yesterday. He studies the game and wants to be the best. His snaps were more on time. Some of his snaps had been kind of delayed but today was much, much better."
DEFENSIVE STARS
Morris cited "the guys you would expect" as playing well on defense.
Morris noted senior ends Randy Ramsey and Gabe Richardson, inside linebackers Scoota Harris and Dre Greenlaw and their backups, Greenwood native Grant Morgan and Dee Walker, outside linebackers/nickel backs D'Vone McClure of Rixey via Jacksonville High and Hayden Henry of Pulaski Academy.
In the secondary, Morris can see why last year's 4-8 Razorbacks so missed cornerback Ryan Pulley, knocked out for 2017 during the second quarter of the season-opener.
Pulley was a lockdown corner during spring drills and still shines so far this August.
"Out there at corner, I've been pleased with Ryan Pulley," Morris said. "I think he has a great mindset. D'Vone McClure is another one who just keeps showing up in a live setting."
FRESHMAN QBs
True freshman quarterbacks Connor Noland of Greenwood, John Stephen Jones and redshirt freshman Daulton Hyatt alternated early Wednesday with the top offensive units normally quarterbacked by junior Ty Storey of Charleston and sophomore Cole Kelley.
Noland quarterbacked a drive capped by Connor Limpert's 37-yard field goal, while Preston Stafford's 39-yard field goal capped Hyatt's turn at the helm.
GERALD PAYS PRICE
Heralded junior college transfer defensive end Dorian Gerald pays a conditioning price for spending the summer in California to complete his academics at the College of Canyons.
"We are trying to get him in shape," Morris said. "He's in shape but not anything like we need him to be. He's just been here like a week and a half so we are bearing down on him. He's got a lot of potential, but he's got a lot to learn."