Hogs: Don't sleep on Koilan Jackson or transfer Nance; notes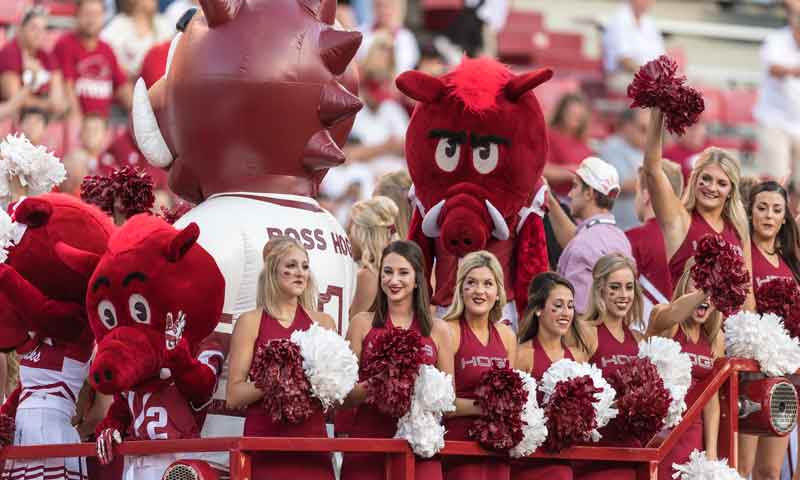 FAYETTEVILLE - From his dad to his Arkansas teammates, they kid Koilan Jackson about his tendency to fall asleep.
But Jackson, the freshman receiver from Joe T. Robinson and the son of six-time NFL Pro-Bowl tight end  Keith Jackson Sr., opened eyes Saturday by beating top cornerback Ryan Pulley for a 45-yard touchdown pass.
"They told me to go deep, so I ran deep," Jackson said Tuesday. "It was a perfectly thrown ball. I got past his (Pulley's) leverage. He had my left arm, and I just caught it with one hand and pulled it in like I'm supposed to."
The veteran cornerback shook the rookie's hand.
"Just some respect," Jackson said appreciatively. "He said, 'Good job."
"If we can keep Koilan awake, he'll be alright," Keith Sr. is reported to have said.
Koilan laughed.
"They put me on a sleep study because I'm falling asleep a lot, but I'm getting better," Koilan said. "I used to fall asleep in class in high school, but I'm getting better. I think it's because I'm still growing. That might be it. It's a process, but I'm getting there."
He's certainly wide awake going against first-team corners Pulley and Henre Toliver every day.
"It's been real cool and real fun going against those guys because that's what it's going to be like in real games when I get to play in SEC play," Jackson said. "It's iron sharpening iron. I'm getting adapted to what's going on around here and what it's going to be like in a live game, so it's going to be helpful."

ROOKIE HAYDEN MEETS PRESS
Freshman running back Chase Hayden of Memphis also met media Tuesday fresh off his 47-yard TD run Saturday against the first-team defense.
"I wasn't really expecting it to break like that," Hayden said. "I kind of got a little tired at the end. But it was a good run just to get the touchdown at the end and everything like that."
Initially it appeared Hayden stepped out of bounds at the 9-yard line before it was declared a TD.

Could you tell if you stepped out or not?
"We actually had our assistant running backs coach down there, and he said I stayed in," Hayden said. "I got hit initially, so I stayed on my feet and saw another guy kind of cut outside and then just tried to run to the end zone."
Like Koilan Jackson, Chase Hayden is the son of a former college and NFL player. Aaron Hayden played running back at the University of Tennessee and for four NFL seasons with the San Diego Chargers.
"My dad can tell me about the little things," Hayden said. "He's been through the college process. He played in the SEC and then the NFL. Just the little things like preparing, working hard, doing extra stuff, studying the playbook. Those are the things he's taught me. I talked to him after the scrimmage and he just said keep it up and that I've still got a lot more to prove."

LINEMAN ENDORSES HAYDEN
Sophomore starting left offensive tackle Colton Jackson of Conway quickly mentioned Chase Hayden as a complement to starting sophomore running back Devwah Whaley and David Williams, the senior graduate transfer from the University of South Carolina.
"Chase Hayden is doing a great job like you saw in the scrimmage Saturday," Colton Jackson said. "And Maleek Williams (also a true freshman), Devwah and Dave, they are all getting along figuring out the offense, finding holes and getting through them and running through tackles. It's pretty good."

NANCE EXCELS
According to sophomore backup quarterback Ty Storey of Charleston and redshirt freshman receiver Jordan Jones of Smackover, junior transfer Jonathan Nance of Gulfport, Miss. and Mississippi Gulf Coast Community College had the most spectacular Tuesday practice among the wide receivers.
"Jonathan took the top off a couple of times," Jones said. "He scored twice."
Jones said sophomore La'Michael Pettway of Nashville caught two touchdowns during Monday's practice.
Jones was catching the long TD bombs during the early practices since the Hogs started preseason drills on July 27 but said he hasn't had a TD catch since Friday.
"They're backing up deep," Jones said. "Everybody's deep."

ELEVATOR RESCUE
Fire trucks with rescue personnel were summoned Tuesday evening to the Razorbacks' Fred Smith Football to free several Razorbacks trapped on a stuck elevator.