Hogs: RB Rawleigh Williams ready for contact; Emrich stays on hold; more notes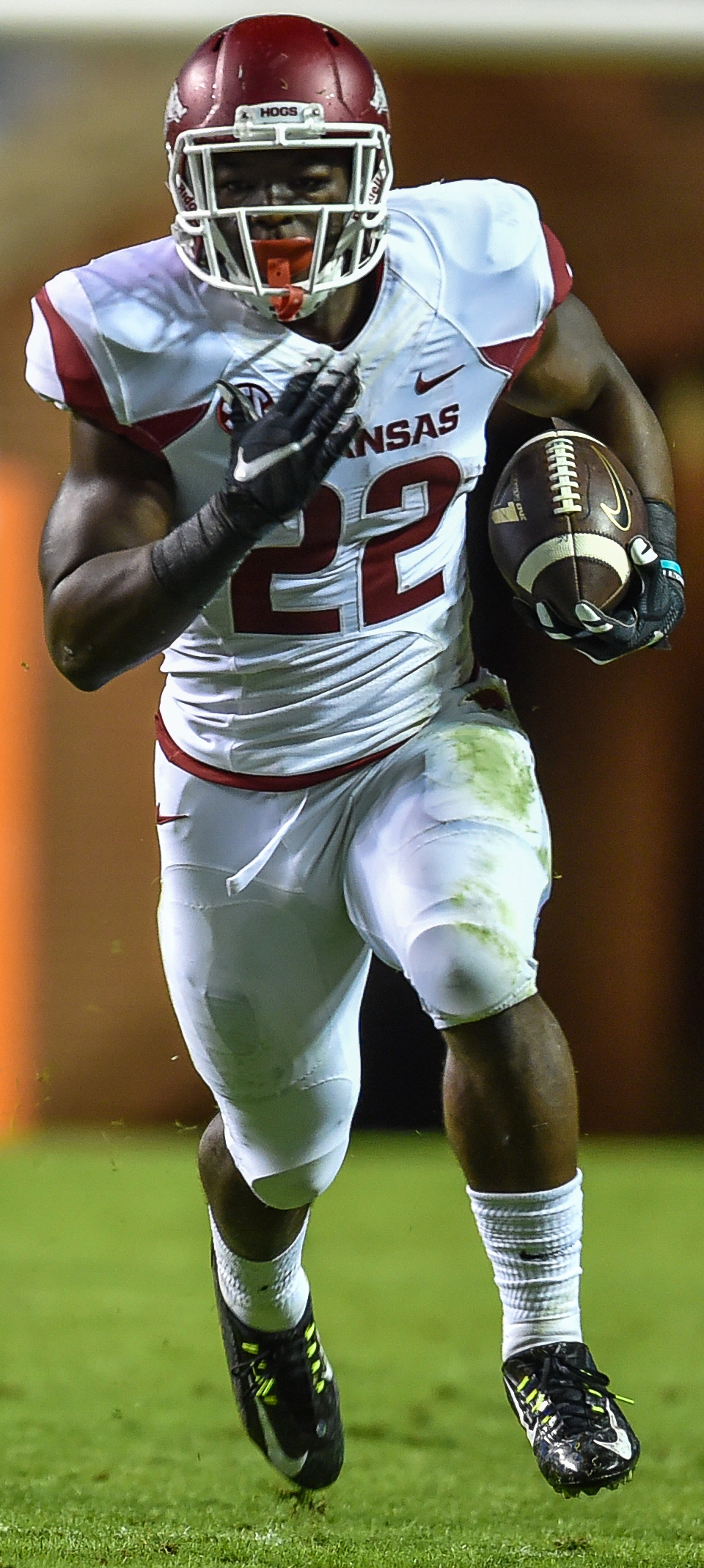 FAYETTEVILLE -
Sophomore running back Rawleigh Williams will take his first hit in full pads today since breaking his neck during the victory over Auburn last Oct. 24.


Is new running backs coach Reggie Mitchell concerned how Williams will react?


"
No, Rawleigh looks great," Mitchell said.  "Even last spring (doing noncontact drills)  he looked good. He had a good summer this past summer in the weight room and now he's ready to go. I didn't coach him last year but  I watched him on film and  he looks every bit as good as he did last year."
COMEBACK KID


It appeared Josh Williams might not make it back to the field when post-surgical complications menaced him after his injury during last season's Oct. 3 at Tennessee.

But the senior is about to start today's first practice in pads as Arkansas' first-team strongside linebacker. Arkansas coach Bret Bielema and linebackers coach Vernon Hargreaves marvel at their Comeback Kid.

Hargreaves admitted it seemed unlikely last autumn that Williams would play again.

"If you had asked that question when he was first rehabbing it would have been a tough answer, but I tell you what, he has fought through it," Hargreaves said. "I think he is way ahead of where anybody thought he would have been."

"I almost lost my leg," Williams said. "I really think I'm supposed to be in the hospital now instead of out here making plays. People said I would probably never play again, but hey, I'm doing it."

Williams said he didn't overcome alone.

"I like to thank (trainer) Matt Summers and all the coaches and definitely my teammates who there telling me to keep my head up," Williams said after going through Monday's workout in shoulder pads. "It took months. A lot of work."

Despite the surgeries, Williams academically completed the fall semester and said when he proved well enough to do some non-contact spring drills that he would be fit to be among active 105 reporting in August.

Now he's a starter. "I am good to go 100 percent," Williams said.  "It's what I do."
FULLBACK NOT LIKELY OPTION


Bielema even talked of moving Williams' to fullback, but it's pretty obvious that Williams, his fellow linebackers and Hargreaves prefer leaving him at strongside 'backer.

"Coach might have mentioned that a little bit, but that's not something that we are necessarily doing right now as far as I know," Hargreaves said.  "He has been with me, man, and he's doing a great job."

Current sophomore backup middle linebacker Kendrick Jackson played backup fullback last year out of team necessity.


"He's running with the ones and twos at linebacker," Jackson said. "So he really won't be playing fullback."

If he did, it would part-time and without  experience.

"I have never played fullback," Williams said of his junior college season at Dodge City (Kan.) Community College  and high school days in Fort Lauderdale, Fla.  "I am a team player. If I'm asked, I would do it but I am at linebacker."

Sophomore weakside linebacker Dre Greenlaw wants Williams on the opposite side of him on the defense rather than the opposite side of the ball.

Greenlaw confessed wondering if Williams would play at all, but said he should have known better.


"
We weren't really sure about what he was going to do, either, but Josh is never going to let something like that stop him from getting what he wants," Greenlaw said. "He wanted to play ball bad. I mean, right now he's running with the ones. He's doing a great job."



EMRICH LENDS A HAND


Senior punter Toby Baker and sophomore place-kicker Cole Hedlund had a mild shock during the summer when Matt Emrich, Baker's deep snapper and Hedlund's, arrived and wasn't playing with a full deck.

"I actually cut off part of one my fingers, but it's fine," Emrich, the senior from El Dorado, said of a summer accident. "I was home loading some stuff in a truck and it fell on it, but it's fine. I'm snapping and holding and everything is perfect."

Baker admitted initial concern.

"He let us know it when it happened," Baker said. "It was a little weird, the holder and the snapper has got to use that hand, but he's fine now."