Hogs go hard in pads, praise teammates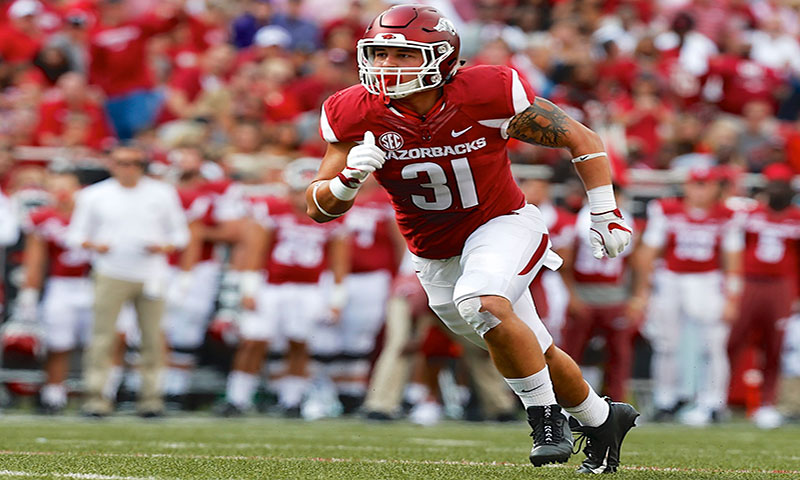 FAYETTEVILLE - Arkansas head coach Chad Morris' Razorbacks zipped through Wednesday's first preseason practice in full pads so energetically they couldn't sit still for halftime.
"We went into halftime still pumped up," Arkansas sophomore middle linebacker Grant Morgan of Greenwood said. "Coach Morris cut out halftime because we all still had energy. So he said, 'Enough of halftime. Let's keep going.' We all had a lot of energy out there today."
TACKLE FOOTBALL
While the Hogs won't have an entirely full day of hitting until Saturday's closed scrimmage, they hit plenty during Wednesday's practice.
"Yeah, we tackled full," Morgan said. "We  did a couple of periods of that. Offense made a lot of good plays. The defense has got to step up. They moved the ball on us a little bit. We've got to figure that out."
HAMMONDS, BELL AND CURL
"I know (junior running back) T.J. Hammonds made a couple good plays," Morgan said. "The (injury depleted) offensive line was really doing well with the little bit that they have. Our D-line really stood their ground."
Who made some good defensive plays?
"Jamario Bell (the junior backup defensive end from Junction City) punched out a ball during inside drill," Morgan said. "He punched it out and returned it."
Apparently, Bell (6-5, 247) has picked up this August where he left off in the spring with statistically stellar performances.
"I'm really anxious to see what he can do off the edge because he's really lengthy and he can get to the quarterback quickly," Morgan said. "I think a lot of people are going to be happy to see him out there."
Morgan said Bell wasn't alone in wresting the ball from the offense.
"We've been forcing turnovers," Morgan said. "I think we had like eight yesterday, and today I think we had four or five."
Sophomore strong safety Kam Curl picked one of them.
"I saw Kam Curl pick one off and drag one foot on the sideline," Morgan said of an interception.   "It was really good. And Sosa (junior defensive lineman and Hope High School alum McTelvin Agim) made like three or four sacks in a row. He's unstoppable. He's an un-blockable guy."
Speaking from an offensive perspective, tight end Cheyenne O'Grady of Fayetteville noted a reception by junior Arkansans receiver La'Michael Pettway of Nashville.
"We had our special situations drill going there and I saw LaMichael catch a fade ball," O'Grady said. "I was just trying to pay attention to the play calls because I'm just trying to master the offense."
A THIN LINE THINNER
Arkansas senior right guard Johnny Gibson of Dumas was asked after Wednesday's practice about a line that has lost starting left tackle Colton Jackson of Conway (July back surgery) until at least midseason and reserve lineman Deion Malone (major knee surgery after injured Monday) for the season, while starting center Dylan Hays (back) and reserve guard Jalen Merrick (concussion protocol) are not practicing.
The nine scholarship O-linemen practicing Wednesday included true freshman guard Silas Robinson and true freshman tackle Noah Gatlin on the second team. Gatlin is behind first-team left tackle Dalton Wagner, who promoted with Jackson idled. Converted redshirt freshman tackle Shane Clenin plays first-team center when not swapping positions with senior first-team left guard Hjalte Froholdt.
"The intensity was high," Gibson said. "It was very physical."
Gibson says Froholdt has adjusted well to the shotgun snaps in Morris' Spread. Going on his third year starting at guard, Gibson owns the experience to play center, even if he hasn't played it in a game.
"Having Hjalte next to me is just another experienced guy next to me," Gibson said. "With Hjalte being there, I know that he sees the fronts and sees the defense and he looks at everything just like I do."
THAT'S JUST DUCKY
The boyhood nickname of Arkansas nickel back and Jacksonville High alum D'Vone McClure has just aged considerably.
McClure, a Razorback sophomore at 24 because he played four years of minor league ball signed out of high school by the Cleveland Indians, said he's long been called "Pluck" because of his boyhood fondness for the Looney Tunes character Plucky the Duck.
"It's Grandaddy Pluck now," McClure said Wednesday. "That came from Santos."
Fifth-year senior safety Santos Ramirez is Arkansas' secondary elder in playing time but McClure is the elder by age.
"I think I've got two years on him, but he's about to get out of here," McClure said.