Hogs laud each other: LBers shaping up; notes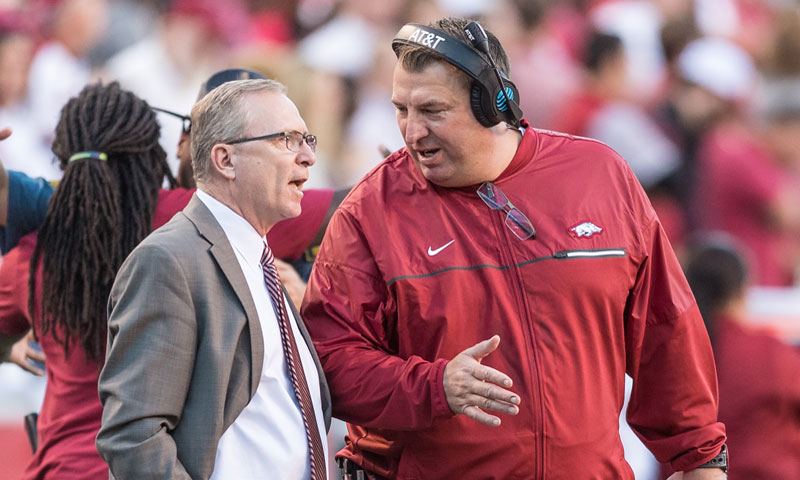 FAYETTEVILLE - Arkansas first-team outside linebacker Karl Roesler practiced Monday for the first time since pulling a hamstring muscle during the first week of preseason drills.
And first-team weakside linebacker Dre Greenlaw continues to increase his activity but has not completed a full-scale practice since breaking his foot during the 2016 season.
"It went well," Roesler said after Monday's closed practice. "They didn't want me to go full speed right away. They wanted me to ease into it. I did a little bit of skelly (pass skeleton ) a little individual and the scout work. Tomorrow, I talked to Coach B (Bret Bielema) already, I'm full go tomorrow."
GREENLAW'S ACTIVITY
Sophomore defensive end and Hope High alum McTelvin "Sosa" Agim was asked about Greenlaw and the emergence of the other inside linebackers scrimmaging Saturday when Greenlaw was withheld.
"Dre does a little more each day," Agim said. "You know I feel like today he did the most since the injury. So I feel like he's getting back in the groove of it."

Agim lauded last Saturday's scrimmaging by sophomore middle linebacker D'Jon "Scoota" Harris and walk-on redshirt freshman weakside linebacker Grant Morgan of Greenwood who also played middle linebacker when Scoota Harris and backup middle linebacker Josh Harris of Pine Bluff Watson Chapel were injured.
"It's been good because Scoota stepped up," Agim said. "I feel like he's filling that role as a leader. I feel he's going to make a great impact on this defense. We are starting to get Dre eased back out there. So I feel when we get both of them back out there … and also Grant Morgan … Oh, my God that kid is amazing! That's a sleeper I like to see. He's intelligent. He knows what he's doing. So I can't wait to see that linebacking corps behind me making plays."
DEFENSE STILL HUMBLE
Arkansas' defense has taken pride in its new 3-4 scheme aND identity under coordinator Paul Rhoads, but no defense should be too proud when it gets beat.
To this defense's credit, junior starting lockdown cornerback Ryan Pulley shook Koilan Jackson's hand Saturday when the rookie receiver prevailed dueling for the 45-yard touchdown pass from walk-on quarterback Carson Proctor.
And senior safety De'Andre Coley, among the Razorbacks defensive players meeting media after Monday's practice, volunteered he missed the key tackle when freshman running back Chase Hayden broke a 47-yard TD run for the second-team offense against the first-team defense.
"Yeah, it was some key elements to that," Coley said. "I missed that tackle, so I gotta make that."
RUNNING BACKS IMPRESS
Coley said he missed the tackle, but he also credited the freshman running back. Hayden should fit into a running backs rotation that returns sophomore Devwah Whaley, 600-yards last year while backing up since retired because of injury 1,300-yards rusher Rawleigh Williams, and has added graduate transfer David Williams from the University of South Carolina.
"My favorite part about the offense is our running backs," Coley said. "Chase Hayden is a pretty shifty running back. You can't give him a hole because once you give him a hole, he's going to hit it and he's going to go. If you close, he's going to cut back and find a new hole and hit that one."
So Hayden can help right away?
"I see him playing right away," Coley said. "He's a good player."
Coley also sees David Williams adding to the offense.

"David is a really good player, too," Coley said. "He's a type of guy who's going to lower his shoulder on you, and he's going to cut back on you. You have to watch out for him because he'll drop that shoulder."
DEFENSE HAD ITS INNINGS
Coley wouldn't feel so great just lauding the offense if he didn't have cause to praise the defense, too.
The freshman flash plays by Jackson and Hayden notwithstanding, the defense had good film to view off Saturday's scrimmage including Coley's eight tackles.
"The secondary, we're playing real good football," Coley said. "We tackle better than since I've been here and we're playing much better. Practice went good today. We made up for the mistakes we made in the scrimmage."