Hogs ready for full pads, have not forgotten non-conference nightmares of 2015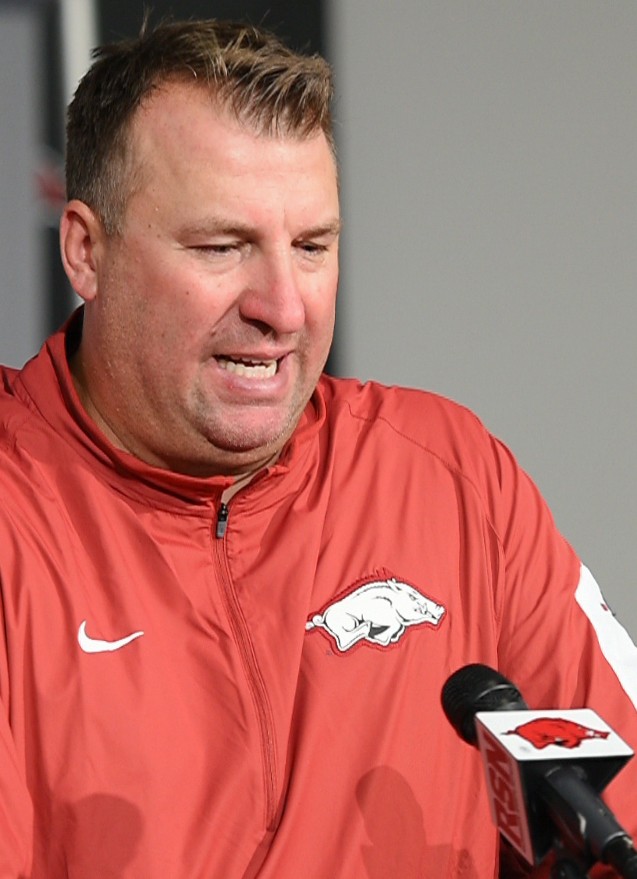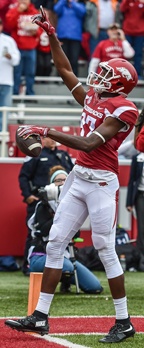 Sr WR DOMINIQUE REED
FAYETTEVILLE - According to the NCAA formula, Arkansas' practices were easy last Thursday and Friday with helmets only non-contact.

They became a little tougher Saturday and again today in shoulder pads, and a lot tougher with Tuesday's first full contact in full pads followed by Wednesday's first two-a-days of the August preseason.

That's how the NCAA formulates and mandates the gradually easier-to-tougher football plan. That's not how Arkansas coach Bret Bielema wants his Razorbacks viewing it, Bielema told Sunday's annual Razorbacks Media Day.

"The game becomes easier once you put pads on," Bielema said. "If you are a player who thinks the next day is going to be harder because we put on pads, then you don't belong here.  If you think the extra gear will slow you down or not make you a better player, then you are in the wrong program."

Bielema did say the Razorbacks accomplished what he set forth for their first three practices. The UA fourth-year coach said he knows them and they know him better than any of previous Razorbacks teams.

"I know this roster better than any Arkansas roster I have known to this point," Bielema said. "I feel good where we are at but by the same account, we are in the SEC West and have an opening opponent La Tech (Sept. 3 in Fayetteville) that won a lot of games a year ago and has a lot of good players back, and we go to TCU (Sept. 10 in Fort Worth) right after that. So we have got all the challenges, but you do have a certain comfort level."
REGRETS … THEY'VE HAD A FEW
Bielema said he's comfortable the Razorbacks learned from mistakes made costing them a 1-3 September in 2015 in non-conference upset losses to Toledo in Little Rock and Texas Tech in Fayetteville and their SEC opener against Texas A&M.

"We talked about what it means to live your life with discipline or live with regrets," Bielema said.  "Last year the three most penalized games we had last year came in a row with Toledo, Texas Tech and Texas A&M  where we had an uncharacteristic amount of self-inflicted wounds.  Our kids have talked about starting fast and playing with a purpose and I think that will be the thing."
ROSSI HAMSTRUNG
Bielema disclosed that walk-on sophomore receiver Luke Rossi of Edmond, Okla., a one-game starting receiver last season against Auburn and contributing five tackles on special teams, has injured his hamstring.

Rossi could miss two weeks, Bielema said, and has been replaced by walk-on receiver Troy Allison on the preseason 105-man roster that can't expand until classes begin Aug. 22.

Bielema said scholarship freshman linebacker Giovanni LaFrance's injured hand has almost healed and that he would be the first activated if any linebacker is injured or otherwise incapacitated before UA classes begin.

With summer school classes completed Friday and the fall semester not beginning until Aug. 22, Bielema said, "These next two weeks are critical" for the Hogs' to concentrate on lifting their football IQ.
Bielema was asked about kick returners Dominique Reed, the senior receiver from Camden returning a 40-yard kickoff in last year's SEC West victory over LSU; junior Jared Cornelius, the Hogs' best punt returner last season, senior cornerback/kick returner Jared Collins, senior receiver Drew Morgan of Greenwood and scholarship freshman T.J. Hammonds of Joe T. Robinson in Little Rock.

"Dominique Reed really changed the momentum of that LSU game," Bielema said. "You have got Dominique, J-Red, (Cornelius), Duwop, Jared Collins, and looking at T.J. Hammonds' film he is a very explosive, dynamic, creative player. You have got Drew Morgan back there, too, who is a reliable  guy.

"The good news is we have got options and we haven't had that many options in the past."