Hogs: 2-deep as of now; more notes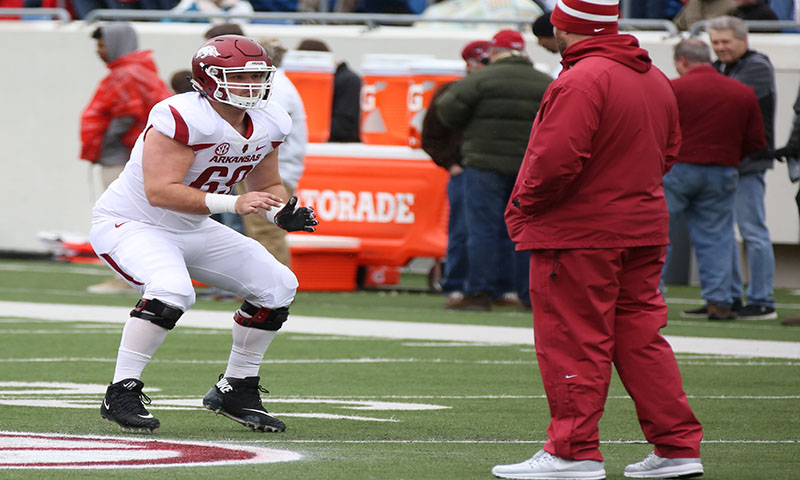 FAYETTEVILLE - Arkansas third-year sophomore Dylan Hays (in R. Sharp photo above) expounded Monday on moving from last year's reserve defensive line to starting center for 2018.
Hays played offensive guard and defensive tackle at Little Rock Christian and redshirted on Arkansas' offensive line in 2016 before lettering for 10 games last year as a reserve noseguard.
So if he starts the Sept. 1 opener at center against Eastern Illinois, it will make the first time including high school and junior high that he's played center in a game that counts.
"I'm not nervous about being out there," Hays said, noting he's flanked by experienced senior guards.  "I've got Hjalte (Froholdt) on my left, then got J-Gib (Dumas native Johnny Gibson) on my right. I mean, I know I'm going to be fine out there. I just have to get those snaps. Just being fluid with it. Once you start thinking about it too much, that just gets in your head and you can't be bogged down with all that stuff."
Hays wore a green jersey Monday, keeping him from contact during the third preseason practice.
"I'm good," Hays said. "Just getting through some stuff, but I'll be fine."
CLENIN AND CLARY
Redshirt freshman Shane Clenin of Festus, Mo., moved from tackle, and sophomore Ty Clary of Fayetteville, lettering with four starts last season at right guard, were Monday's first and second team centers with Hays out.
"They were doing good," Hays said of the understudies. "We were having a little trouble with the wet ball. The first time we've done it (a wet ball drill) since spring, so that's going to happen. But they were out there blocking very good and staying heavy through their blocks."
WAGNER TACKLING LT
Dalton Wagner, the redshirt freshman. Has moved from backup right tackle to first-team left tackle with fourth-year junior incumbent left tackle Colton Jackson of Conway idled until midseason after back surgery in July.
"Colton Jackson is still here among the 110 (the maximum preseason practice roster), and he's coaching Dalton up on everything," Hays said. "I know Dalton is going to work hard and we all know he can do it. We have a lot of camp left and there's stuff we all have to improve on.  We all know he's improving and he's going to be a good player."
MONDAY ABSENCES
Aside from Hays and Jackson, reserve junior offensive lineman Jalen Merrick did not practice Monday nor did reserve defensive tackle Briston Guidry or Fordyce freshman defensive lineman Billy Ferrell.
2-DEEP ROSTER
The first-team defense, as seen early during Monday's practice, included ends McTelvin "Sosa" Agim of Hope and Randy Ramsey, tackles T.J. Smith and Armon Watts, inside linebackers De'Jon "Scoota" Harris and Dre Greenlaw, Hayden Henry as a Sam outside linebacker interchanged with nickel back and D'Von McClure and a secondary of cornerbacks Ryan Pulley and Chevin Calloway and safeties Santos Ramirez and Kamren Curl.
The second-team defense included ends Jamario Bell of Junction City and Gabe Richardson, tackles Austin Capps of Star City and Jonathan Marshall, linebackers Grant Morgan of Greenwood and Giovanni LaFrance, nickel backs/Sam linebackers Nate Dalton, Joe Foucha and Derrick Munson, cornerbacks  Britto Tutt and Jarques McClellion and safeties Micahh Smith and Montaric Brown.
HEALTHY TUTT 
Junior college transfer Britto Tutt redshirted as a 2016 junior college transfer because of a knee injury required surgery and weathered knee injuries last year, though he did letter after playing eight games and recording two tackles.
"I'm feeling a lot better," Tutt said, crediting strength coach Trumain Carroll and cornerbacks coach Mark Smith. "Working with Coach Tru, Mark, he's helping me with transitioning my hips, getting back good. I don't even have any knee problems, so I'm looking forward to playing this fall."