Hogs: Freshmen make big plays in scrimmage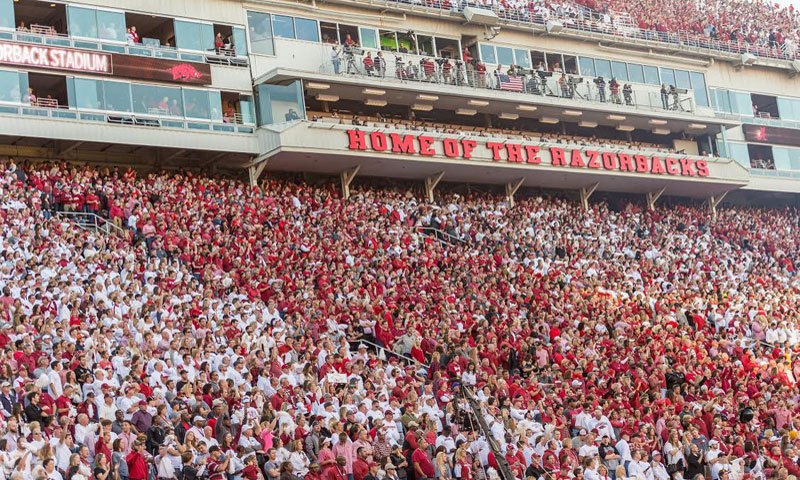 FAYETTEVILLE - True freshmen Koilan Jackson and Chase Hayden on offense and redshirt freshman linebackers Grant Morgan and Giovanni LaFrance on defense were among the standouts Saturday during Arkansas' first scrimmage of the preseason at Reynolds Razorback Stadium.

Freshman receiver Jackson, the son of former Oklahoma All-American and NFL great tight end Keith Jackson, made the scrimmage's single biggest play. Against the first-team defense and guarded closely by top Razorbacks' cornerback Ryan Pulley, Jackson still snagged a 45-yard touchdown pass from redshirt freshman quarterback Carson Proctor.

Jackson's catch earned wild applause from his 10 reserve teammates and a congratulatory end zone handshake from Pulley.

"I walked up to the line and saw he was a little flat-footed," Jackson said. "I ran past and saw the ball was in the air and it was a perfect pass from Carson. It fell right in my hands. He (Pulley) was right there but any ball that's in the air, I've got to make it mine. I dropped one today. So I shook that off and just made another play."

Receivers coach Michael Smith lauded Jackson's catch but noted he dropped one and that Proctor "dropped a dime" with his perfect pass.

Hayden (5-10, 191), with speed to complement sophomore power tailback Devwah Whaley, dazzled on a 74-yard breakaway run against the first-team defense. Hayden led all rushers 15 carries for 174 yards.

"Now Chase Hayden made a big play against our ones and I want to see exactly what happened there," Arkansas coach Bret Bielema said. "I do know Chase has proven to us that he can make something out of nothing. But I want to know how that ball hit the end zone line.  And then obviously the long ball to Koilan over Ryan's head. So we've got a few things (for the first defense) obviously to keep going, but I like the demeanor of our defense."

Whaley, 20 carries for 77 yards, and David Williams, 14 for 55, displayed their downhill power throughout  the scrimmage.

With starting weakside linebacker Dre Greenlaw still mending last winter's broken foot, and starting middle linebacker Di'Jon "Scoota" Harris injured during the scrimmage, Morgan of Greenwood and La France of New Orleans excelled in their expanded opportunities. Both made eight tackles with three for each behind the line of scrimmage.

"Giovanni LaFrance changed his body over the winter workouts," Bielema said. "I believe he had three TFLs today. He's an explosive player. He's a kid I saw on film and excited because at linebacker we kind of need another guy or two to come along. Grant Morgan has been exciting. He's a guy that shows up play after play."

First-teamers McTelvin "Sosa" Agim of Hope at defensive end and outside linebacker Randy Ramsey made three tackles each behind the line with Ramsey causing the scrimmage's lone fumble.

Third-year sophomore receiver La'Michael Pettway, challenged at the outset of preseason camp by Bielema, continued his week of big practices responding to the head coach calling him out.

Arkansas native Pettway of Nashville, even with covering freshman cornerback Kamren Curl flagged for a declined pass interference penalty, caught a 67-yard pass from Allen to the 1-yard line during the 140-play scrimmage that repeated first, second and third down situations. For the scrimmage, Pettway caught five Allen passes for 165 yards.

Allen sizzled against the backup defense, completing 19 of 22 for 304 yards.
While situational in nature, the contact was full bore and reflected in injuries.

Scoota Harris (knee), reserve defensive end Arman Watts (elbow), reserve weakside linebacker Dee Walker (shoulder) and reserve defensive nose tackle Dylan Hays (ankle) did not scrimmage again after their injuries Saturday but should not miss significant time, Bielema said.

Among those not practicing because of injuries during the preceding eight practices since July 27 were receiver/running back T.J. Hammonds, (knee) and removed from the before UA classes start active 105-man roster along with senior receiver Jared Cornelius (back)  outside linebacker Karl Roesler (hamstring) tight ends Will Gragg of Dumas (concussion) and Jeremy Patton (hip) and place-kicker Cole Hedlund (groin).

Freshman walk-on kicker Blake Mazza, with the longest field goal from 36, nailed a perfect five for five on Saturday's scrimmage field goal attempts.

In the backup quarterback competition, third-year sophomore Ty Storey of Charleston, with one wide open pass dropped, completed nine of 15 for 47 yards while redshirt freshman Cole Kelley, his fumble recovered by freshman running back Maleek Williams, completed eight of 12 for 60 yards. Walk-on quarterbacks Proctor and Jack Lindsey were one of two for 45 yards and one of three for 10 yards.

The Razorbacks are off Sunday and resume drills Monday.