Hogs: Ledbetter quick on inside; D-end Wise likes hype; more notes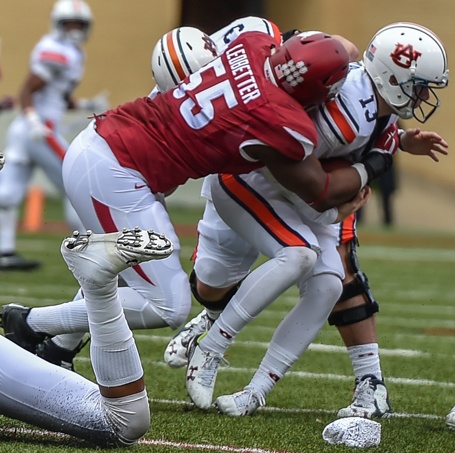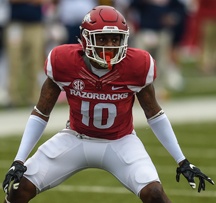 LB RANDY RAMSEY
FAYETTEVILLE  - Senior linebacker Brooks Ellis enters August drills off more summer publicity than anyone on the Arkansas defense.
Ellis' summer hype included gracing the cover of the 24th annual Hooten's Arkansas Football bookazine and appearing at SEC Media Days.
But fellow senior Deatrich Wise seems to be the more hyped now on the Razorback defense.
Ellis gladly shares the fame. He knows Wise not only will survive it but thrive upon it.
"He loves it," Ellis said Friday. "He'll get all of it that he can. That's just going to make him better. He has been working so hard this summer. That is just going to light the fire underneath him and make him practice harder and play harder. It's good for him."

Wise assures the newfound fame won't hurt his game.

"I guess there are a little higher expectations for me, but I still treat it the same," Wise said. "Not try to put too much pressure on myself and go out there and do what I am supposed to do in practice and take care of myself."

WORKING WITHOUT BEANUM
Wise practices at one end without returning starter Tevin Beanum at the other end. Beanum, of Forrest City, missed nearly all of spring drills tending to personal issues and is excused again from these early preseason practices,

"We'll see him again in the fall," Wise said. "It didn't hurt us too much to not have him last spring, but you do miss him in the D-line and we are waiting for him to come back."
Beanum's experience is especially missed, senior second-year defensive tackle Jeremiah Ledbetter said.
RAMSEY WITH AN EDGE
Five-star freshman McTelvin Agim and veteran junior Karl Roesler are getting snaps at end as they did last spring. Randy Ramsey has moved from strongside linebacker to that end called "R" in defensive coordinator Robb Smith's scheme. 
"Ramsey is an R, and I am very glad to have him there," Wise said. "He's moving from linebacker to defensive end, but once he learns how to shoot his hands well I believe he will work out really good for us."
A sophomore letterman recruited out of Fort Lauderdale, Fla., Ramsey was not with the Hogs last year for academic reasons and paid his way as a walk-on in his return to the team.
"He is very hungry and very determined," Wise said.  "Whether it's weights or workouts or just hanging out together he is very hungry."

LA FRANCE HANDS AIL
Incoming freshman linebacker Giovanni LaFrance of New Orleans is not practicing because of an injured hand, Arkansas coach Bret Bielema Bielema said.
The NCAA doesn't allow the roster of practicing players in preseason to exceed 105 until the UA fall semester classes begin on Aug. 22. 
LEDBETTER BETTER INSIDE
Wise has played defensive end and tackle as a Razorback. Since last spring second-year juco transfer Ledbetter has played alongside Wise as a tackle.
Ledbetter and Wise teamed as a devastating duo last spring even with Ledbetter battled double-teams inside.

"I know the game is much faster inside, and we talk about that all the time," Wise said. "But since he played there in the spring, he has a feel for it. For him, it's a mismatch with most of the guards he goes against because he is very fast. He is strong and very smart so he will handle that position well."
Speed on the edge is a necessity for a pass-rushing end and a luxury for a tackle if he can use it to escape the traffic.
"My speed is an asset because the guards are known to be a little bit slower than the tackles," Ledbetter said.  "I think that helps me most. The biggest adjustment is the tackle and guard being there. I have to be more intelligent and use my strength and technique to beat the opposing offensive linemen."
JOSH WILLIAMS COMEBACK
Given his regular health, much less football health, was menaced by the infections after a surgery that kept him away from the sport last season, senior linebacker Josh Williams is warming hearts and impressing teammates with a full blown return to practice.
"He is doing great," Ellis said. "He has been running really well and doing everything that we are doing. He's ready to roll." 
ZACH ROGERS AT RIGHT GUARD
Offensively, sophomore Zach Rogers has been working at first-team right guard, one of the more up-for-grabs positions on the depth chart.
The Razorbacks practice Saturday afternoon in half pads and Monday in half pads before their first full-pads practice Tuesday.