Hogs: Cornelius feels great; freshmen flash; notes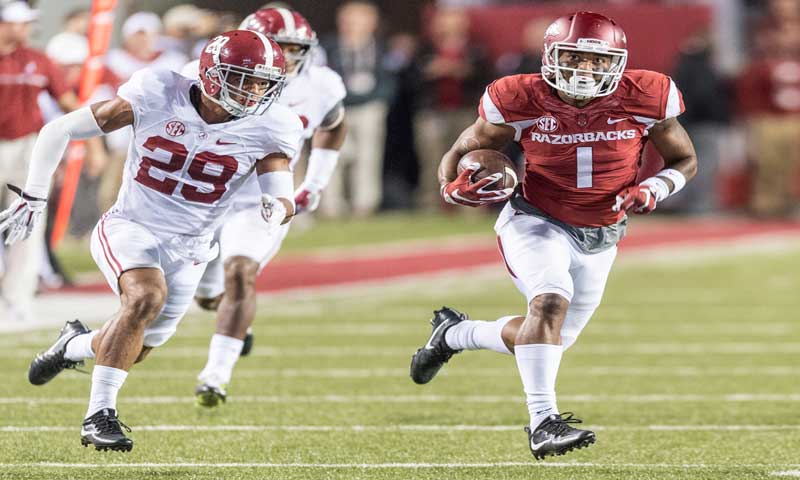 FAYETTEVILLE - In their second practice before meeting the media Saturday, the Arkansas Razorbacks worked again in non-contact helmets and shorts. They will add shoulder pads Monday after a day of meetings Sunday.

"These guys were ready to practice this morning," head coach Chad Morris said. "It was a quick turn, so it was going to be kind of a test for them coming off a long practice Friday. They had meetings early this morning, started at 8 o'clock. But those guys showed up with a lot of energy, a lot of excitement. I thought we had a really good day. I thought we finished better today than we did yesterday. Not that yesterday was bad."

GERALD DEBUTS
His academic and transfer paper work cleared, junior college transfer defensive end Dorian Gerald practiced Saturday for the first time as a Razorback.

"I was glad we had Dorian out there," Morris said. "It was good to see him getting in the flow of things. He had a lot on him today, but I thought he moved around well."

FILLING HOLES
Morris addressed filling two major holes created by the injury absences of senior nickel back Kevin Richardson of Jacksonville (broken foot), and junior left offensive tackle Colton Jackson of Conway. Jackson remains on the roster so he can observe the new offense, but he's also likely out until midseason after back surgery two weeks ago.

Redshirt freshman Dalton Wagner of Spring Grove, Ill., 6-9, 300 has worked as the first-team left tackle. Sophomore Hayden Henry has played strongside 'backer while Jacksonville High grad and former Cleveland Indians baseball signee D'Vone McClure and sophomore Derrick Munson have played nickel.

FRESHMEN FLASH
While coaches normally hesitate to tout true freshmen too early, Morris did mention true freshman offensive tackle Noah Gatlin of Jonesboro and true freshman nickel back Joe Foucha of New Orleans.

"Noah Gatlin is a freshman who is excited to be out there," Morris said. "He's really working hard. He got some reps in there today with both our ones and our twos. And you'll see Silas Robinson (a true freshman from Yoakum, Texas) working a little bit of center. These are two young guys we're excited about who are going to provide some depth for us."

As for nickel/strongside linebacker, Morris said, "Obviously, with K-Rich being out right now, we've seen Hayden get in there. Hayden has done a good job with it. He's also trying to get some Will backer. D'Vone McClure is moving around, running well, tracking to the ball. Derrick (Munson) is doing some good things. Unfortunately, last spring he was unable to play in the spring game because he had an ankle injury. He had a good spring up to that point. He's picked up where he's left off."

Then Morris threw Foucha's helmet in the ring. "The guy that's really, really impressive right now is Joe Foucha," Morris said. "This  young man looks the part. The moment isn't too big for him right now."

HEAT-SEEKING MISSILE
Senior starting weakside linebacker Dre Greenlaw touted McClure's wisdom and experience as nickel and said Henry, a younger brother to former Mackey Award winning All-American tight end Hunter Henry, is the man when a true outside 'backer is required.

"I like Hayden," Greenlaw said. "He's a missile. He's a guy, who from the snap of the ball to the end, is going to track the ball down."

CORNELIUS FULL SPEED
Senior receiver Jared Cornelius, shelved three games into the 2017 final season with the torn Achilles, has two full speed practices behind him after missing spring practices while still healing.

"I feel like it's been forever since I've been full speed 100 percent through a full practice," Cornelius said. "I can't put into words how excited I am. Nine month's ago I thought I had played my last game as a Razorback, but I got another chance to come along with this staff and this team again. It's amazing. I can't tell you how excited I am for the season."

Especially in this Spread that he presumes will maximize his trimmer build and added quickness.

"I'm down 15, from 218 down to 203," Cornelius, 5-11, said. "I feel great. I'm trying to lose about four or five more pounds for the season."