Hogs: What QB Allen, coaches expect from scrimmage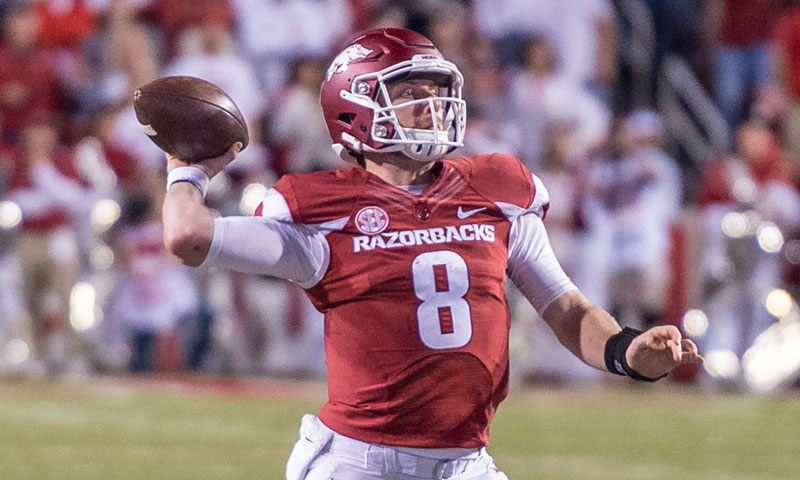 FAYETTEVILLE - The first of Arkansas' two weekend  preseason scrimmages looms Saturday at Reynolds Razorbacks Stadium.
The morning scrimmage starts a long day for the Razorbacks, who meet the press in the afternoon for their annual Media Day.
To insure his Razorbacks are rested for their first extensive contact of the preseason, Arkansas coach Bret Bielema said Friday's closed practice would be a brief preparation for Saturday's session.
"Friday we'll back off them maybe just a little bit, because I want Saturday to be a great scrimmage," Bielema said. "We're really hoping to have great scrimmages on Saturday the 5th, Saturday the 12th and then on the 17th (Thursday) probably might be the last time we do some scrimmaging, which will be two weeks out from our game."
The Razorbacks open their season on a Thursday for the first time, hosting Florida A&M at 7 p.m., Aug. 31 at War Memorial Stadium in Little Rock on SEC Network television.

AUSTIN'S EXPECTATIONS
Senior incumbent starting quarterback Austin Allen was asked about expectations Saturday for himself and his team.
"I'm looking forward to getting more reps, more timing with the wideouts," Allen said. "Honestly, I'm just looking for competitiveness where the O-line and D-line are getting after it, tempers flaring, things like that where we're in the trenches trying to win every play as an offense. I want to see the wideouts getting open, getting the DBs off of them. I want to see the running backs going hard and not going down on first contact. The quarterbacks getting the ball out and going to the right reads and taking care of the football. We want to install more offense and see what type of team we have."

TO BE TACKLED
Deon Stewart of Hardy, the longest tenured receiver practicing along with fellow third-year sophomore La'Michael Pettway of Nashville, said the scrimmage is a new ballgame from the early practices in shorts and even since Tuesday practices in pads.
Senior Jared Cornelius' ailing back removes him from the 105-man practice roster that can't expand until the Aug. 21 start of the fall semester.
Tackling to the ground is avoided during most workouts to cut down on the injury risk, but it's full go for the scrimmage other than the quarterbacks donned in caution jerseys.
"We are going to be tackling so I'm going to be getting used to it being live," Stewart said. "And for these younger guys to get in and actually see what it's like being live. They need to get used to the speed of the game."
Some depth chart spots inevitably change after the preseason's first scrimmage.
The backup quarterback battle between third-year sophomore Ty Storey of Charleston and redshirt freshman Cole Kelley bears watching as the first major test for separation.

ALL RHOADS LEAD TO 3-4
Defensively, new defensive coordinator Paul Rhoads, joins fellow defensive assistants John Scott, Vernon Hargreaves and Chad Walker in evaluating individuals.
They will also check out the overall effectiveness and cohesiveness of the 3-4 defensive scheme that Bielema instructed him to implement since last spring.
Rhoads explained the keys to a 3-4 defense.
"The noseguard has to have his hands on the center and take care of his A-gap," Rhoads said. "The ends have to have their hands on the tackle and take care of the B-gap. Our outside linebackers have to set the edge on anything that comes at them and be involved in the quick passing game. Our (inside) linebackers have to go where the backs go. And our secondary can't let people go behind them. If 11 guys are doing those things on a play-by-play basis, regardless of the call, we have chance to play good, competitive defense."