Hogs: QB Allen praises WR Pettway; more notes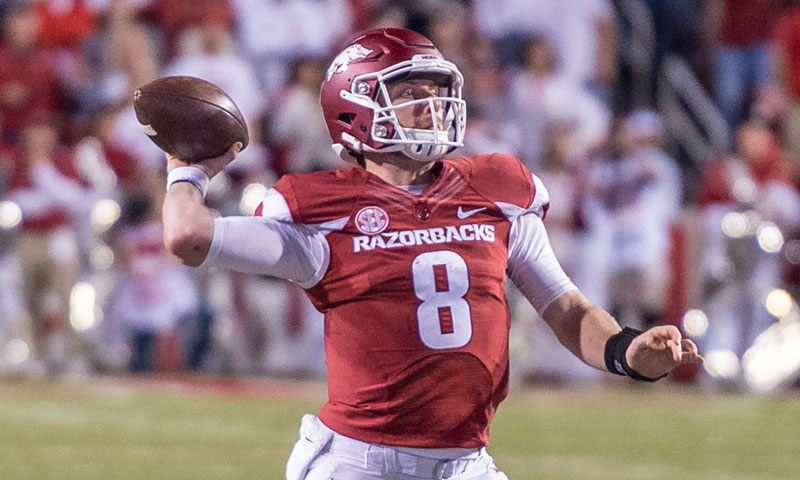 FAYETTEVILLE - Two Arkansas position groups mourn that receiver/running back T.J. Hammonds will be out awhile after arthroscopic surgery to repair an injured knee.
Arkansas completed a closed practice Thursday and will have a closed to media practice Friday while prepping for Saturday's scrimmage that is open to media but closed to the public.
"It hurts, and it's kind of sad at the same time," sophomore running back Devwah Whaley said. "But T.J. is going to get well pretty soon. He's going to have a speedy recovery."
Initial reports, though still unconfirmed by the UA, project it touch and go whether Hammonds could play in the Aug. 31 season-opener against Florida A&M in Little Rock. The sophomore from Joe T Robinson could be full go by Arkansas' Sept. 9 game against TCU in Fayetteville.
Strictly a running back last season, Hammonds mainly worked as a wide receiver since spring. The receiving corps already is without its top returnee, senior Jared Cornelius whose projected recovery from a back injury doesn't have him returning to the squad until the current 105-man roster expands with the Aug. 21 start of UA classes.
"It's definitely different without T.J.'s playmaking ability," said Deon Stewart of Hardy, currently the veteran of the receiving corps with fellow third-year sophomore Arkansas native  La'Michael Pettway of Nashville.  "But this is just a chance for all the younger guys to step up and try to get in there and get some playing time. But for them to do that, they have got to get in the playbook and learn the plays. If you don't know what you are doing, you are not going to be able to get in."
PRECOCIOUS FRESHMEN
Of the newcomers practicing for the first time as Razorbacks this preseason, freshmen Jarrod Barnes of Cabot; Koilan Jackson of Joe T.  Robinson, De'Vion Warren of Monroe, La., and junior transfer Gary Cross of Fordyce via Hutchinson (Kan.) Junior College, are more advanced with the playbook, Stewart said.
Of the freshman defensive backs he's practiced against this preseason, Stewart said cornerback Chevin Calloway of Dallas Bishop Dunne stands out.
"Chevin is pretty much the one who has really opened my eyes," Stewart said.
Could Calloway contribute right away? "I believe he can," Stewart replied.
PETTWAY FINDING WAY
Arkansas coach Bret Bielema and receivers coach Michael Smith have lauded redshirt freshman receiver Jordan Jones of Smackover and Jonathan Nance, a junior transfer from Gulf Coast (Miss.) Junior College who enrolled last January at the UA.
Bielema targeted Pettway for some criticism after last week's opening three practices of preseason drills. Pettway has responded, particularly since the Hogs have practiced in full pads since Tuesday.
"Pettway has been making plays the past few days," Stewart said. "In the red zone, he's been going up and using his size and strong hands. Pettway definitely has been stepping up."
Senior starting quarterback Austin Allen of Fayetteville concurred Thursday.
"La'Michael Pettway, I'm telling you, the last three practices he looks like a different guy," Allen said. "He's going out there, making contested catches, running great routes, getting open. His whole attitude has just been phenomenal. I can't say enough good things about how he's playing. He just needs to keep coming along where he can be that guy. I have all the trust in the world in him."
FORMER GAMECOCK NOW A HOG
David Williams, the graduate transfer running back lettering for two years at South Carolina under Coach Steve Spurrier and last year under Will Muschamp, met with media Thursday for the first time since practicing as a Razorback.
Williams said the transition to Fayetteville has been "awesome" with his  relationship with Whaley, who elevated to starting tailback after Rawleigh Williams' career-ending neck injury last spring.
"Me and Devwah are gonna push each other," Williams said. "I know he's gonna come every day at practice and bring a 100 percent. That's gonna make me go a 100 percent so we're gonna get better together."
Asked about departing South Carolina, Williams said, "Me and Coach  Muschamp just didn't see eye to eye. He didn't recruit me. I was one who Coach (Steve) Spurrier recruited so I understand it was business or whatever, but I just felt I needed a fresh start."
Williams originally planned on transferring to Connecticut, but he knew Bielema from when Bielema tried to recruit him out of high school in Philadelphia while Bielema still coached Wisconsin.

"We had a good relationship," Williams said. "I think the only reason I didn't go to Wisconsin was they were taking one running back, and Corey Clement just happened to commit before I did."