Hogs: LB Josh Williams back from the brink; Beanum out for now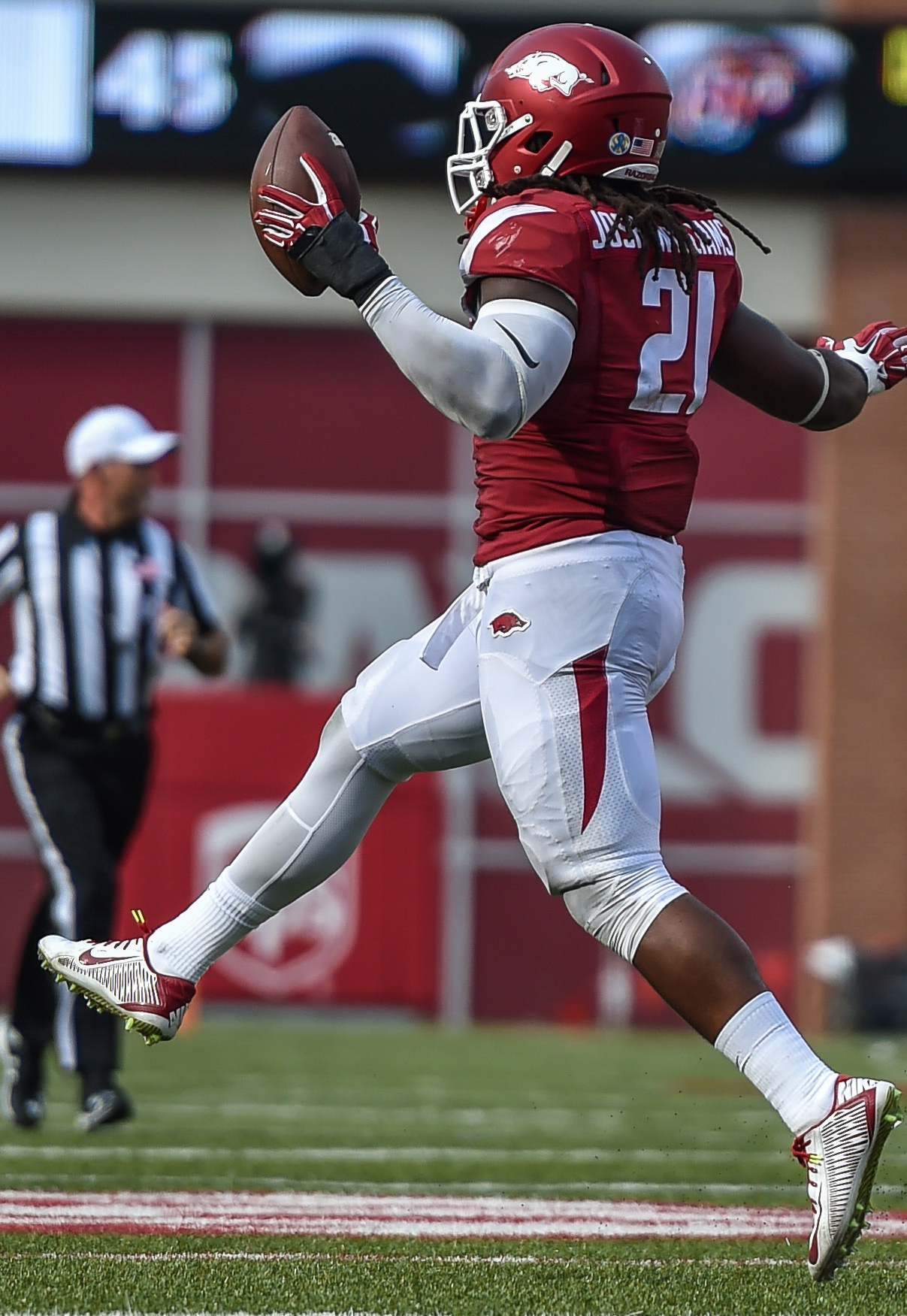 FAYETTEVILLE  - Junior first-team defensive end Tevin Beanum of Forrest City was among some notable Razorbacks not on the field Thursday night when Arkansas' 105 players began fall drills.

Beanum, a two-year letterman and returning starter, was excused from spring practice in April to tend to issues at his Forrest City home.
Those and other personal issues remain unresolved, but Beanum could join the team when UA classes begin Aug. 22, and the roster expands with time for him to practice before the Sept. 3 season-opener against Louisiana Tech at Reynolds Razorback Stadium.

"It's nothing negative. I mean that in the most sincere way," Bielema said. "Tevin has got a situation that he just needs to get control of. It's something that's very unique with him. If he ever wants to share it, he will. There are just a million things going on right now. He'd had a really good summer. And then had a slight setback about two-three weeks ago. He's in summer classes right now. Did a really nice job this last week. He will finish classes on Friday. Then he's going to go through a time frame where we've got some stuff set up with him trying to make him get better over the next week."

Is this related to the issues besetting him last spring?
"It's all related, yeah," Bielema replied. "It's kind of an evolution as well, but again, it's nothing negative. There are no shenanigans involved. As coaches, we deeply love and care about him.
Unfortunately he's got a little scenario that he has to deal with on a daily basis. It's something that's never gonna probably truly ever go away, but it's something that I think he's tried to handle the best he can. We just want to give him the support to do it."
Recently signed junior college transfer defensive end Michael Taylor still needs his eligibility paperwork cleared and likely won't report until fall semester classes start, Bielema said.
Some who are on scholarship or have played in games for the Razorbacks who are not in the reporting 105 include fullback Chris Jones, running back Juan Day and incoming freshman scholarship linebacker Giovanni LaFrance among others.
"We are very excited that we have enough talent that we have to make some difficult decisions that are hard to make," Bielema said. "I think it's a sign of the depth of your roster. I have never been a guy that just automatically invites your 85 scholarship players."
Among those transferring, Bielema mentioned linebacker Derrick Graham and possibly defensive tackle K'Tyrus Marks who is exploring graduate transfer possibilities. Eric Hawkins, Denzell Evans and Willie Sykes departed weeks ago.
Bielema wished them all well.
"It's nothing that they did," Bielema said. "Nothing that violated any policies with the program. Just a better opportunity for them, and I understand transition happens."
Bielema was asked about the practice availability of third-year sophomore backup quarterback Rafe Peavey coming off what Bielema has called minor back surgery earlier this summer.
"Rafe is throwing," Bielema said. "I'm not saying he's going to be able to through the whole practice, but he threw with the trainers and the other guys. He's cleared to go. It just depends on how much he's able to tolerate during the course of the day."
Bielema said incoming freshman quarterback Cole Kelley strained his back in the weight room two weeks ago but is cleared to practice.
Several Razorbacks coming off injuries, including receivers Keon Hatcher, Cody Hollister, running back Kody Walker, cornerback DJ Dean, tight end Jack Kraus and defensive end Brandon Lewis, will be monitored closely and likely only practice once a day during the five two-a-day practices next week.
Senior linebacker Josh Williams was heartily welcomed back after infections following a leg injury threatened his football career two years ago. 
Since Williams has only this season remaining after missing last year, Bielema said Williams will be given a shot at fullback, if playing time doesn't develop quickly at linebacker.
Because UA summer school classes run through Friday, the Razorbacks practiced Thursday night and will practice again Friday night for their first two mandated no-pads practices.
Off Sunday other than their annual Media Day responsibilities, the Razorbacks practice Saturday and Monday in half pads before Tuesday's first contact practice in full pads.