Hogs scramble for 'backers in 3-4 D; injury report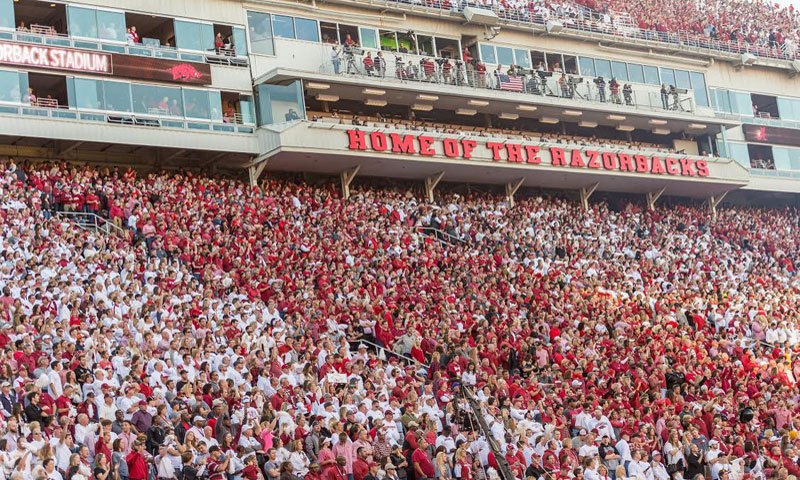 FAYETTEVILLE - Several media outlets have reported that Arkansas sophomore wide receiver T..J  Hammonds has undergone arthroscopic surgery for a torn meniscus in a knee and will be sidelined for an estimated four weeks.
The Razorbacks open their season Aug. 31 against Florida A&M in Little Rock.
Hammonds underwent a similar surgery a year ago and missed the 2016 season's first two games but played eight games as a running back.
Arkansas coach Bret Bielema expressed plans to use Hammonds extensively at receiver, the position he moved to during spring ball, but also run him some at running back.
Hammonds, a high school alum of Joe T. Robinson, has drawn praise this preseason from receivers coach Michael Smith and running backs coach Reggie Mitchell while practicing at both positions.
INJURY, JUCOs UPDATE
After their sixth preseason practice and second one in full pads, Arkansas junior college transfers Jeremy Patton and Gabe Richardson met the media.
Patton is a tight end. The Razorbacks are loaded with talented tight ends but will find room for the junior college transfer deemed the No. 1 tight end recruit in the country by 24/7 Sports and ESPN among others.
Indianapolis native Patton starred at Arizona Western Junior College, where he graduated from this summer. And Richardson plays outside linebacker, now with expanded opportunities since the Razorbacks switched from a 4-3 to a 3-4 defense.

There are more opportunities for linebackers in the 3-4,  but the Hogs are short of available candidates with first-team outside "Hog" backer Karl Roesler idled by a hamstring injury and previously second-team 'backer Jamario Bell of Junction City likely out for the season after surgery Monday to repair his broken foot.
So Richardson, also reporting during the summer after graduating from Hutchinson (Kan.) Junior College, currently operates at second-team linebacker behind Randy Ramsey, who moved from first-team "Razor" outside linebacker to first-team "Hog" after both Roesler and Bell were sidelined.
RICHARDSON A HOG
Senior Dwayne Eugene, who has played both inside middle and weakside linebacker positions, now operates at first-team Razor. Razor is the more strong safety/outside linebacker hybrid, while Hog is more like a defensive end playing linebacker.
"I'm just more of the Hog," Richardson, 6-3, 239, said. "Just a big body."
Richardson must catch up after not reporting until the summer, but he did play games last fall in the 3-4 as a freshman at Hutchinson.
"We ran the same defense," Richardson said. "The concept is the same thing. I'm getting aligned with it, learning the playbook, getting adjusted with the guys. We're going to play fast. We're going to play hard."
And as junior college transfer, Richardson said it's his job to contribute "immediately."
"I'm coming with my hat," Richardson said. "I'm bringing it. All year long."
Richardson knows why Bielema implemented the 3-4 upon promoting Rhoads to defensive coordinator.
"We're not going to sit back and just let the run hit us deep," Richardson said. "I mean, Auburn (crushing Arkansas, 56-3 last season in Auburn, Ala.) ran for 500 on us. With this 3-4 defense, we're going to make sure we stuff the run, and we're going to play sound with the pass."
PATTON PLAYS CATCH-UP
Patton joins a deep tight end corps headed by third-year sophomore Austin Cantrell of Roland, Okla., called by Enos as possibly "the best blocking tight end in college football" and sophomore pass-catcher Cheyenne O'Grady, lettermen Jack Kraus and Grayson Gunter and third-year sophomore Will Gragg.
Tight ends coach Barry Lunney insists the way Bielema employs tight ends that four tight ends can log significant snaps in the same game.
"We've got a good rotation going in practice," Patton said.
And a cohesive one, he said, especially being a newcomer feeling welcomed by some whose playing time he could subtract.
"They're my brothers," Patton said. "There's no animosity between one another. Jack Kraus is a great leader. Austin Cantrell leads by his play. We all get along well. They've helped me so much. They're telling me the right things to do and how to do it."
With Patton having to report late into the summer, Lunney compared him to a race car trailing but catching up.
"He may be a lap behind, but I will say this, he's got his foot on the gas pedal," Lunney said. "He's doing his best to try to catch up, and I believe he's got the car to do it."
STATUS CHANGE
As  wide receiver teammates at Mississippi Gulf Coast Junior College, Brandon Martin was rated more the Ferrari and Jonathan Nance more the sedan by recruiting services when they signed with Arkansas.
However, receivers coach Michael Smith says it's Nance motoring ahead right now as Martin needs to shed weight.

"I'd like to see him be in better shape," Smith said. "I had a concern with his weight over the summer. But he's working on that, trying to get that down. I also want him to know the playbook. I don't feel he's where he needs to be but I have some high expectations for him, and I know he'll come around and get it done for me."
Regarding Nance, Smith said: "Jonathan Nance has been lights out. He's played very, very well. You could tell he had a good summer, learned the playbook and is doing some really good things."