Hogs: Bielema-era foot injuries; kicking game concerns continue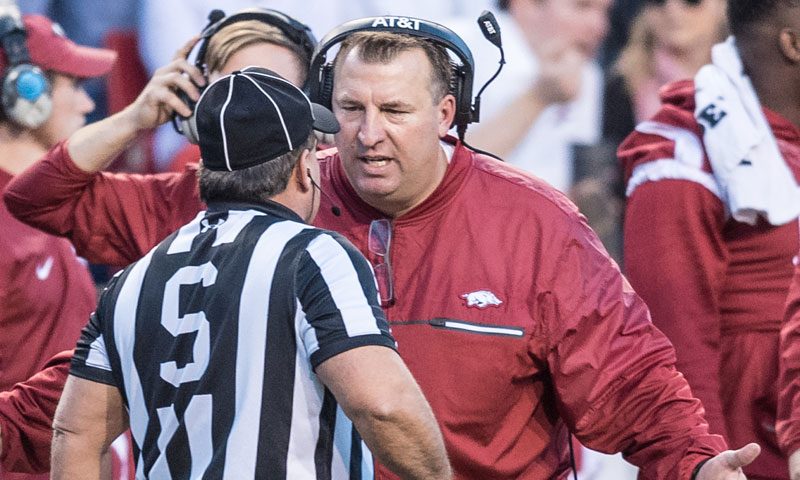 FAYETTEVILLE

- Junction City's Jamario Bell career at Arkansas may have ended before it officially began.
The third-year sophomore outside linebacker from Junction City had foot surgery Monday, sidelining him for at least all of the 2017 season.
"Unfortunately at some point on Saturday Jarmario Bell did something to his foot," Bielema says. "He either re-aggravated, they think, a past injury or developed a new one. But he will probably be out the next 10 to 12 weeks. So we're losing him for the season, or the majority of it. Too bad because he'd been doing a lot of nice things."
Opposing high school coaches say Bell was not Junction City's top player in 2014 but was tapped as a  4-star defensive end/tight end recruit because of his potential. He redshirted while apprenticing as a 2015 freshman defensive end.
Bell (6-5, 258) switched to tight end in 2016 but stayed deep down the depth chart until moving the final week of spring drills to outside linebacker in the Razorbacks' new 3-4 defensive scheme.
Hog coaches urged Bell on with rave reviews that final spring practice week and over the summer. With senior first-teamer Karl Roesler idled by an injured hamstring, Bell practiced at first-team Hog linebacker when injured Saturday.
"The kid hasn't had an easy road," Bielema says of Bell's first two Razorbacks seasons. "But he was really flourishing and academically just had the best semester he's ever had. I told him 'Hey, don't let this one get you. You've been battling back from some setbacks.' I know 10-12 weeks can sound daunting, but I don't think this will be the end to him."



RAMSEY SWITCHES; EUGENE RISES


With Roesler and Bell both sidelined, Bielema says he's moving Randy Ramsey (6-4, 228) from first-team Razor outside linebacker to first-team Hog linebacker and practicing senior Dwayne Eugene at first-team Razor.
Of the two hybrid outside linebacker positions, Razor is more the safety/outside linebacker position and Hog the more defensive end/outside linebacker position.
New junior college transfer Gabe Richardson and true freshman Derrick Munson also work at outside linebacker.

HEDLUND EMBATTLED


Perhaps more notable than recent injuries are Arkansas' kicking game concerns, again.
Supplanted at some point as the place-kicker the past two seasons, junior 2-year letterman Cole Hedlund (Argyle, Texas) finds himself embattled again after a poor outing during last Saturday's special teams drills.
"At kicker, we're really opening it up this week," Bielema said. "Cole finished the spring very well but he did not start of well on Saturday. We brought in two other guys. Connor Limpert (a sophomore walk-on from Allen, Texas lettering on kickoffs last season) will be battling it out. He's a lefty, so it's an added dimension. And then (Blake) Mazza is a walk-on kicker as well."
Mazza is a freshman from Plano, Texas.
"Those guys will battle it out," Bielema said. "I think Limpert, from a kickoff standpoint, continued to strengthen his leg and has looked really good."

CORNELIUS, GREENLAW UPDATES
Senior leading receiver Jared Cornelius' "back just needs a little bit of time to really just rest and recover and heal," Bielema says. "We feel that if we give him a couple of weeks to rest that thing he should be able to jump in full flow. We'll have 10 days before our first game. (when he returns). I feel comfortable about jumping him into that and being ready to play (Aug. 31 vs. Florida A&M) with that schedule."
Senior safety Josh Liddell of Pine Bluff Dollarway and sophomore backup offensive guard Jalen Merrick, who performed well last week, are limited by injuries. The coaching staff also continues restricting Dre Greenlaw, the junior starting weakside linebacker from Fayetteville coming off two foot surgeries from the 2016 season.
"(Greenlaw) actually jumped into it pretty good on Saturday and handled it well," Bielema says.  "We just don't want to over-tax him. We'll see where he's at Thursday-Friday."
Foot injuries have vexed the Bielema Arkansas era. Redshirt freshman linebacker Alexey Jean-Baptiste isn't practicing this spring because of a foot injury. Former Razorbacks Jonathan Williams, a running back starting his second NFL year with the Buffalo Bills, and former Razorbacks receivers Keon Hatcher and Cody Hollister also missed significant time with foot injuries.