23rd annual Hooten's Arkansas Football on newstands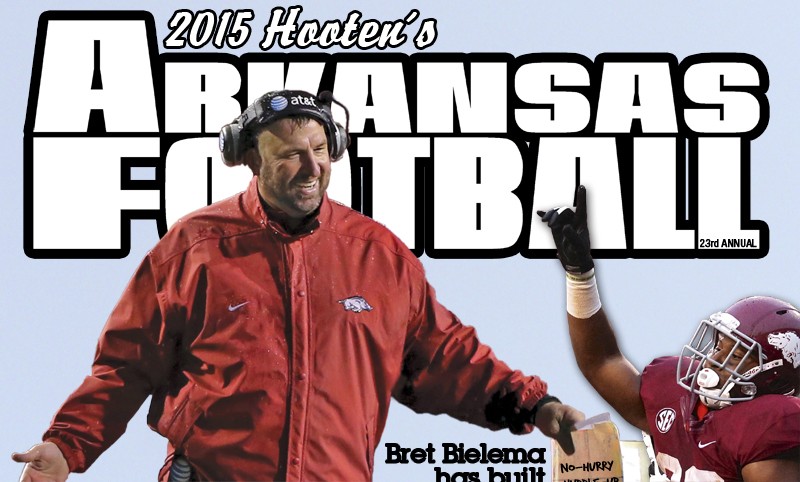 | | |
| --- | --- |
| | |
| | 2015 HOOTEN'S ARK FOOTBALL |
BENTON - The 23rd annual Hooten's Arkansas Football bookazine picks the Arkansas Razorbacks to finish third in the SEC Western Division and 13th in the nation.
The national award-winning HAF is in wooden floor stands and red racks around the state. Order a copy for home delivery here.

The 448-page book, which takes more than five months to compile, offers the most comprehensive preseason football coverage in Arkansas. Third-year Razorback coach Bret Bielema and his run-heavy Razorbacks grace the primary cover. Regional covers feature UCA's Taylor Reed (El Dorado), Harding's Matt Tenison (Hazen), A-State's Fredi Knighten (PA), Arkansas Tech's Michael Perry (Pottsville), SAU's Deandre Jenkins (Mountain Pine) and Ouachita's Ke'Vontae Pope (Blytheville).

"We think fans are going to love this book," HAF editor Chris Hooten says. "Exclusive interviews with Bielema, running back Jonathan Williams and linemen Dan Skipper produced an excellent Razorback cover story. Two features are great reads. The story behind the ficticious Village Academy Beavers is the funniest tale we've ever told. We interview every high school coach in the state to write 207 detailed-packed preview."

In addition, the book offers coverage on each Southeastern Conference school. Arkansas State and every state college, including Hendirx and Lyon, are previewed as well as all 128 Division I college teams in America.

The graphically enhanced book features coaches' polls for each high school conference, statewide rankings for every team, super teams for each classification, a national college poll and complete college and high school schedules.

Alabama is tabbed to win the SEC West, followed by Auburn, Arkansas, LSU, Ole Miss, Mississippi State and Texas A&M. Georgia is picked to win the SEC Eastern Division, followed by Tennessee, Missouri, Florida, South Carolina, Kentucky and Vanderbilt.

Arkansas State is ranked third in the Sun Belt and 69th nationally.

The TCU Horned Frogs are Hooten's preseason No. 1 team, followed by Ohio State, USC, UCLA and Georgia.
Henderson State is picked to win the Great American Conference, followed by Ouachita Baptist, Harding, Southern Arkansas and East Central, Okla.

Hooten's high school favorites to win it all in 2015 are Fayetteville in Class 7A, Pine Bluff in Class 6A, Pulaski Academy in Class 5A, Dardanelle in Class 4A, Smackover in Class 3A and Junction City in Class 2A.

The book is published annually by Hooten Publishing, Inc., of Benton.

"