Hogs: RB Rawleigh Williams calls it quits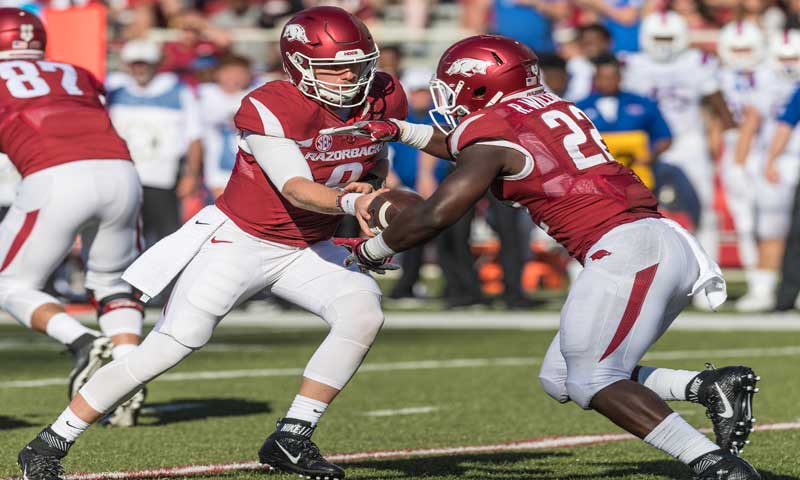 FAYETTEVILLE - The second scare of his football life was his last one, Rawleigh Williams confirmed Monday.

The University of Arkansas junior running back from Dallas posted Monday he will play football no more, that his career ended April 29, the second time as a Razorback he was carted off the field to an ambulance with a neck injury that temporarily rendered him unable to move.

Williams recovered from a broken neck during the 2015 game against Auburn at Reynolds Razorback Stadium to be the SEC's regular-season leading rusher in 2016. He injured his neck again and was hospitalized again during Arkansas' final April 29 spring practice inside the Walker Pavilion.

Williams had recovered full movement before being transported from the field, but the second experience with brief paralysis was his last football risk, Williams posted on arkansasrazorbacks.com.

"I'm moving onto the next chapter of my life," Williams wrote. "It's tough to not be able to play football anymore because I've been playing since I was four years old. It wasn't something I wanted to do or planned on having to do so early. I've prayed, listened to my doctors, my parents and my gut. It still doesn't seem real yet, but I really don't have a choice. I've dodged the bullet twice. I realize that at the end of the day I want to live a normal life and be around my family."

That his family hovered terrified as he was again strapped and removed from the field weighed heaviest.

"My family is the most important thing in my life," Williams said. "The first thing I thought when it all happened was the reaction of my mom, dad, sister and brother. I didn't want them to go through this all over again. I just wanted to stand up to calm them down and show them that I was OK."

Williams recalled the April 29 deja vu to Oct, 24, 2015 vs. Auburn and feeling some comfort that he quickly knew the injury wasn't severe, yet feeling disturbed the hit during "thud practice" without full tackling to the ground affected him so severely.

"It didn't last as long, so I wasn't as nervous, but I knew something was wrong," Williams wrote. "I knew that it was similar enough to the last time. Everyone got to me quickly. When they tested my hand strength I could squeeze, but it was really weak and I could barely feel it. I was trying to calm everyone else down. I remember thinking and then saying "Everything is coming back to me. I can feel my body. Let me get up please."

Watching the replay did not reassure him.

"I saw a normal hit," Williams said of the contact made by defensive end McTelvin Agim. "That scared me. It shows me it doesn't take a big hit at this point. Any little thing can trigger it. I also saw the reaction of my mom and my sister. That broke my heart. I can't do this anymore. I want to be able to walk."

Williams, who ran for 254 yards in seven games as a freshman, thanked his teammates, UA coach Bret Bielema, and offensive coordinator Dan Enos and said he relished coming back to lead the SEC in 2016 regular season with 1,326 yards and 12 touchdowns on 233 carries.