Hogs: Williams OK; Agim, Bell make plays in final practice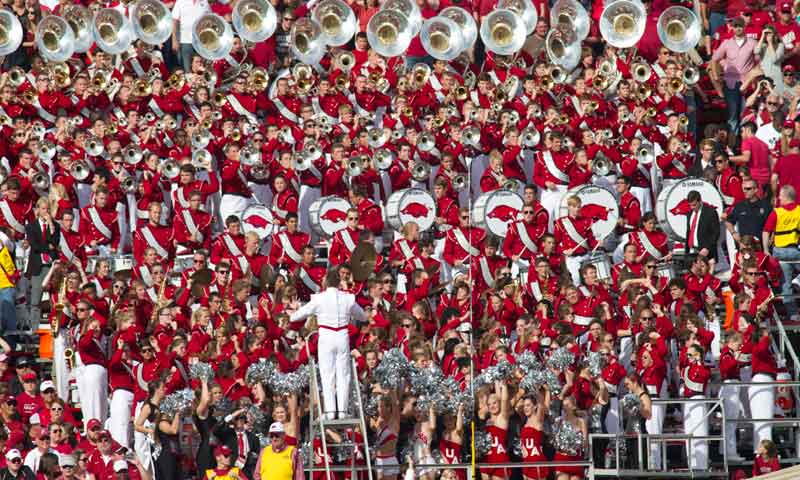 FAYETTEVILLE -  Dark storm clouds hovered Saturday all over Fayetteville, but the darkest moments for the Arkansas  Razorbacks came inside the Walker Pavilion when Rawleigh Williams was immobilized by medical personnel and carted off the field for the second time in his Arkansas career.

Recovered from the broken neck that sidelined him seven games into the 2015 to return as the SEC's regular-season leading rusher in 2016, Williams was injured during Saturday's final practice of the spring, a not full tackling practice switched inside to  the Walker Pavilion during thunderstorms and area flooding.

The Razorbacks knelt in prayer before resuming practice, informed by Arkansas coach Bret Bielema after he had been informed that Williams had suffered a "stinger," a generic football term describing painful but usually not serious injuries to the neck or shoulder.

Bielema opened his postpractice press conference updating media what he had been told.

"Obviously a huge scare out there," Bielema said. "With his history and everything that goes into it, it seems to be something unrelated. I don't want to speak out of turn. We'll wait until we get confirmation. Everything has been very positive so far, everything I've been informed of. Before he left the field, he had full movement of everything out there."

In fact, Williams wanted to move than the medical staff would allow.

"He kept saying, 'This is embarrassing,' because he wanted to walk and they wouldn't let him walk, because they were just being overly cautious," Bielema said.

Williams' parents and siblings attended the practice and had talked with Bielema earlier in the day.

Williams adamantly wanted to return after his 2015 injury was diagnosed as a broken neck and had to be persuaded by Bielema not to have contact practices in the spring of 2016 before practicing full tilt in the August 2016 preseason.

Other than the Williams family, likely nobody was more relieved to see Rawleigh moving all extremities than defensive end McTelvin "Sosa" Agim of Hope whose contact, such as it was in a "thud" not full-tackling inside run drill.

"Rawleigh ran opposite of me," Agim said. "I was in my gap and he came over the top. It was like we went head up and he spins off and when he spins I don't see him anymore. And I see that he was on the ground and I thought he was going to get back up. I don't know what it was. I heard him when he fell and I heard, 'I can't move.' It most definitely scared me because you know his history.  At a time like that you've just got to pray. I just prayed for him and I am going to keep praying for him. Everything was moving  and hopefully it's looking up."

It was not easy, Bielema and several players said, to jump start practice once Williams was whisked away for medical observation to the hospital.

Despite the emotional upheavals, Agim was in a performance groove appearing to net three sacks, though keeping stats on a "thud" practice are relatively meaningless and subjective.

Allen, of Fayetteville,  senior All-America candidate center Frank Ragnow, fifth-year senior defensive back Kevin Richardson of Jacksonville and fourth-year junior safety Santos Ramirez were elected captains by team vote, Bielema announced Saturday.

Allen threw two touchdowns Saturday during full-team portion, zipping a 20-yard strike to receiver LaMichael Pettway of Nashville against the first-team defense and a 9-yard TD to tight end Cheyenne O'Grady against the second defense.

In the backup QB battle that Bielema calls "even" between third-year sophomore Ty Storey of Charleston and strong-armed redshirt freshman Cole Kelley, Kelley threw the most impressive pass, a deep one to freshman receiver Jordan Jones of Smackover.

However, Storey committed no turnovers while Kelley threw two interceptions, one to linebacker De'Jon "Scoota" Harris and one to cornerback Ryan Pulley and nearly a third that defensive back Nate Dalton jumped but couldn't corral.

Third-year sophomore Jamario Bell of Junction City, thriving since moved from tight end to second-team outside linebacker, almost picked off a pass Saturday while impressing Bielema.

"He's been like a rebirth," Bielema said. "He's been unbelievable. I know when I first brought it (moving from tight end) up to him, he kind of gave me those big eyes, but he jumped into it 110 percent. He has made plays really ever since the day he got there. He had a big interception on Tuesday and almost came up with a big one today."

Overall, Bielema deemed spring ball a Razorbacks success.

"Through 15 practices, couldn't be happier with the attitude, the energy, the coachability," Bielema said.