Hogs: Froholdt finally feels fine on O line; notes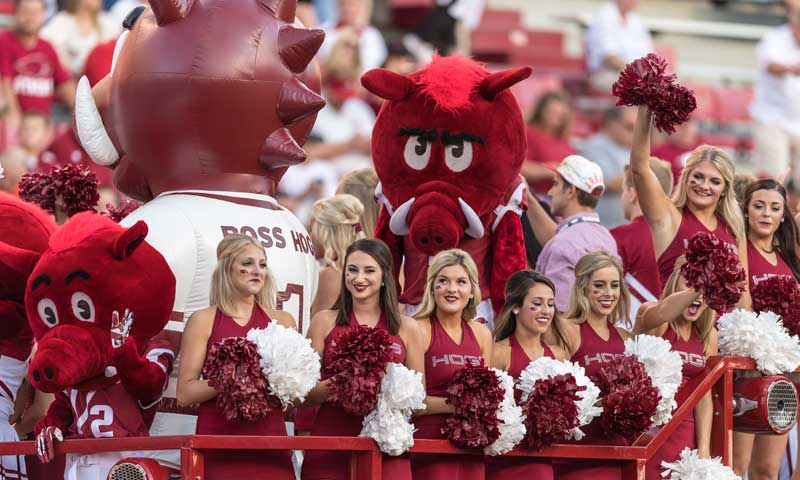 FAYETTEVILLE - It seems Hjalte Froholdt has learned more languages than a United Nations interpreter.

First the Denmark native had to learn English, then learn to speak defensive football as a foreign exchange high school defensive linemen in Ohio and a freshman at the University of Arkansas.

In the winter of his 2016 sophomore year, Froholdt moved to the offensive line, the position group that usually requires a redshirt year and then some.

BABE IN THE WOODS
The terminology can be as baffling as the line play.

"I was like a newborn baby," Froholdt said after the Razorbacks practiced Tuesday.

Were there times he wondered what he was doing even as he started every game at left guard?

"Oh, every day," Froholdt replied. "I remember first day coming out, they said a specific play, a rollout and I was like, "where am I going?" Skip (since graduated  tackle Dan Skipper) was like "Just run left." So I just ran left. This year, it's great being able to know what I'm doing out there."

Froholdt struggled during Arkansas' 7-6 season of 2016, but he must have done some things right for running back Rawleigh Williams to lead the SEC in regular-season rushing and quarterback Austin Allen to lead the SEC in passing yardage.

BRET KNOWS BEST
What he's learned and how well he's applied it this spring has him thinking that Arkansas head coach Bret Bielema, offensive coordinator Dan Enos and his defensive line coach (former Razorbacks assistant Rory Segrest) knew best when convincing him to switch lines after the 2015 Liberty Bowl.

"I took it with open arms," Froholdt said, admitting the open arms came after somewhat going into shock. "Coach B thought it was a better idea. And Coach Enos and even Coach Segrest. Back in the day Coach Segrest played on the offensive line. He thought it would be a good switch. And with a guy like him that won a national championship at 'Bama … he's been around with a lot of defensive linemen. He also looks at the offensive line every single day. So I spoke a lot with him, too, and he thought it would be a good transition."

And now it is?

"Oh, definitely," Froholdt said laughing. "I feel a lot more comfortable out there in a little more square three-point stance. It feels good. It's a lot more comfortable knowing what to do on every single play. The game has slowed down."

RELYING ON RAGNOW
And when the game speeds up he and last year's other young linemen (sophomore left tackle Colton Jackson of Conway, junior right tackle Brian Wallace and junior Johnny Gibson of Dumas)  still can rely on senior All-America candidate center Frank Ragnow.

"It's incredible to have Frank next to me there on the line," Froholdt said. "Still helping me develop and become a better player, pushing me every day. The coaching points are more than  schematically now, it's more hints and pointers on specific footwork and stuff like that."

EVERYONE IMPROVING
Someone suggested because of the standpoint that Froholdt started from last year he should be Arkansas' most improved lineman this year.

"I  wouldn't say that," Froholdt said. "I think there are a lot of people who improved a lot. There's still a lot of coaching points I get every single day. (Offensive line) coach Anderson has been doing a wonderful job to keep coaching me and never backing down just because I'm starting to do a little better. I'm still not where I need to be or where I want to be. We expect a lot from each other."

A LIGHTER GREAT DANE
Froholdt says he'll play quicker after shedding weight from his 6-4 frame.

"I felt like I was a little bit heavy and couldn't move as well," Froholdt says. "And so I started working out with Frank and Coach Herb (strength coach Ben Herbert) on the weekends and got in on a diet plan, and it's been working well. I lost about 10-15 pounds from last season. I'm about 312 and a lot more nimble. Be able to run more, faster, for a longer period of time."

SANTOS SEEKS STOPS OVER JOLTS
Arkansas' defensive line took the heat for the defense's struggles vs. the run last year, but junior strong safety Santos Ramirez says he and the entire secondary must improve their run-support, too.

"I haven't missed many tackles (this spring)," Ramirez said. "I'm working on my run angles. I am trying to make sure each and every day that I am a sure tackler, making sure I am wrapping up. Last year I was mainly trying to knock out ball-carriers. I wasn't wrapping up and taking bad angles, which put me out of position a lot."

DOWN TO 2
The Razorbacks have one practice left, Thursday, before spring practice concludes with the annual Red-White intrasquad game at noon Saturday at Reynolds Razorback Stadium televised by the SEC Network. Admission is free.