Hogs: Bell, Taylor back to old spots; more notes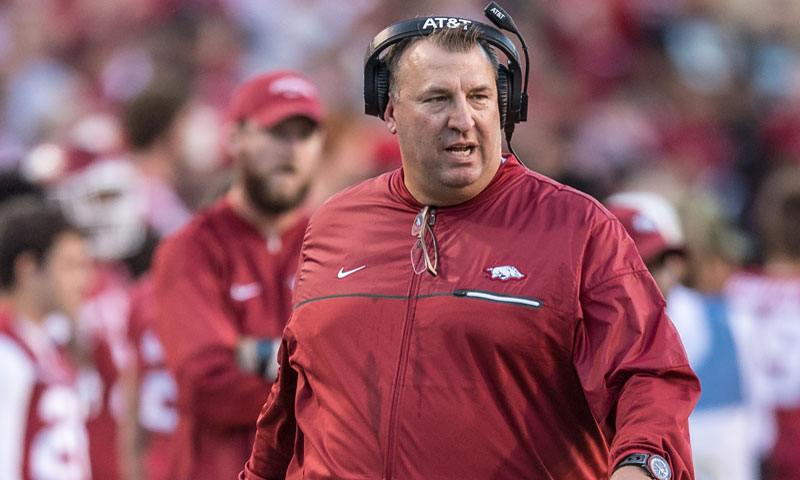 FAYETTEVILLE - Originally recruited out of Junction City to play defensive end in a 4-3 defense then moved to tight end last spring, Jamario Bell is back on Arkansas' defense again.

This time Bell's an outside linebacker in the Razorbacks' new 3-4 scheme, Arkansas coach Bret Bielema announced after the Razorbacks' closed practice Saturday.

Arkansas' two outside linebacker spots are called Razor (a strong safety/outside linebacker hybrid) or Hog (end/outside linebacker hybrid).

"Put him at the Hog position," Bielema said. "He kind of looked at me at first, wasn't all that excited. Talked to him and mom, and he made the transition. Probably as good a practice on Thursday as he's had in his career here. Just really excited about that move."

Upon first moving Bell (6-5, 252) from defense to offense, Bielema had said he thought Bell was more offensive oriented, but the Razorbacks are loaded with tight ends and will add another, highly touted junior college transfer Jeremy Patton, in August.

TAYLOR MOVES, TOO
Meanwhile, outside linebacker had just been depleted by one with Bielema and defensive coordinator moving junior college transfer Michael Taylor, originally an end moved to outside linebacker, back to defensive end.

"He took to that really, really well," Bielema said of Taylor's welcome home to defensive end. "He tried it as a stand-up guy for us, but that wasn't where his heart was. He actually really performed a lot better once we moved him."

Bielema said first-team right offensive tackle Brian Wallace has been limited by a bruised arm. So Paul Ramirez, the junior college transfer redshirted last fall and returned after missing last week's scrimmage for his grandmother's funeral, worked first-team tackle Saturday.

"He (Ramirez) worked both right and left," Bielema said.

Ramirez is the backup left tackle to third-year sophomore left tackle Colton Jackson of Conway.

The Razorbacks scrimmaged the previous two Saturdays but held a regular practice Saturday and won't scrimmage again until noon Saturday (April 29) during the Red-White intrasquad game that's free to the public.

REPRIEVED FROM TIMEOUT
Punter Blake Johnson, not even on the premises for the previous Saturday scrimmage after injuring an ankle in a non-football related activity, was on hand Saturday. He returned in Tuesday's closed practice, Bielema said.

"Yep, Blake's back from extreme timeout," Bielema said. "He did a really nice job Tuesday, actually punted the ball well. He also sent me a nice message and delivered some things that I think maturity wise, if he can hold them up, could be one of the best things to happen to him."

WALKING WOUNDED RETURN
Running  back Juan Day of North Little Rock and junior college transfer receiver Jonathan Nance, both injured during the previous Saturday scrimmage, are practicing again.

"Jonathan  was full-go today," Bielema said. "He was probably out there a little faster than we thought today. And then J-Day (injured knee) is back out there, but again he's about 75 to 80 percent."

Day, a fourth-year junior, has endured two knee surgeries since high school but has posted his best spring practice since arriving as a Razorback.

"Every time he takes a step forward he tends to get something banged up injury wise," Bielema said. "He has a great attitude and is working. Hopefully he'll be full speed on next Saturday."

GIBSON IMPRESSES
Beyond Frank Ragnow, his senior All-America candidate center, Bielema was asked who is individually impressing him on the offensive line.

The first name mentioned is the one he recently restored to first-team right guard after demoting him at the outset of spring drills.

"Honestly, Johnny Gibson," Bielema said of fourth-year junior from Dumas who arrived as a walk-on but earned a scholarship. "He's a guy I really wanted to put the screws to. But he is a guy who has had a pretty good spring. He's a guy who's thinking right. Hjalte (Froholdt, the third-year sophomore left guard) has continued to make strides. I think Hjalte is going to be a very improved player from what you saw a spring ago. I think he could be a very special player when his career here is done."

SWISS ARMY KNIVES
Bielema lauded the versatility of junior lineman Zach Rogers and senior lineman Jake Raulerson though Raulerson was withheld from Saturday's workout with an injury.

"Zach Rogers is kind of like the Swiss army knife," Bielema said. "You can use him for everything. Jake is kind of that ambidextrous guy as well. We have popped him out at guard, popped him in at tackle and he is playing center.

REMAINING SPRING SCHEDULE
The Razorbacks have Tuesday and Thursday practices remaining before Saturday's Red-White game marks the 15th and final spring practice date.