Hogs: running backs spring forward; notes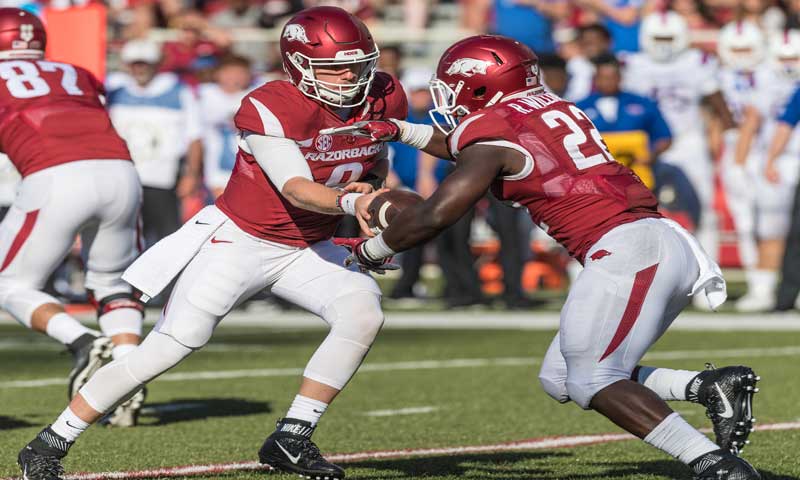 FAYETTEVILLE - Rawleigh Williams seems a living testament that spring football doesn't matter much.

The Arkansas running back, withheld from spring ball last year by Coach Bret Bielema to make sure his broken neck from the 2015 Auburn game had mended, took his first hits last fall and promptly led the SEC in rushing.

Nevertheless, running backs coach Reggie Mitchell asserts practicing every practice this spring makes the two-year letterman a better 'back for his junior year.

"It's helped him tremendously," Mitchell said after the Razorbacks practiced Thursday. "The one thing that he has been able to do is go out and compete in a game-like sense and situations because of the scrimmages and things like that. He has been able to get tackled. He didn't get tackled all last year until the season started. So he's playing at a really high level right now. I have been really impressed with what he's done."

The leading rusher in the April 8 scrimmage and Saturday, Williams logged 19 carries for 189 yards and a touchdown in the first scrimmage, and 17 carries for 99 yards Saturday. He did limp off with a sprained ankle after his last tote but "hasn't missed a beat," in the Razorbacks two practices since on Tuesday and Thursday, Mitchell said.

WHALEY POLISHES
Last fall's freshman flash, running back Devwah Whaley, is profiting from the pass protections and pass routes he finally can polish after it they were all new to him last fall.

"Last year with Devwah, the big thing is we worried with him being on third down and the pass," Mitchell said. "This spring he has done a great job. The defense had a couple of blitzes in this past week and he picked up the blitz. He's running the ball well, and I've been really excited about where he's going so far."

MALEEK WILLIAMS INITIATED
Running back Maleek Williams, the December high school graduate from Punta Gorda, Fla., is getting the spring work that Rawleigh Williams and Whaley didn't get last year since he's been UA enrolled as a freshman since January and participates in spring drills.

"Maleek's a physical kid," Mitchell said. "When the ball is in his hands, he's going to look really good. There are some things he needs to clean up. But that's a guy who still should be at the prom. He should still be in high school and in the parking lot talking to his girlfriend. He has made big strides. The one thing about him is he hasn't taken a step back so far. So I have been really pleased."

Especially since now at 6-1, 217 he looks like a tailback and not the 235-pound fullback who appeared in January.

"He looked like a fullback when he first got here but he's trimmed down and gotten his body in shape," Mitchell said.  "Coach Herb (strength coach Ben Herbert) and his staff have done a great job. And Maleek has done a great job listening to what they said and doing the plan they set up for him."

A high ankle sprain his high school senior season limited  Williams to just games and little practicing, which ballooned his weight, Mitchell said.

A BRAND NEW DAY
Mitchell also commented on junior Juan Day, the previously always injured running back from North Little Rock who has netted 71 yards on seven scrimmage carries.

"It's the first time he's been totally healthy, and the two scrimmages that we've had he's shown up and made some plays," Mitchell said.

Day did get "banged up" in Saturday's scrimmage, Mitchell said, but with no full-scale scrimmaging in the three remaining practices until the Red-White game, has a chance to heal before the annual intrasquad game concludes spring drills April 29 at Reynolds Razorback Stadium.

Junior college transfer receiver Jonathan Nance, who bruised his knee Saturday, joins senior mainstay receiver Jared Cornelius on the sidelines. Cornelius injured his hamstring last week, and receivers coach Michael Smith said they "need to be smart" about not rushing their only thoroughly experienced receiver back for spring practices.

NOT JUST TRICKS IMPROVE KIDS
Defensive coordinator Paul Rhoads acknowledges unleashing the defense with more blitzes and pressures helped its cause last week, but it's obvious he's heard enough that it gets deemed the main reason the defense improved considerably from one scrimmage to the next.

"I'd like to think that wasn't the catalyst to why we played better," Rhoads said. "I'd like to believe the catalyst to why we played better was we played harder. We strained to finish at a higher level. We tackled better. And our mental mistakes were down. You look at those three factors right there, and they were all significantly improved."

The Razorbacks next practice Saturday.