Hogs: short, smart linebackers love 3-4 scheme; notes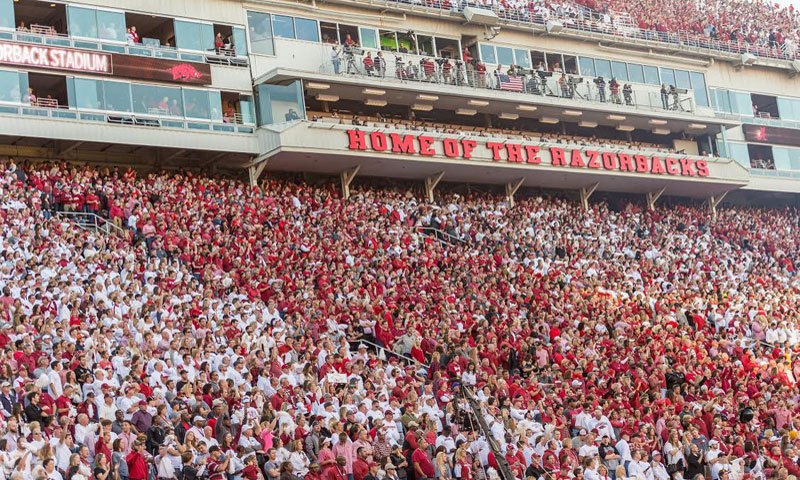 FAYETTEVILLE - Having coached Josh Harris on last year's special teams, Arkansas first-year defensive coordinator Paul Rhodes isn't selling his 5-10 linebacker short.

With first-team inside linebacker Dre Greenlaw observing this spring with a broken foot, Rhoads and inside linebackers coach Vernon Hargreaves have been running Harris first-team.

Harris, the junior walk-on from Watson Chapel, has responded in the two scrimmages with 17 tackles and one forced fumble.

Harris has been among the spring and August tackle leaders since he redshirted as a freshman in 2014 and among the leading tacklers on special teams in the 2015 and 2016 seasons.

Yet, he logged among the fewest linebacking minutes of lettering linebackers, though his performance now may earn him significant second-team playing time, even when Greenlaw returns in the fall.

Rhoads likes how Harris fits in Rhoads' new 3-4 scheme, and the feeling is mutual.

"I love the defense and Coach Rhoads. I love the guy," Harris said Tuesday after the Razorbacks held their last NCAA mandated non-contact practice of the spring. "He was the kickoff coverage special teams coach (Harris' eight tackles ranked third last year on special teams), and I really got close to him through that. I just love the transition so far."

3-4 JUST FITS
The 3-4 enables Harris and another undersized, 5-11 redshirt freshman Grant Morgan of Greenwood, to prosper, too. Morgan is running second team in Greenlaw's absence, Rhoads said.

"Both are smart guys (finance major Harris is on the SEC honor roll)," Rhoads said. "When you make a call, you can count on them being where they are supposed to be and playing as hard and as physical as they can. In this system, those spots get restricted a little bit in their space, and that benefits guys that maybe aren't the fastest and the biggest and the strongest. When you are not having to play hash to hash or hash to sideline, you've got enough people to cut down that space and show up a little bit."

Rhoads and Hargreaves know Harris inevitably finds the right space, if he has time to find it.

FITTING FIRST TEAM
"It feels good," Harris said of his longest run with the first team. "Being the guy I am, 5-10, I've got to be patient with the things I go through. At the end of the day, I've got to be in the film room and do the work and then my time comes and my name is called, and you've got to capitalize."

FATHER KNOWS BEST
That's what his father, former NFL tight end Jackie Harris, has instilled.

"He played in the league for 12 years, and he's been a mentor," Josh said. "I call him or text him every day, and he just tells me to 'stay the course, stay strong.' My mom, too. Those two have been a big help. Being patient is key. Every day is a grind. If you stick to it and stay faithful, your chance will come."

How has he compensated being a 5-10 linebacker in a big man's game?

"Brains," Harris said. "You've got to be in the film room. You've got to know what's happening before the play starts. That just goes along with studying film. The more you know, the faster you are."

SPECIAL ON SPECIAL TEAMS
While he hasn't logged much linebacking game time in the fall, Harris appreciates how special his special teams time has been.

"A lot of people don't want to be a part of it, but without special teams there is no football," Harris said. "So every time you get a chance to be a part of special teams, you've got to take advantage of it every day. I'm on kickoff, punt, punt block return and kickoff return."

CANTRELL KNEE OK
Sophomore first-team tight end Austin Cantrell of Roland, Okla., was supposed to have his knee "checked out" after Cantrell was injured late during Saturday's scrimmage, Arkansas coach Bret Bielema said.

"I'm fine," Cantrell said Tuesday. "It's nothing at all. Just twisted it a little bit. It didn't bother me at all today."

After redshirt apprenticing in 2015 behind Mackey Award winner Hunter Henry and Jeremy Sprinkle and lettering behind 2016 graduate Sprinkle as last year's  backup, Cantrell and fourth-year junior Jack Kraus of Bentonville are the Razorbacks most game-experienced tight ends.

"It feels great," Cantrell said of becoming a football veteran. "I've been working for it. It's good to finally be here."

REMAINING SCHEDULE
The Razorbacks are off Wednesday and will practice full pads Thursday and Saturday, but won't full-scale scrimmage again, Bielema said, until the April 29 Red-White intrasquad game.