Hogs: D brings more heat in 2nd scrimmage; notes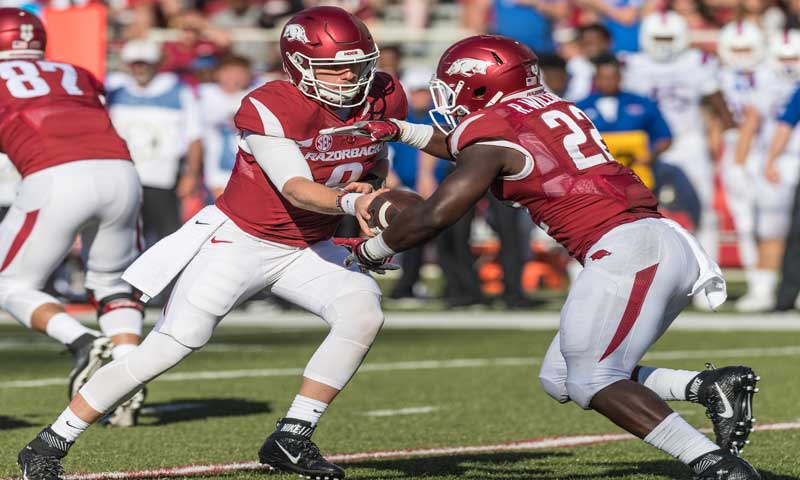 FAYETTEVILLE - Arkansas coach Bret Bielema allowed defensive coordinator Paul Rhoads to add spice Saturday to the defense that was intentionally vanilla in the Razorbacks' first spring scrimmage.

The added blitzes and pressures aided the defensive though the offense had its moments in Saturday's 138-play scrimmage featuring first-team offense vs. first-team defense and seconds vs. seconds and third vs. thirds.

"I thought defensively we played a lot more aggressively today," Bielema said afterward. "I thought that was based on confidence, but I think we gave them more calls and pressures. We brought some double-edged pressures as well as other variations that helped us."

It helped the defense immediately and will help the offense in the long run, Bielema said.

"Well, it did two things," Beilema said. "It helped everybody on defense, and it puts the offense on alarm that they are not able to predict where guys are coming, the fourth rusher let alone the fifth rusher."

Whether playing first team or second team, senior nickel back/cornerback and safety ready Kevin Richardson of Jacksonville especially benefited by the blitzing when the offense least expected.

"K. Rich we feel really good about," Bielema said. "Obviously that nickel spot he does some good things and he's a very explosive player. He's a guy who can really play all five DB positions. K. Rich has always been a guy we coaches lean on."

Richardson had a pass breakup and nickel blitz sack among his eight tackles.

Junior college transfer linebacker Michael Taylor (four tackles behind the line for minus 17 yards among his nine tackles), middle linebacker D'Jon "Scoota" Harris (scrimmage-leading 12 tackles), safety De'Andre Coley (10 tackles, an interception and a fumble recovery) and weakside linebacker Josh Harris of Pine Bluff (nine tackles and a forced fumble that Coley recovered) were among Saturday's standouts on the first-team defense.

Coley and junior Santos Ramirez, usually alternating first-teamers, ran ahead of normally first-team free safety Josh Liddell of Pine Bluff Dollarway, so Liddell could expand his versatility working at both backup strong safety and backup nickel, Bielema said.

Reid Miller took some turns at first-team free safety, and junior Arman Watts worked first-team defensive end.
Redshirt freshman walk-on weakside linebacker Grant Morgan of Greenwood (10 tackles, one for minus-8 yards) and defensive ends T.J. Smith and Briston Guidry (four and three tackles behind the line) were among the second-team defensive standouts.

The first-team offense did take it to the first-team defense for one 75-yard scoring drive. It featured a 51-yard run by sophomore running back Devwah Whaley, dragged down from behind by safety Santos Ramirez's TD-saving tackle, immediately followed by junior
running back Rawleigh Williams' 11-yard TD.

Williams eventually limped out of the scrimmage with an ankle injury that Bielema called a "tweak."

The staff will be careful with their SEC-leading rusher though like they are with top returning senior Jared Cornelius, not scrimmaging Saturday and apt to do little or nothing the final two weeks of spring drills, Bielema said, after injuring a hamstring last Tuesday.

Sophomore first-team tight end Austin Cantrell of Roland, Okla., was injured late in Saturday's scrimmage and "will have his knee checked out," Bielema said.

Bielema also disclosed that redshirt freshman linebacker Alexy Jean-Baptiste, injured the previous Saturday scrimmage, has a broken foot and will be sidelined for several months.

Also third-year sophomore punter Blake Johnson is in the doghouse and was not part of the team Saturday.

"Unfortunately he rolled his ankle in some activities away from football that I'm not very happy about," Bielema said. "So I removed him from the program for a little bit. Let him go home this weekend and celebrate Easter weekend by himself in his apartment. I'll make a decision Monday if I let him back in."

Left-footed sophomore walk-on Connor Limpert is the No. 1 punter for now.

On the plus side, fourth-year junior Johnny Gibson, the former walk-on from Dumas who won both the starting right offensive guard job and a scholarship last fall, but got demoted back to third team at the start of spring, operated first-team right guard Saturday.

Gibson had moved gradually up the depth chart after Bielema indicated he had been demoted for not fulfilling obligations.

"I was very upset with him when I sat him down," Bielema said. "But he's done everything we've asked of him. He's done well in the classroom and has been practicing his tail off. After Week One I told him, 'If you continue to do those things, I'll let you have a chance to run with the ones.'"

Whaley (17 carries for 99 yards) and Rawleigh Williams (18 carries for 74 yards and a TD) led the first unit rushers.
Reserves Maleek Williams, the January-enrolled freshman with 18 carries and 68 yards and a TD, and Juan Day, the junior from North Little Rock often injured but having his best spring, excelled for the second unit. Day netted 35 yards on five strong carries.

"I said it last week, I believe he's playing as good as he's played since he's been here," Bielema said. "He's a tall (6-1) 'back who plays with power. As you saw in that one move, too, he's got a little juke in him."

Senior starting quarterback Austin Allen handled the blitzes and new defensive wrinkles better than the other far less experienced QBs, Bielema said. Allen completed seven of 14 passes for 59 yards, including an 18-yard TD to receiver LaMichael Pettway.

Third-year sophomore Ty Storey of Charleston completed seven of 11 for 72 yards without a turnover, while Cole Kelley, the redshirt freshman competing with Storey for backup, completed six of nine for 55 yards including a TD to scrimmage-leading receiver Brandon Martin (six catches for 71 yards).

Among the thirds against thirds, January-enrolled freshman Daulton Hyatt completed two for four passes for 23 yards. Walk-ons Carson Proctor (two of three for 35 yards) and Jack Lindsey (five of five for 43 yards) each threw one TD.

The Razorbacks next practice Tuesday, fulfilling the last of the three helmets and no pads practices mandated among the 15 by the NCAA. Bielema said they won't full-scale scrimmage again until the annual Red-White intrasquad game caps spring drills April 29.