Hogs: OG Gibson moves up; Little linebackers; notes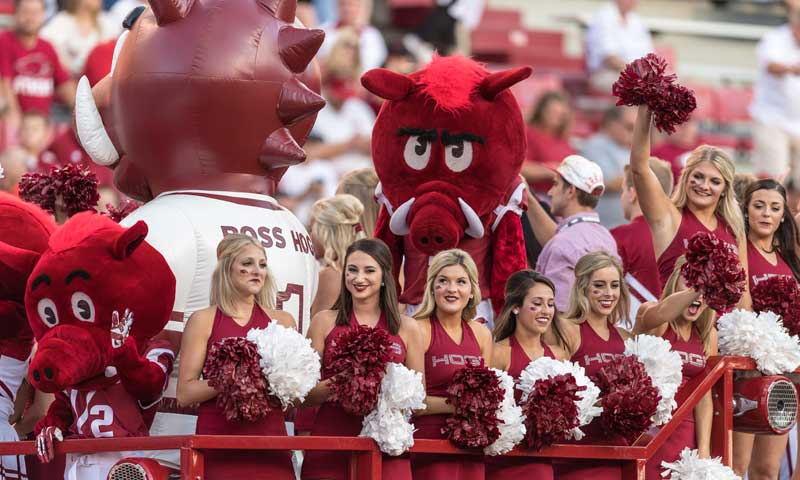 FAYETTEVILLE - Arkansas practiced Thursday without a true first-team receiver.

Senior receiver Jared Cornelius, the Razorbacks' only true first-team receiver at this point as offensive coordinator Dan Enos and receivers coach Michael Smith rotate the less experienced wideouts, missed Thursday's practice because he "nicked" a hamstring during Tuesday's practice, Enos said after Thursday's practice.

It would be surprising to see Cornelius practice Saturday in the Hogs' second scrimmage of the spring.

"I know we'll be very cautious with him," Enos said. "Jared Cornelius knows the offense and can play all positions and makes plays. He's going to be there. For the rest of the guys, it's going to be a continual process through the summer and fall camp. All have shown flashes. It's a process. I don't think we'll know anything by the end of spring with those guys. It will be a continual process."

The rotating receivers include third-year sophomores Deon Stewart of Hardy Highland, LaMichael Pettway of Nashville, sophomore converted from running back T.J. Hammonds of Joe T. Robinson, junior college transfers Brandon Martin and Jonathan Nance and redshirt freshman Jordan Jones of Smackover.

JORDAN JONES STARRED SATURDAY
Jones led all receivers in Saturday's scrimmage, catching four passes for 99 yards, including a 63-yard touchdown.

"I think it was really good he got to redshirt," Enos said. "He's  been through a cycle now with winter conditioning, and he's stronger. He had a really good day Saturday. Every day you see flashes of greatness. He has a chance to be special. He's got good size. He's got great speed. He's got good ball skills, and he's smart."

EVEN STEPHEN
Kelley threw Jones the TD last Saturday, but overall, Enos said it's "even Stephen" between sophomore Ty Storey of Charleston and Kelley behind fifth-year senior starting quarterback Austin Allen of Fayetteville.

"Austin has had a tremendous spring," Enos said. "He's as good and comfortable and poised and accurate as I've seen him, and this will be my third spring. He's playing at a very high level."

GIBSON REEMERGING
Apparently Johnny Gibson, the walk-on guard from Dumas who earned a starting job and a scholarship last season but was demoted this spring by Coach Bret Bielema, is working his way back toward the top.

"Johnny Gibson will continue to work in and be with the ones, maybe Saturday if Coach (Bielema) allows that," Enos said Thursday.

DEFENSIVE SWITCHES
Defensive coordinator Paul Rhoads said he and the staff are experimenting this week.

Karl Roesler, who had been operating at first-team end, now is a first-team linebacker as the heavier more lineman-oriented linebacker. Senior Dwayne Eugene has switched from inside Will linebacker to the Razor hybrid slot.

LITTLE BIG MEN 'BACKERS
With incumbent Will inside linebacker Dre Greenlaw rehabbing a broken foot this spring, a couple of players small in football size but large in heart, 5-10, 239-pound junior Josh Harris of Pine Bluff, and redshirt freshman walk-on linebacker Grant Morgan (5-11, 220) of Greenwood, are getting first-team work at Will.

Harris has either led or been among the leading tacklers in about every spring and preseason scrimmage he's played. Saturday was no exception as he made eight tackles. Morgan stood out with a stop behind the line.

After last week's scrimmage, Bielema said, "You know Josh has got a great motor. And he's got great savvy. He's a little bit limited in his height. But he uses that to his advantage. He was a good player last year for us on certain phases. I think we've got to be very, very aware of him."

And Morgan, the brother of graduated wide receiver Drew Morgan?

"Grant Morgan, a year ago my defensive coaches came to me after I think the second week and said, 'Coach, if you want to play Grant on special teams you probably could," Bielema said. "He probably would be able to contribute. He's slippery. He's smart. A very intriguing young man."

Rhoads lauded both Thursday and said the 3-4 creates a spot for their productive but undersized selves that last year's 4-3 scheme did not.

"In this system, those spots get restricted a little bit in their space and that benefits guys who maybe aren't the fastest and the biggest and the strongest," Rhoads said. "When you are not having to play hash to hash or hash to sideline, you've got enough people to cut down that space and they show up a little bit. When you make a call, you can count on them both being where they are supposed to be and playing as hard and as physical as they can."

Linebackers Alexey Jean-Baptiste and Giovanni La France, both  injured during Saturday's scrimmage, have not practiced this week.