Hogs: Morris evaluates QBs, welcomes Noland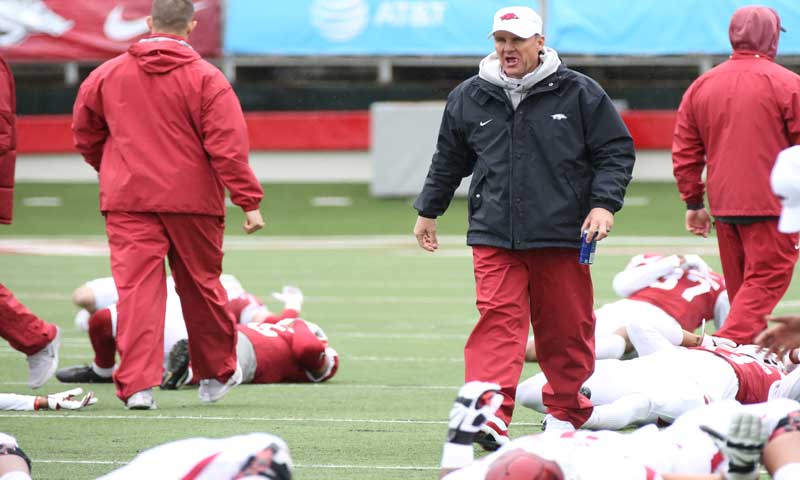 FAYETTEVILLE - University of Arkansas head coach Chad Morris (in Rhonda Sharp photo) evaluated his Razorbacks' progress from winter workouts through spring practices.
"Well, from where we were to where we ended, I would definitely believe we improved a lot, both sides of the football," Morris said. "If you want to give a grade, a B. From where we are to where we need to be, we've got a long way to go. We're about at a C level right now. And we need to be at an A level.
"I'm not going to come in here and tell you we're an A-plus on both of them because that means there's only one place to go and that's straight down. We've got a lot of improving to do. And these players understand that. They know the hard work it's going to take to get this program where we need to be for our report date in early August."
PRE-SUMMER AGENDA
Morris said the Razorbacks will get into the third quarter of their summer conditioning program that will accelerate into the fourth quarter starting around July 4.
"We've got to have a tremendous summer," Morris said.
Before finishing final exams in May and getting some time at home, the Razorbacks will have exit interviews with position coaches and with either defensive coordinator John Chavis or offensive coordinator Joe Craddock. Morris will visit with all players.
"I'm excited to see how these exit meetings go, and from there we'll see how we set the depth chart from that point," Morris said.
DISCUSSING THE QBs
Morris evaluated his competing quarterbacks: Ty Storey, the fourth-year junior from Charleston, and Cole Kelley, the third-year sophomore from Lafayette, La. and last year's backup.
"I think both bring different strengths," Morris said. "As I've said I thought Cole's last six and a half or seven practices were his better of all of them.  I thought Ty started off strong and finished consistently."
Morris said both need to improve over the summer on adapting to quick decisions in the hurry-up pace of his no-huddle offense and the various passes it entails.
"But one thing I am pleased with is we've got a good competition going," Morris said. "They are all pushing each other."
Incoming freshman QB Connor Noland enters the competition this summer. Noland, the 2017 Farm Bureau Insurance Awards Class 7A/6A Offensive Player of the Year, ran a similar offense at Greenwood for head coach Rick Jones. Noland triggered Greenwood to a 13-0 record and the school's eighth state championship in December, completing 20 of 27 passes for 304 yards and four touchdowns to earn title game MVP honors.
Noland, also an outstanding baseball player, has said he's not interested in this summer's major league baseball draft.
"I know he's a phenomenal player, a phenomenal athlete," Morris said. "I'm just excited to have him here, and we're excited for him and excited for our entire program. He'll definitely continue to give us depth at that position and competition at that position that we've got to have each and every year."
DEFENSIVE STANDOUTS
Defensively, Morris said he regrets not working junior defensive lineman McTelvin "Sosa" Agim of Hope earlier at tackle in addition to end and does have plans to work him both spots in the August preseason.
Morris also praised cornerback Ryan Pulley, safeties Santos Ramirez and Kamren Curl, defensive end Randy Ramsey and inside linebackers Dre Greenlaw and Scoota Harris.
On the second team, he mentioned linebacker Grant Morgan of Greenwood.
"I think Grant Morgan has a chance to be a really good player," Morris said. "I thought he had some really good days in spring, really showed up."
ANIMAL HOUSE
Morris acknowledged "a few" of the Razorbacks did not participate in Wednesday's final spring practice pending an investigation of a reported altercation at a fraternity house on campus.
The UA, in a statement through its information department, stated: 
"The University of Arkansas Department of Intercollegiate Athletics has been made aware of an incident occurring this past weekend at an event. The event was attended by University of Arkansas students, including members of the football team. The incident is currently being reviewed by UAPD and the Office of Student Standards and Conduct. The Department of Intercollegiate Athletics will have no further comment until the completion of the review."
Morris said: "Yeah, we had a few, a couple of young men not at practice today. 
Morris did not name any one. "I'd rather not," he said. "I'm going to be limited in what I can say. A review is underway. We are investigating it. Our police department here on campus is investigating it. Obviously I'm limited in the details I can go into. But I will tell you our standard is best. As I have shared with the beginning from our team that we have high expectations for our players, for student-athletes both on and off the field. But we're definitely involved in this as far as an investigation going on."