Hogs: noseguard Capps, 2nd-year receivers emerge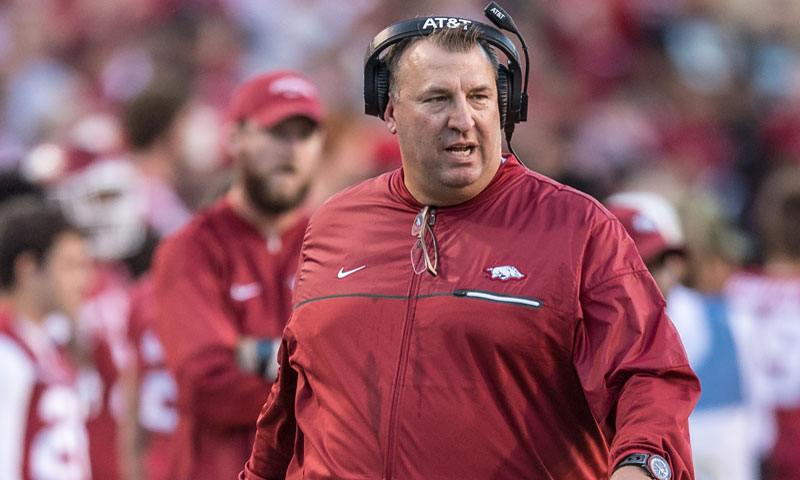 FAYETTEVILLE - Austin Capps keeps running ahead of schedule.
Considered likely to redshirt last season as a University of Arkansas freshman, the 6-4, 304-pound defensive tackle from Star City cracked the rotation to play second team in 12 of the Razorbacks' 13 games.
He averaged a tackle per game with a sack among his dozen tackles.
"It was a little surprising when they told me I was going to go with the twos and all that," Capps said after the Razorbacks practiced Tuesday.  "It was a pleasant surprise, I guess."
Especially since he played enough to make dispensing the redshirt year worthwhile.
"Yeah, I'm glad I had that experience and do not have to go through the same growing pains this year that I had last year," Capps said. "I learned how to travel and all the other stuff."
Capps started this spring second team, but in Saturday's scrimmage he started ahead of senior Bijhon Jackson of El Dorado. Jackson played a lot at noseguard and at end and intercepted a Cole Kelley pass to end the scrimmage.
But Capps stood out, too. He made five tackles, one for a 3-yard loss.
"It was a little different," Capps said of playing first team. "A little faster. I'm getting used to it."

NO RAGNOW, NO FRILLS
It might have been a little less difficult than most practices because rather than risk injury, Arkansas coach Bret Bielema holds senior center and All-America candidate Frank Ragnow out of scrimmages.
However, the basic scheme the defense showed Saturday made it easier for junior backup center Zach Rogers who started for Ragnow.
"It made it pretty hard," Capps said. "This next scrimmage we'll be able to do a little more movement than we did and see how it goes."
What's it like in the drills he's up against Ragnow?
"Pretty tough - obviously," Capps said. "The best guy in the nation. I try to keep up with him. I think it's helped me become better as practices have gone on."
Capps favors the 3-4 scheme of new defensive coordinator Paul Rhoads.
"I like it a lot," Capps said. "I feel it gives us a lot more range to be players. It gives us more movement. You don't have to stay stationary and take on blocks like we did last year."

TAKING THE HIGH ROAD
Aside from playing just its base defense, the defense in Saturday's scrimmage was handicapped by no tackling below the waist to reduce the injury risk to the backs and receivers. It not only helps' the offense's health, but makes the defense better, junior cornerback Ryan Pulley said.
"If we would've been able to tackle below the waist, we probably would've got some of the running backs down," Pulley said. "But it's just teaching us how to tackle, to be a better tacklers. We've got to hit high in some positions on the field. Goal line, you have to be able to hit high, so it was pretty good."

KEEPING UP WITH A JONES
Though it was backup quarterbacks Cole Kelley and Ty Storey completing the four passes to 99 yards to Jordan Jones in Saturday's scrimmage, including the Kelley to Jordan 63-yard touchdown, senior first-team quarterback Austin Allen already had seen enough of Jones to be impressed with the redshirt freshman receiver from Smackover.
"He's a guy who can go," Allen said Tuesday. "You can put him out there and he's going to run under it. The more he learns, the more he'll continue to get on the field. You saw Saturday he might get a 10-yard route and turn it into 80. He's a guy who can do that for us."

OPPORTUNITY KNOCKS
Third-year sophomore receiver LaMichael Pettway of Nashville is among a mostly apprenticed receiving core this year who was not in last year's rotation.
"I had five great players in front of me," Pettway said Tuesday.

"Watching and learning from their mistakes, it was a plus for me. The Drew Morgans, Keon Hatchers and Dominique Reeds in front of me, it makes you mature. Sitting back and learning the playbook helped me a lot."
As much as he wanted more time behind last year's top receivers, Pettway knows there are young receivers like Jones and junior college transfer receivers Brandon Martin and Jonathan Nance yearning to crack the lineup as he yearned to crack it last year.
"It helps me really knowing I've got guys behind me pushing me," Pettway said. "So, that makes me go even harder every day."
The Razorbacks have used seven of their 15 spring practice dates. They are off Wednesday but will practice Thursday and scrimmage Saturday, continuing their three-practices a week format through the Red-White intrasquad game April 29 at Reynolds Razorback Stadium.