Hogs: O line, running backs roll vs. vanilla D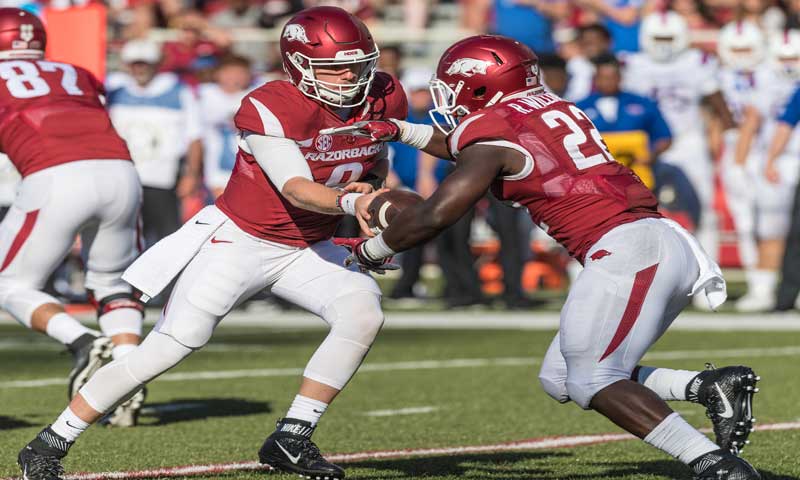 FAYETTEVILLE - Rawleigh Williams picked up in the spring where he left off last fall as the SEC's leading rusher.
Netting 1,360 carries in 2016 despite breaking his neck in 2015, the Razorbacks' junior running back broke a 68-yard touchdown run Saturday among 19 carries for a team-leading 189 yards during Arkansas' first full-scale scrimmage of the spring.
Williams did not receive go-easy-on-the-star treatment Saturday, carrying the football 19 times. Heralded sophomore co-star  Devwah Whaley logged 86 yards on 14 carries during the 132-play scrimmage. January-enrolled freshman Maleek Williams netted 88 on 18 carries and finally healthy junior running back Juan Day of North Little Rock gained 36 yards on two carries.
"I wanted him (Rawleigh Williams) and Devwah to take the load with the ones (first team), and I wanted Maleek and J. Day to take it with the twos," Arkansas coach Bret Bielema said after Saturday's scrimmage. "It's the first time in a long time J. Day has been cleared for a live scrimmage situation. So, I wanted those guys to get a good look as well. Rawleigh and Devwah have a nice competition going. We wanted Rawleigh to improve on some cuts from the fall."
Even with senior All-America and Rimington Trophy candidate center Frank Ragnow being held out of spring scrimmages rather than risk injury, the first-team line of guards Hjalte Froholdt and Jake Raulerson left and right tackles Colton Jackson of Conway and Brian Wallace and second-team center Zach Rogers has impressed Bielema and offensive coordinator Dan Enos throughout the previous five practices.
"It's night and day," Enos said Thursday. "Our offensive line from last year to right now is night and day. We could barely field two lines last year. We've got three lines right now that we feel good about."
Bielema bragged on the offensive line after Saturday's scrimmage and said two former All-America linemen in attendance, Travis Swanson and Sebastian Tretola, did, too.
"They feel that starting five, especially when Frank's in there, are playing at a high level," Bielema said.
Bielema said all three offenses in the ones vs ones, twos vs. twos and threes vs. threes moved the ball well.
Among the receivers, redshirt freshman Jordan Jones of Smackover led with four catches for 99 yards including the scrimmage's lone TD pass thrown by redshirt freshman reserve quarterback Cole Kelley.
"Jordan is tremendously talented, extremely intelligent, and he's long with good speed," Bielema said. "But what we've got to do is convince Jordan Jones he can be good."
Senior starting quarterback Austin Allen completed 14 of 21 passes for 149 yards. Other than one interception, on a nifty theft with safety Santos Ramirez deflecting and middle linebacker De'Jon "Scoota" Harris picking it off, Allen turned in an all-round good day.
Redshirt freshman Kelley (four of 10 for 81 yards and a TD with an interception) and third-year sophomore QB Ty Storey (seven of 13 for 84 yards)  were up and down in Bielema's view.
"They both do some good things and do some things that aren't so good," Bielema said. "I do think Ty is playing as well as he's played since he's been here. Today wasn't his best day (Storey missed Jordan open in the end zone), but he was still pretty good in some things."
Sophomore Austin Capps of Star City started ahead of senior Bijhon Jackson of El Dorado at noseguard, but Jackson ended the scrimmage with the play of the day. All plays ran north-south because of the construction on the north end zone (for luxury seating and eventually a new Broyles Center). The 330-pound Jackson picked off Kelley's deflected pass and rumbled to would have been a 37-yard TD before officials frantically whistle stopped the runaway D-lineman.
"We've got a drop off in the back end zone," Bielema said. "I'd hate to see Bijhon falling 20 feet into the pit over there. It was a good play by Bijhon."
Capps got the first-team start Saturday because of his "quick hands," Bielema said, but he's also got big plans for Bijhon, not just at noseguard but at end where he also worked some Saturday.
"(Jackson) is one of those guys who could probably play inside and outside," Bielema said. "He's a 330 to 320-pound frame. We just don't have a lot of that on the outside right now."
Bielema said Saturday's defense was handicapped by playing vanilla defense with little blitzing, and while it was full tackling, they were advised "not to go low."
Young linebackers Alexey Baptiste (foot) and Giovanni LaFrance (ankle) were the injuries Bielema reported from Saturday's scrimmage. Freshman defensive back Korey Hernandez missed with an injured hamstring.
Senior safety Josh Liddell led the defense with 11 tackles. Linebackers Scoota Harris had 10 stops, and  Dwayne Eugene, Randy Ramsey and reserve Josh Harris of Pine Bluff were next with eight.
In his first scrimmage since tearing pectoral muscles in last year's season-opener, cornerback/nickel Kevin Richardson of Jacksonville broke up three passes.
"I kept him in there with the twos, but he's a guy who will probably roll with the ones during practice." Bielema said of Richardson. "He does some really good things."
Recurring hamstring pulls have compelled senior walk-on receiver Luke Rossi to discontinue football