Red-White game: Morris praises receivers, Hog fans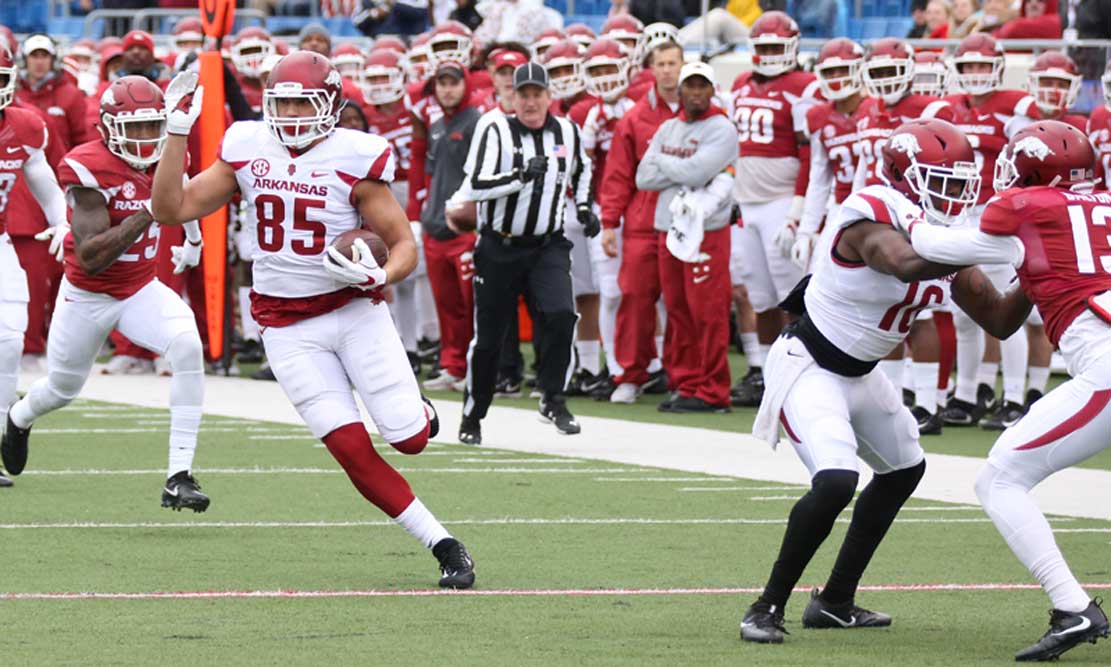 LITTLE ROCK - It sleeted Saturday when new Arkansas head coach Chad Morris got a look at 7,000-plus fans at War Memorial Stadiu
Though the sleet stopped, it was still 35 degrees with a biting wind and occasional snow flakes, but the fans stayed to see Morris' Hogs play their Red-White intrasquad game in their lone appearance here until the Oct. 13 SEC game against Ole Miss.
"It just shows you the passion level," Morris said. "Sure, if it was 72 and partly cloudy, we might have had a lot more people out here. But you know what, here's what I say: When it's 72 and partly cloudy, everybody's an All-American.  But when it's snowing outside, how are we going to respond as a football team?
"I was so pleased to get out there and see our fans and just excited just to come out and see it and see this program advance and moving forward. I saw some really good effort and energy today."
Morris seemed as pleased that his team wasn't discussing the weather as with those fans who weathered it Saturday.
"Nobody in that locker room talked about what the weather was like before the game, and that's what it's all about," Morris said.
Morris saw some fair weather performances through the foul weather and some plays he doesn't want in any weather as the Razorbacks continue to adjust to a new staff and schemes.
"I saw some really good things and saw some bad things," Morris said. "But that's part of it. If this were our 10th spring ball together, I'd be saying the same thing."
Morris kept the entire offense, whether first team, second team or third team, as the White team and all three defensive units as the Red.
The White won 27-25 on a system scored conventionally for the offense with the defense awarded three points for a fourth-down stop, two points for a three and out, and one point for a sack or tackle for loss.
The defense would have been awarded the same six points plus a try for a PAT had it scored a TD, which almost happened when defensive end Jamario Bell of Junction City knocked the ball loose from quarterback Ty Storey. Defensive end Michael Taylor returned it to the end zone but stepped out of bounds at the 3-yard line for a 35-yard return.
Storey, the fourth-year junior from Charleston, opened with the first offense against the first defense. Third-year sophomore Cole Kelley would do some first-team quarterbacking, completing seven of 14 passes for 126 yards, including a 53-yard TD to tight end Cheyenne O'Grady. O'Grady (#85 in Rhonda Sharp photo) later caught a 5-yard TD from Kelley.
"I thought it was kind of what we've seen all spring," Morris said of the QBs. "We saw some good. We saw some bad. Saw some plays that should have been made and I saw some really good throws."
Redshirt freshman running back Maleek Williams tallied a third-quarter 2-yard TD on a third unit vs. unit drive quarterbacked by redshirt freshman Daulton Hyatt (two of two for 24 yards).
Walk-ons Jack Lindsey (two of three passes for 37 yards), Austin Aune (one completion for 23 yards) and Carson Proctor (two of five for 18 yards) quarterbacked in the second half.
First-team running back Devwah Whaley carried eight times for 62 yards before sitting out the second half. Williams (15 attempts for 62 yards) led all rushers.
"Early on I felt like the offensive line did a great job of opening holes and giving me lanes to run through," Whaley said.
O'Grady caught the only TDs, while junior and leading receiver La'Michael Pettway (six receptions for 91 yards) hauled in a 34-yarder from Kelley while withstanding a monster hit from safety Micah Smith.
"I thought Pettway (#16 in Rhonda Sharp photo) made some plays today, and that was really good to see," Morris said, also citing tight ends O'Grady and Grayson Gunter, who had a 20-yard catch.
Defensively, Morris praised Bell (two sacks) and end Randy Ramsey (two sacks), while first-team cornerback Ryan Pulley broke up three passes. Nickel back and Jacksonville High grad and former Cleveland Indians baseball prospect D'Vone McClure broke up two passes. Cornerback Chevin Calloway broke up one down to the ground against freshman receiver Michael Smith, and cornerback Nate Dalton broke up one.
"They made some plays on the ball," Kelley said of the defensive backs. "We took a lot of shots today. We were testing them, and they answered it. We completed a few of them but they made some good plays. You hit the wideout with the ball in the air and they weren't quitting like Chevin breaking that one up on the ground."
Morris also was impressed.
"Our entire defensive line (minus top player Sosa Agim attending a family member's funeral) brought pressure, especially when we were trying to run the ball," Morris said. "Our corners broke well to the ball."
Walk-on Chris Lopez of Rogers, kicking 31- and 38-yarders, kicked the game's lone field goals.
Though he's "had a really good spring," Morris said, incumbent place-kicker Connor Limpert missed a 32-yard field goal attempt and kicked the opening kickoff out of bounds.
"Our special teams have got to improve," Morris said. "That (a kickoff out of bounds) is unacceptable."