2018 Red-White game: vanilla Hogs go fast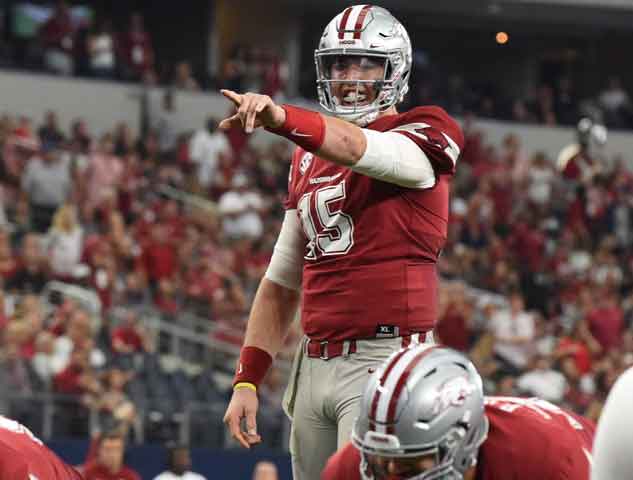 LITTLE ROCK - Fans attending Arkansas' intrasquad football game Saturday at War Memorial Stadium will be in fast company.
Admission to the 1 p.m. Red-White game is free. 
If new head coach Chad Morris has his way, his no-huddle Spread will operate as fast as he aspires.
"Offensively, you are going to see us playing fast Saturday," Morris said. "Heck, I'm going to try and set a record for the most plays you can possibly run in a spring game. We're going to play fast. We're going to have fun."
The "fun" may not include trick plays, even though Morris wants to cater to the fan base as much as he can.
But aside from not tipping his hand on video (SEC Network to televise Red-White game) that his early 2018 opponents will dissect, spring football is about evaluating and improving on the basics.
"We're going to be very, very vanilla," Morris said. "We're going to be very generic. We're going to do what these guys have gotten good at. People have asked me, 'How much of the playbook will be in?' Not much.  I do know that what we're going to do is our base offense. We're excited to see these guys play fast without coaching because the coaches will be off the field."
SEC iconic defensive coordinator John "Chief" Chavis of Tennessee, LSU and Texas A&M past, coordinates an Arkansas defense in a game-type setting for the first time.
"Defensively you're going to see these guys, as we have all spring, with the reins off them and letting them be very physical," Morris said. "You've seen the energy level and bringing pressure. You're going to see that Saturday."
Though two of Arkansas' NCAA allotted 15 spring football practice dates remain in Fayetteville after the Red-White game, the intrasquad game in Little Rock marks the last major film to evaluate how well individuals on defense are exerting the pressure and how well individuals on offense are attacking it. 
While asserting he won't name a starting quarterback until well into the August preseason, the Red-White game presents an opportunity for either third-year sophomore quarterback Cole Kelley of Lafayette, La., and fourth-year junior Ty Storey of Charleston to get a summer leg up in their dead-even battle to succeed graduated Austin Allen as Arkansas' starting QB.
Storey is older but Kelley owns far more game experience as last year's backup.
Last year's leading receiver, junior Jonathan Nance (37 catches for 539 yards and five touchdowns) concurs it's too early to name a starting QB.
"I think it's a tight race," Nance said. "You never know who is going to go in with you. We just all are trying to get chemistry between the quarterbacks. That's why we're doing a good job. They both are making good reads and good throws."
A brand new staff seems to have put Storey and Kelley on equal footing again after last year's QB pecking order was Allen, Kelley and then Storey.
Rather than drafting squads or matching the first offense vs. the second defense and vice-versa, Morris said it will be strictly offense as White and defense as Red including "good on good" during the first half of No. 1 offense vs. No. 1 defense.
"That's what we want," Morris said. "That's what we've done all spring. We're not going to change it up." 
Of course when it's "good on good," every injury means a first-teamer ailing. So expect some of the better players to start sitting in the second half even as Morris emphasizes: "My message is there is no position that's in stone. Nobody signed a lifetime contract.  So every position is wide open."
Because of the offense vs. defense format which providing the offense more opportunities to score, the defense, in addition to any defensive touchdowns or safeties, will be awarded points for sacks and lost-yardage plays, three-and-out possessions, fourth-down stops short of a first down and turnovers secured.