Hogs: QB battle for backup; receivers step up; more notes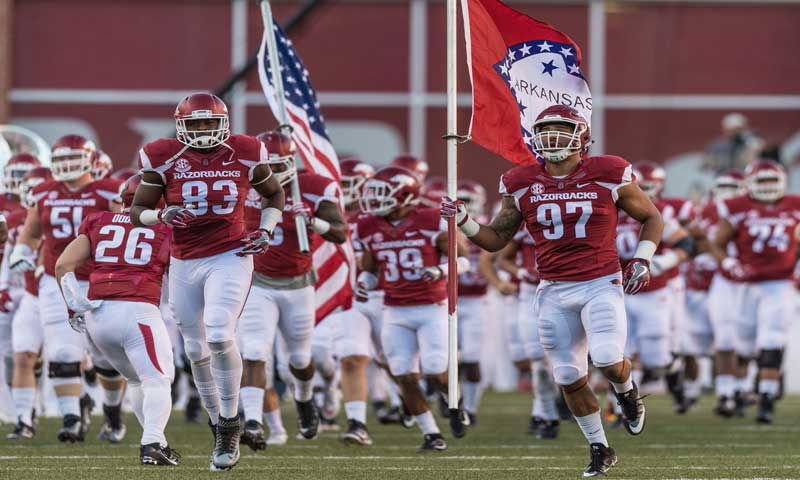 FAYETTEVILLE - Third-year sophomore quarterback Ty Storey of Charleston, last year's nominal backup to Austin Allen, somehow stayed in one piece despite taking some fierce poundings.
Quarterback is a position under review as the Razorbacks wage their first all out spring scrimmage Saturday at Reynolds Razorback Stadium.
"Absolutely," offensive coordinator/quarterbacks coach Dan Enos said after Thursday's closed practice of Storey and Cole Kelley competing for the job. "He and Cole are going at it. Cole has had some good days and made some mistakes. Ty has had some good days and plays and made some mistakes as we've seen with backup quarterbacks. When I got here (in 2015), Austin was like that. It's a learning curve. It's a process with young quarterbacka, and every rep they get is a rep for them to move forward. We are getting a lot of good, quality reps. Really competitive and good for those backups."

IMPRESSIVE ENDORSEMENTS
Allen and returning receivers Jared Cornelius and Deon Stewart have cited Storey's improvement this spring. His boss, head coach Bret Bielema, has too, Enos said.
"Coach Bielema in fact after the first practice texted me that 'Wow! Didn't Ty Storey look good today?" Enos said. "I said, 'Absolutely!' I've had other coaches comment to me about it as well."
What's made the difference?
"He's cleaned up his throwing motion a little bit, too, in the off-season," Enos said. "We had him doing some things, and he's really worked extremely hard at it I can tell. Ball is coming out of his hands as good as I've seen since I've been here. Learning has never been an issue for Ty. The guy is really bright. He's very competitive and he really understands what we're doing."

AUSTIN ALLEN TO COACH
Though Storey's game experience last season was mopping up already decided games, he's the second most game-experienced QB behind Allen, whom Enos says becomes the coach during the summer workout sessions that coaches (by NCAA rules) can't oversee.
Other than senior Cornelius, they are working with wideouts who either didn't play much more than Storey last year or are newcomers like JC transfers Brandon Martin and Jonathan Nance.
So Enos said he already puts the onus on Allen to act like a coach even with coaches on the spring practice field.
"One play he said to me, 'I think the tight end should have sat down," Enos said. "I said, 'Don't talk to me. Go tell him. I'm not the one running the route.' I was kind of being funny with him but meaning that he's got to take the bull by the horns after spring ball is over.
"So Austin has got to run it. And I've seen Austin be more vocal. He understands that these guys have a lot of talent but obviously there is a learning curve there. Ty Storey has been here long enough to where he's got to step into that leadership role a little bit, too."

A MESSAGE REINFORCED
Receivers coach Michael Smith said "behind closed doors he kinda got on his receivers, too," when Bielema mentioned to media the receivers were "draggy" at the outset of Saturday's practice.
They have practiced better during this week's practices Tuesday and Thursday since getting the message twice, Smith said.
"One thing I don't like is when Coach calls us out in the media for something negative. That's a direct reflection of me," Smith said. "I think you guys spoke to Jared (Cornelius) and some of the guys, and they've responded well. I'm happy with the way they've bounced back."

MAKING UP FOR LOST TIME
Smith said he had a stern talk with LaMichael Pettway, a third-year sophomore from Nashville excelling this spring after spending last season buried on the depth chart behind Cornelius and departed seniors Drew Morgan, Keon Hatcher, Dominique Reed and Cody Hollister.
"I'm really happy with the way Mike is playing, knock on wood," Smith said.  "He's done some unbelievable things so far. We had a meeting the other day and we sat down and he openly admitted to me that (last fall) he was just waiting his turn. I was kinda ticked off at him because I think it's foolish of a man to sit back in the background and wait for something to happen instead of going out and attacking and trying to get it. With the departure of all the guys we have leaving, he's stepped up and made some plays for us."

The Razorbacks are off Friday and have completed five of their 15 allotted spring practice dates.