Hogs: some change bodies, others positions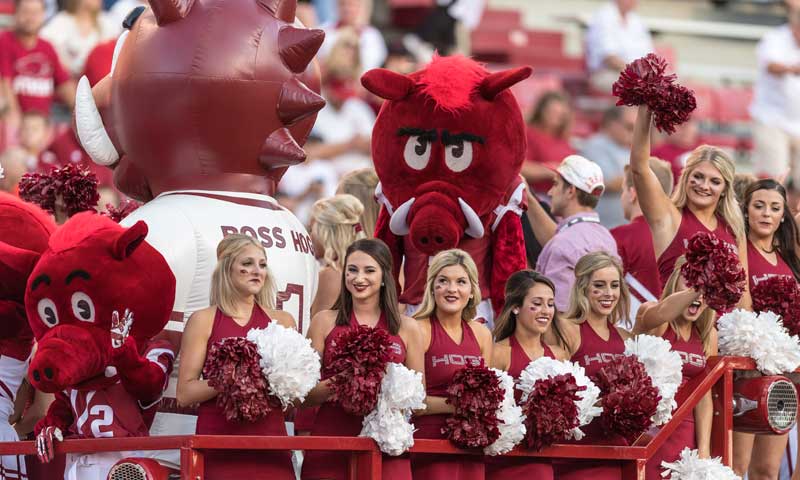 FAYETTEVILLE - When the Razorbacks dined after Tuesday's practice,  third-year sophomore receiver Deon Stewart likely received a heftier helpin' than senior receiver Jared Cornelius.
Arkansas coach Bret Bielema wants Stewart heartier and Cornelius faster with the departure of 2016 senior receivers Drew Morgan, Keon Hatcher, Dominique Reed and Keon Hatcher.
"I was weighing 159 at the beginning of this off-season, and Coach B said something to me and I gained 10, actually 11 pounds," the 5-11 Stewart said. "Last season I went up, but because of my laziness in the off-season I went back down. I've got my weight back, and I'm trying to keep it up."
Stewart, of Hardy Highland, said he realizes being buried behind all those seniors as a redshirt freshman had him cruising instead of accelerating as he does now.
"I'm playing a lot faster because I know last spring it was kind of my first time with the offense, so I didn't really know anything," Stewart said. "I was slow out there. It was really just my laziness because I wouldn't come in and watch film, but this year I am trying to get it all down."
Stewart said he's prepared for Saturday's scrimmage.
"I'm really excited," Stewart said. "This is my first time getting out and going when I really know my stuff."
CORNELIUS LEANER
The leading returning receiver with 32 catches for 515 yards and four touchdowns last year, Cornelius, 5-11, needs to speed up this season, Bielema says, with so much receivers' speed gone from last season and secondaries keying on Cornelius.
"I'm coming down," Cornelius said. "I'm between 215 and 212 every now and then, but I was 220 at the beginning of this winter. I'm trying to be 210 to 205."
Cornelius was asked about Stewart's spring progress running with him on the first team.
"Deon Stewart's playing well," Cornelius said. "He's quick. He knows what he's doing. He's kind of the second guy I would say knows the offense best on the receiving team. When you know what you're doing, you're able to play fast and get open quick. He's been doing that."
EX-LONGHORN BEEFIER
Senior right offensive guard Jake Raulerson (6-4, 301), a second-year graduate student from the University of Texas, already seems big but Bielema wants him to get bigger.
"I've tried as hard as I can to gain some good weight so I don't look sloppy," Raulerson said after Tuesday's closed practice.  "I think it's good weight. I've gained probably 20 pounds since last season. I feel good and feel like I'm moving better and hopefully that's showing. I'm just trying to work as hard as I can in the weight room and on the field and whatever happens, happens. It's my last year, and I have to make the best of it."
Raulerson was never close to this big as a Longhorn.
"Back at Texas I weighed about 235, 240, and it has been a real struggle to gain that weight." Raulerson said. "In my high school, I was 220, 225, my senior year when I was playing. It was real struggle to begin with to get 240 to 275. Then struggled to get to 295. Just doing it in increments and it has been a real struggle getting over that 300-pound mark and keeping it. So the best thing about this off-season is I have been able to maintain that weight."
TAYLOR MEETS THE PRESS
Junior Michael Taylor, redshirted last season as a late-arriving junior college transfer defensive end, is running first-team outside linebacker in the Razorbacks' new 3-4 scheme.
"It's going well so far, trying to adjust to a new position," Taylor said. "The drop is new to me. On the D-line I didn't drop as much. Dropping to the flats, reading run and pass. Sometimes I have to go to the wheel routes. You're running down the field and me weighing 260 running down the field it's not as easy as it is for some other guys. But I think I'm adjusting so far."
The 3-4 isn't a new scheme to Taylor. "In junior college, we played the same defense, but I was was on the D-line so it was kind of different," Taylor said.
REMAINING SCHEDULE
Allotted 15 spring practice dates, the Razorbacks have used four. They next practice Thursday and scrimmage Saturday and continue the next Tuesday, Thursday and Saturday. The Hogs cap spring drills with the annual Red-White intrasquad game April 29 at Reynolds Razorback Stadium.