Hogs: Bielema excited with results of boring scrimmage; more notes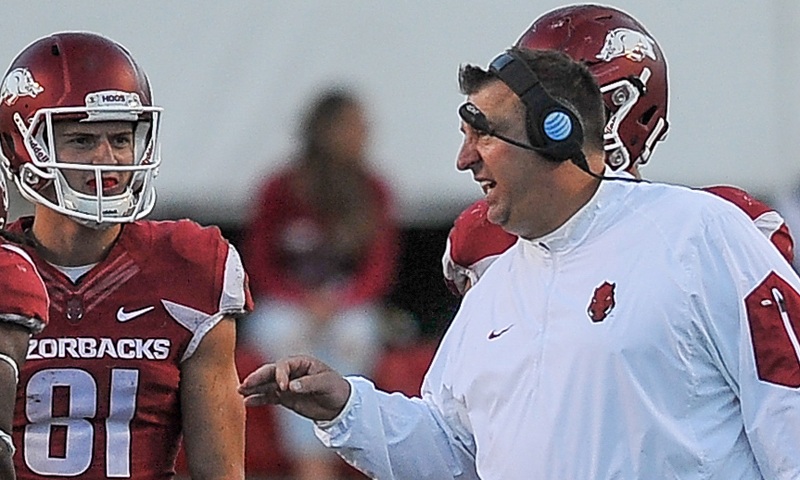 | | |
| --- | --- |
| | |
| | Jr WR DAMON MITCHELL |
FAYETTEVILLE - The toppings should be added next Saturday but Saturday's first Arkansas spring football scrimmage was pure vanilla.

Vanilla by design, Arkansas coach Bret Bielema said.

The 24 plays that the first-team offense and first-team defense ran against each other and the 24 that the second offense and second defense ran against each other were all first and 10 then repeated from the offense's 25-yard line. Only 17 passes were attempted.

So for entertainment's sake, it's probably just as well Saturday's scrimmage was closed to a public clamoring to see how quarterbacks Austin Allen, Rafe Peavy, Ty Storey and Ricky Town are passing in their competition to replace graduated three-year starting quarterback Brandon Allen.

"If anybody was watching today, I wanted you to get bored," Bielema said, smiling. "That was my phrase. I didn't want it to be anything fancy. I just wanted it to be good, solid football."

The wide receiving and tight end corps, the deepest part of Arkansas' offense, and the unproven QBs throwing to them, will have increased opportunities for catching and throwing, but that wasn't Saturday's measuring stick.

Not surprisingly, though, Bielema said the more experienced of his inexperienced QBs, Allen, the fourth-year junior backing up his brother the last two years, and third-year sophomore Peavey continue ahead of redshirt freshmen Storey and Town.

"In the first two practices, Austin and Rafe really set themselves apart," Bielema said. "Those two guys have done a nice job really. They maybe didn't get to showcase it as well today. I told them I really wanted to establish a run game. I wanted to play good football, good fundamentals, good tackling on defense and play good, basic football. We haven't even put in third down, yet. So next week there will absolutely be a lot more (passing)."

For their limited passing Saturday, Allen was three of six for 28 yards. Peavey was four of six for 36 yard. Storey completed one of three passes for 13 yards, and Town connected on one of two for 5 yards.

None threw an interception, but Bielema nonetheless was impressed by the secondary now coached by former Iowa State head coach Paul Rhoads.

"On the back end, we are getting our hands on a lot of balls," Bielema said. "I give a lot of credit to Paul on his footwork and techniques keys that are a little bit different that jumped out to everybody in our practice."

Pass protection is an issue both because the offensive line started Hjalte Froholdt, moved this spring from defensive tackle, and redshirt freshman Jalen Merrick at guards, and alternated competing would-be starters Brian Wallace, a third-year sophomore, and redshirt freshman Colton Jackson of Conway at left tackle, against a defensive line energized by moving quick defensive end Jeremiah Ledbetter to tackle against the rookie guards.

Three of Ledbetter's four tackles accumulated minus 16 yards.

"He has looked very good all week," Bielema said, likening Ledbetter to 2014 cat-quick defensive tackle Darius Philon who completed his 2015 in the NFL with the San Diego Chargers. "I know when we moved him to three-technique that Robb (Smith, the defensive coordinator) really wanted to have him be one of the four guys on the field and he showed why. He is a very dynamic player."

Ledbetter logged two sacks, while defensive ends Deatrich Wise, JaMichael Winston, McTelvin Akim, defensive tackle T.J. Smith and linebackers Dre Greenlaw and Josh Harris each sacked a QB once.

Bielema especially liked the first-team matchup of senior end Wise against senior right tackle Dan Skipper, in his fourth-year starting on the offensive line.

"Those are two very, very good players going against one another," Bielema said. "And it's going to bring nothing but good results for both."

Bielema said the young offensive linemen are progressing.

"I thought B. Wall did some good things today at times," Bielema said. "Colton Jackson has also done a nice job there during the course of the week. So those two guys are battling it out. I really have been impressed with Hjalte. He's only had three practices on the offensive line."

The line opened some holes for running backs Kody Walker, five carries for 40 yards, Duwop Mitchell, nine carries for 51 yards including a scrimmage-long 33-yarder, Juan Day, nine for 43, and Denzell Evans, leading with 56 yards on seven carries in the reserves vs. reserves sessions.

Walker, the former 260-pound fullback turned 245-pound tailback, and former QB Mitchell particularly impressed Bielema.

"First with Kody Walker, he is down 15 pounds, explosive, dynamic," Bielema said. "The next guy, Duwop, you saw on that one outside zone play, a very strong runner. For a guy recruited as a quarterback, he is a very physical runner when he wants to be."

Senior receiver Keon Hatcher, "soreness," Bielema said, and senior defensive tackle Taiwan Johnson "rolled ankle" were withheld Saturday but should work when practice resumes Monday.

Place-kickers Cole Hedlund, Lane Saling and Adam McFain hit all field goals Saturday, ranging from 30 yards to Hedlund's 48-yarder. "I think Cole's perfect on the year so far," Bielema said. "The other guys hit it well today as well."




"