Hogs: QB Allen shines, JUCO receivers flash skills in first pad practice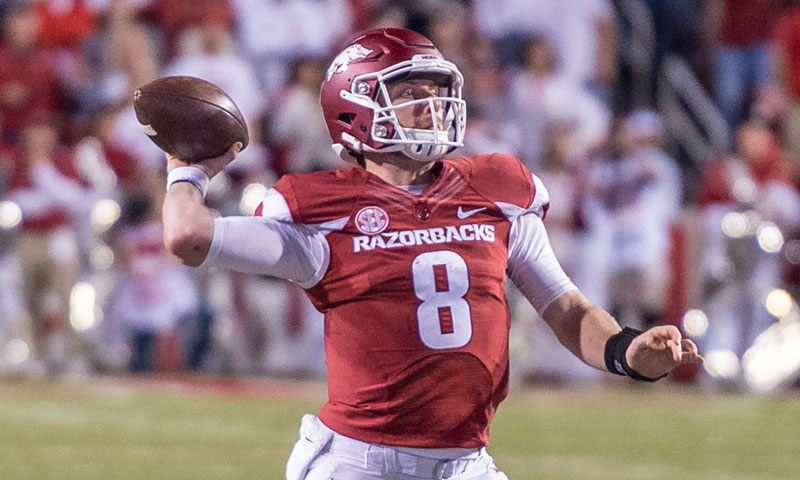 FAYETTEVILLE

-  Arkansas enjoyed what Coach Bret Bielema believes should be the most exciting day of spring.
After two NCAA mandated practices in helmets and shorts, the Porkers popped pads for the first time Saturday.
"I told our coaches and players that if you aren't excited about today's practice then you don't belong here," Bielema said. "Today has to be something that they hang their hat on, whether you're playing wideout, corner or nose guard or offensive -center, you've got to enjoy the day in pads. I thought they handled that.  Guys are definitely in the right attitude, guys are flying around. Guys have good energy."
Senior starting quarterback Austin Allen (SEC best 3,430 yards passing and 146 QB rating in 2016) zipped passes, one in particular to sophomore wideout LaMichael Pettway, in midseason form.
Bielema said he sees the same late career jump that he saw in Brandon Allen, Austin's brother and Arkansas' 2013-2015 starting quarterback about to launch his second NFL season with the Jacksonville Jaguars.
"I watched film and today Austin made some really nice tight throws into tight windows. He definitely has a full understanding of what's out there on the field," Bielema said. "I'm excited. He's a leading returning SEC efficiency guy. He obviously played some really good football at times last year, and at times, we need to get better and I think he understands that. I couldn't be happier."


JUCO HANDS
With nine newcomers enrolling in January, there was a first practice learning curve not only for the seven freshmen but even junior college transfer wide receivers Brian Martin and Jonathan Nance both of Gulfport (Miss.) Community College.
"It's coming at them 100 miles per hour," Bielema said. "I know they played good junior college football, but it's a little bit different when you get to this level. That, in conjunction with all the Xs and Os and Hoganese (team terminology the staff teaches) that they've had to learn. I've been happy with them. You just watch them run routes, naturally, probably two of the better route runners on the team. Brandon (6-4, 215) obviously, is a big drink of water and can catch it."
Bielema said it appears freshman receiver Korey Hernandez pulled a muscle Saturday but junior tight end Jack Kraus of Bentonville practiced despite a recently ailing ankle.



BIELEMA BUILDING UP OL


Demoted for undisclosed reasons from first-team to mostly individual drills the first two practices, junior Johnny Gibson practiced some with the second unit. Gibson, a walk-on from Dumas earned the starting right guard job last season and was awarded a scholarship this semester.
"We let Johnny Gibson work back into the lineup," Bielema said. "He won't work the ones any time this spring, but he looked really good when he was going in there with the twos. Just a trust factor there that I have got to get on the same page with him. I gave him a scholarship and I expect him to do everything we're asking on and off the field. He's got a chance to redeem himself."
Senior Jake Raulerson has worked at Gibson's first-team right guard spot.
Led by senior All-American candidate Frank Ragnow, the entire first offensive line practiced well Saturday, Bielema said.
Since the winter offseason, Bielema has touted third-year sophomore left tackle Colton Jackson of Conway.
"Colton's got light feet," Bielema said. "I think he took a step forward this winter. He's a kid that's got a lot of ability and I think he just needs confidence. Today I saw that begin to happen. He's a guy all spring we're going to continue to press."



COLEY HITS AND MISSES


Senior strong safety De'Andre Coley netted Bielema's praise Saturday for  an interception and his hard hitting but also got tossed out of a drill for a hit that Bielema and defensive coordinator Paul Rhoads obviously believed a targeting penalty.
"We've gotta practice well with one another," Bielema said. "The good thing is, he's a very aggressive player by nature but we've gotta make sure we can all play this game together."



HAPPY HOLSTERING


Bielema was asked about the Arkansas House and Senate passing Thursday and Friday an exemption enabling the schools to continue banning firearms at games.
"I thought we'd probably get to a point where we are, we just had to work through it," Bielema said. "One of the greatest things I've ever learned in life is don't worry about what you can't control. Obviously they weren't calling me and asking for my opinion or my vote, so I just sat back and watched how things unfolded. I think it put a lot of people of ease from ticket holders to players to fans to parents to moms to wives."

THIS WEEK'S SCHEDULE
With 12 of their allotted 15 practices left, the Razorbacks plan to practice Tuesday and Thursday and next Saturday wage their first full-scale scrimmage.