Hogs: rave reviews continue for LB Ramsey; closed scrimmage Saturday; notes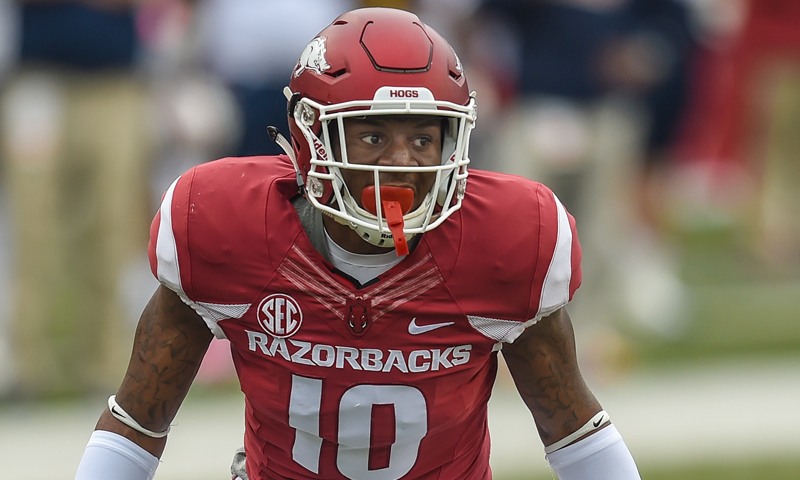 | | |
| --- | --- |
| | |
| | Soph LB RANDY RAMSEY |
FAYETTEVILLE - Their first two NCAA non-contact mandated practices complete, the Arkansas Razorbacks don pads Saturday, including a closed scrimmage at Reynolds Razorback Stadium.

Inevitably, linemen most look forward to full gear since they tend to be frustrated with no contact.

"I love being here because we play a physical brand of football, and in order to do that you have to put the pads on," Arkansas senior defensive guard Taiwan Johnson said. "The game gets easier when we put the pads on, and it's going to be fun. We just want to play clean and stay healthy. Obviously we are going to be excited. Just fly around and make plays and be physical. Arkansas football is about being physical. That's what I am excited to see."

CHECKING THE QB'S AND O-LINE
Coach Bret Bielema and offensive coordinator Dan Enos will monitor the quarterback play of Austin Allen, the fourth-year junior finally out of the shadow of his brother, graduated three-year starter Brandon Allen. Austin Allen opened the spring as the first-teamer with young QBs Rafe Peavey, a third-year sophomore, and redshirt freshmen Ty Storey of Charleston and Ricky Town, the transfer from the University of Southern California, competing for that starting job.

New offensive line coach Kurt Anderson gets his first scrimmage evaluating a restructured line minus 2015 starting mainstays Denver Kirkland, the left tackle turned pro after his junior year, graduated All-America left guard Sebastian Tretola, and center Mitch Smothers, who is also auditioning for NFL teams leading into the April 28 NFL draft.

RAMSEY IMPRESSING
Defensively, a story to monitor is the progress of strongside linebacker Randy Ramsey (6-4, 230).

A Floridian in such academic distress last year that Bielema said he would help him transfer rather than continue his scholarship, Ramsey returned as a walk-on with renewed purpose, and he scrimmages Saturday as a first-teamer.

Senior defensive captain and starting middle linebacker Brooks Ellis said Ramsey competes and acts like a new man.

"He's a whole different person than when he first came here," Ellis said. "His attitude is a 180-degree turn. He's doing a great job. I can't wait to see him the rest of the spring."

Ramsey hasn't been made media available this spring, so Ellis was asked if he sees Ramsey seizing this opportunity like it's a second and possibly last chance.

"Oh yeah," Ellis said. "He knows this is his chance to do something special, and he can do it. He has all the athletic ability to do it. He's made the changes he needs to make to be able to do the best he can."

PULLEY'S PROGRESS
Sophomore cornerback Ryan Pulley is also pressing for a more prominent role, Bielema and some of his teammates say.

"This year who really surprises me is Ryan Pulley," third-year sophomore strong safety Santos Ramirez said. "Ryan Pulley came out strong this spring. He's breaking on a lot of balls. You know he is really listening in the film room and really coming along from last year. He's growing up. He's becoming a man."

MR. VERSATILITY
There is no doubt about the secondary's everyman, that's Kevin Richardson. The fourth-year junior from Jacksonville is not listed as a first-teamer anywhere, but he's deemed a first-teamer everywhere in the secondary.

"Kevin is doing just about everything," junior starting free safety Josh Liddell said. "He is playing corner, nickel, strong safety and free safety. He is very versatile."

The Razorbacks were off Friday. Saturday's practice marks the third of Arkansas' 15 spring practices allotted by the NCAA.




"