Hogs: former walk-on lineman Gibson demoted; notes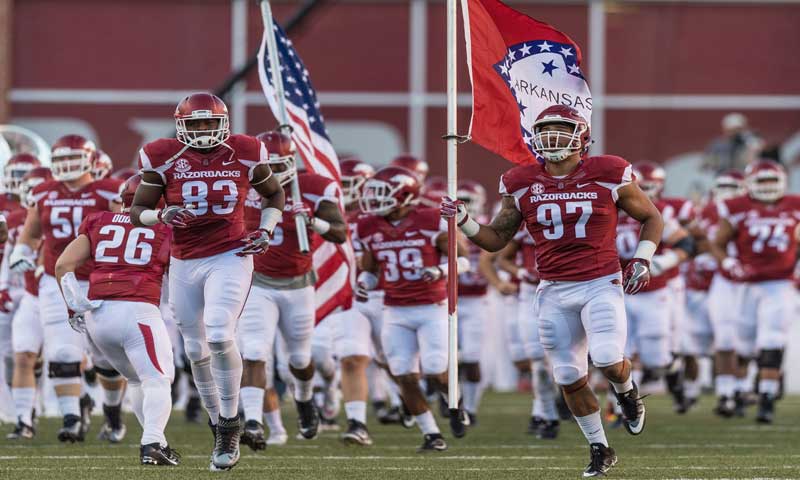 FAYETTEVILLE - Both offensive coordinator Dan Enos and especially defensive coordinator Paul Rhoads saw improvement in Arkansas' second spring practice Thursday over Tuesday's opener to spring drills.
Both practices were mandated to be just in helmets and shorts, but the Razorbacks will don full pads when they next practice Saturday.

"I thought we had a much better Thursday practice than we had a Tuesday practice," Rhoads said. "I think a lot of that has to do with that first time out has been a long time since December when they have had the helmet on and played the game."
Rhoads coached the secondary last season but now, while still coaching the secondary, coordinates the entire defense that switches from a 4-3 to 3-4 base scheme.
However, Rhoads insists the secondary still gets his attention.
"My focus on the practice field has got to be on them," Rhoads said. "There is a little more of a spoken piece that I have got to have throughout practice but that's nothing to take away from the focus of that group."
Senior free safety Josh Liddell of Pine Bluff Dollarway said Rhoads coaches the secondary just as thoroughly as a year ago.
While the defensive players and coaches talk of "embracing" the new, third-year offensive coordinator Enos enjoys continuity with the returning offensive staff.

"Oh, it's awesome," Enos said. "All the coaches are back, so it makes it a lot easier to talk about corrections and things. Last year we were trying to teach two new coaches how we called things and how we did things. Now we're going back and refining them. The continuity of having everybody back, and also having a lot of players back, is a real benefit for us."
GIBSON'S  SETBACK
There is a disruption in the continuity, though.
Fourth-year junior Johnny Gibson, last year's feel good story as the walk-on from Dumas earning a midseason starting role at right offensive guard last fall and a scholarship this winter, is back to Square One on the depth chart.
He's dressed out, but that's about all while senior Jake Raulerson runs first-team right guard with junior Zach Rogers behind Raulerson.
"Johnny had a team issue that is keeping him out of the first group or actually getting team reps period," Anderson said after Thursday's practice. "He's doing individual work. He'll be working his way back in there when Coach Bielema sees fit for that. He's got to turn this into a positive and attack every workout, every practice, every opportunity to get back into the trust of his teammates, his coaches and himself. He's obviously very talented. So I would expect nothing less from Johnny Gibson that when he gets his opportunity that he's going to try and seize the moment when it comes."
FIRST-TEAM OFFENSE
Aside from Raulerson, Thursday's first offensive line includes senior All-American Frank Ragnow at center, incumbent left guard Hjalte Froholdt, sophomore left tackle Colton Jackson of Conway and junior right tackle Brian Wallace and sophomore tight end Austin Cantrell of Roland, Okla.
When not handing off to returning rushing leader Rawleigh Williams, senior starting quarterback Austin Allen has been throwing to first-team wide receivers Jared Cornelius, Deon Stewart and Luke Rossi. Until late season when now third-year sophomore Stewart emerged, only current senior Cornelius played much behind the corps of 2016 senior receivers making Cornelius the lone leader for receivers coach Michael Smith to call upon.
"The good thing is he's accepted the role of being the only leader in the room right now," Smith said. "I shouldn't say the only leader because Luke Rossi has been in the group a long time and understands what we want. But Jared has really embraced the opportunity to be the most experienced leader of that group."
FIRST DEFENSE
Thursday's first defense included Hope's McTelvin "Sosa" Agim and Karl Roesler at the ends, senior Bijohn Jackson of El Dorado at noseguard, D'Jon Harris and Dwayne Eugene as the inside linebackers, junior college transfer Michael Taylor and Randy Ramsey as the outside linebackers and a secondary of cornerbacks Ryan Pulley, Henre Toliver and safeties De'Andre Coley and Liddell.
Backup inside linebackers Grant Morgan (5-11, 220) of Greenwood and Josh Harris (5-10, 239) of Watson Chapel, aren't the biggest but that's OK with inside 'backers coach Vernon Hargreaves.
"If you look back in history there are some really good football players who were not all that big," Hargreaves said. "Whether these guys can do it I don't know, but I am not going to rule it out because these guys are doing a good job right now."