Hogs: Johnson returns to noseguard, while Ledbetter explodes at tackle; more notes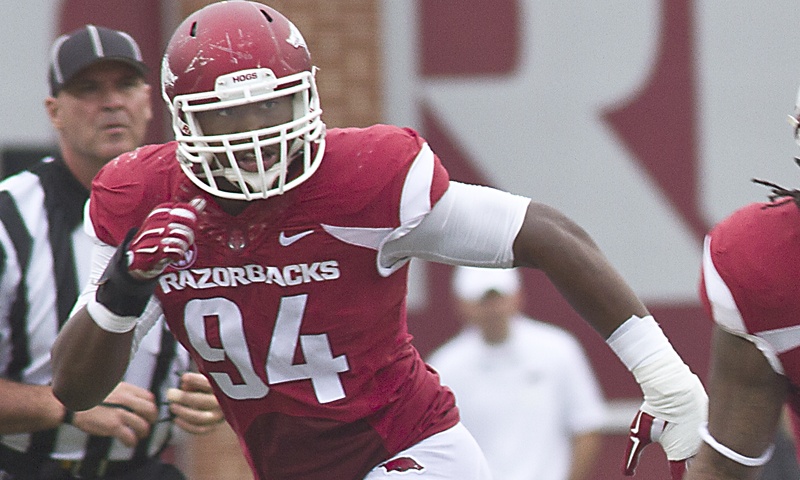 | | |
| --- | --- |
| | |
| | Sr NG TAIWAN JOHNSON |
FAYETTEVILLE - Arkansas boasted a bigger but not better interior defensive line last season.

Senior Taiwan Johnson bulked up in 2015 to play tackle where Darius Philon played so All-SEC well in 2014 before turning pro as an undersized (280 pounds) NFL D-lineman with the San Diego Chargers.

Johnson is no longer the 260-pound lightweight noseguard of 2014 whose quickness made plays but lack of heft got him taken out of some plays. Nor is he the slower 295-pound plugger of last year. Now at 280 pounds, Johnson completed his second spring practice Thursday at noseguard, while 6-3 defensive end Jeremiah Ledbetter moved his quick 275 pounds to tackle.

That's how they will line up Saturday on the first-team defense flanked by ends Tevin Beanum of Forrest City and Deatrich Wise when the Razorbacks don pads and scrimmage for the first time this spring.

Arkansas coach Bret Bielema and defensive line coach Rory Segrest see another Philon in second-year JC transfer Ledbetter. In the same frame, they hope to see a quick and big enough Johnson.

"It's about half and half," fifth-year senior Johnson said of the strength vs. speed contrasts. "A couple of years ago I was lighter but there were times I felt like physically my body was breaking down and it hurt sometimes. Last season throughout the whole season I stayed relatively healthy, but I focused in the off-season and I am going to continue to focus on getting to an optimal playing weight to where I can be athletic and physical. I think the perfect range for me would be 275 to 280 where I am right now."

Players and staff seem to think Ledbetter, 55 tackles last year at end including seven behind the line, and Johnson can complement each other in 2016 like Philon and Johnson complemented each other in 2014.

LED LEADS EXPLOSIONS
"We moved Jeremiah Ledbetter into the 3-technique at the defensive tackle position to let him know what he could do with the production that we had out of Darius Philon a year ago," Bielema said. "We thought we missed an explosive player. So we are really excited to see what he brings to us in there."

They would be even more excited to see Johnson and Ledbetter doubly explosive inside, with fifth-year senior Wise and fourth-year junior Beanum coming off career best years on the ends.

Wise, especially by the end of last season, was making plays like 2014 All-SEC senior end turned New England Patriots draft choice Trey Flowers.

"One thing we always look back on from last year is we need to make more impactful plays," Johnson said. "We need to attack more. Really just make a difference. The faster we get it to a high level playing great, the better our team is going to be."

Ledbetter wasn't at Arkansas when Philon played, but Philon's presence has been conveyed.

"That's what they want me to do, just bring explosion to that position they think they lost last year," Ledbetter said. "That's what they want me to be. They say he weighed 275 to 280 and I'm right at 275, and I just stay here. They want a speed guy in that position, and I can use my speed more to take on the double teams."

LIDDELL COMPARES PHILON, LEDBETTER
Junior starting free safety Josh Liddell of Pine Bluff Dollarway saw Philon and Ledbetter play. He sees similarities.

"Philon had a good year, and Led has that same ability," Liddell said. "Hopefully he'll do better. Led moving to that 3-technique allows him to showcase his explosion. That 3-technique is handmade for someone that is very athletic and very explosive and that's what Led is."

Ledbetter was asked if he fretted at 275 if he has the strength to take on the double-teams from 300-pound guards and centers and fight through the inside traffic.

"I would say not really because I have got a little bit of strength to me," Ledbetter said. "So it's me just taking one guy at a time and knocking him back. I think I can do that job."

SMITH AND RHOADS
First-team safeties Liddell and Santos Ramirez were asked about adjusting to Paul Rhoads, the former Iowa State head coach now coaching Arkansas' secondary, while Robb Smith returns for his third year coordinating the defense.

"Those guys are like two peas in a pod," Liddell said of Smith and Rhoads. "You can already tell that both believe in the same things and they coach almost the same way. You can tell they have a good relationship already. You can tell he (Rhoads) knows what he's doing from the first two words that come out of his mouth. We know he is going to teach us the right things if we buy into it."

A VERY FIRM MAN
Apparently Rhoads gets their attention so they do know. "Paul Rhoads is a very firm man!" Ramirez said. "Like I told him, he's going to get us right. He makes sure to work on all the little things with us."




"