Hogs: RB Rawleigh Williams recalls scary injury, ready to go; more notes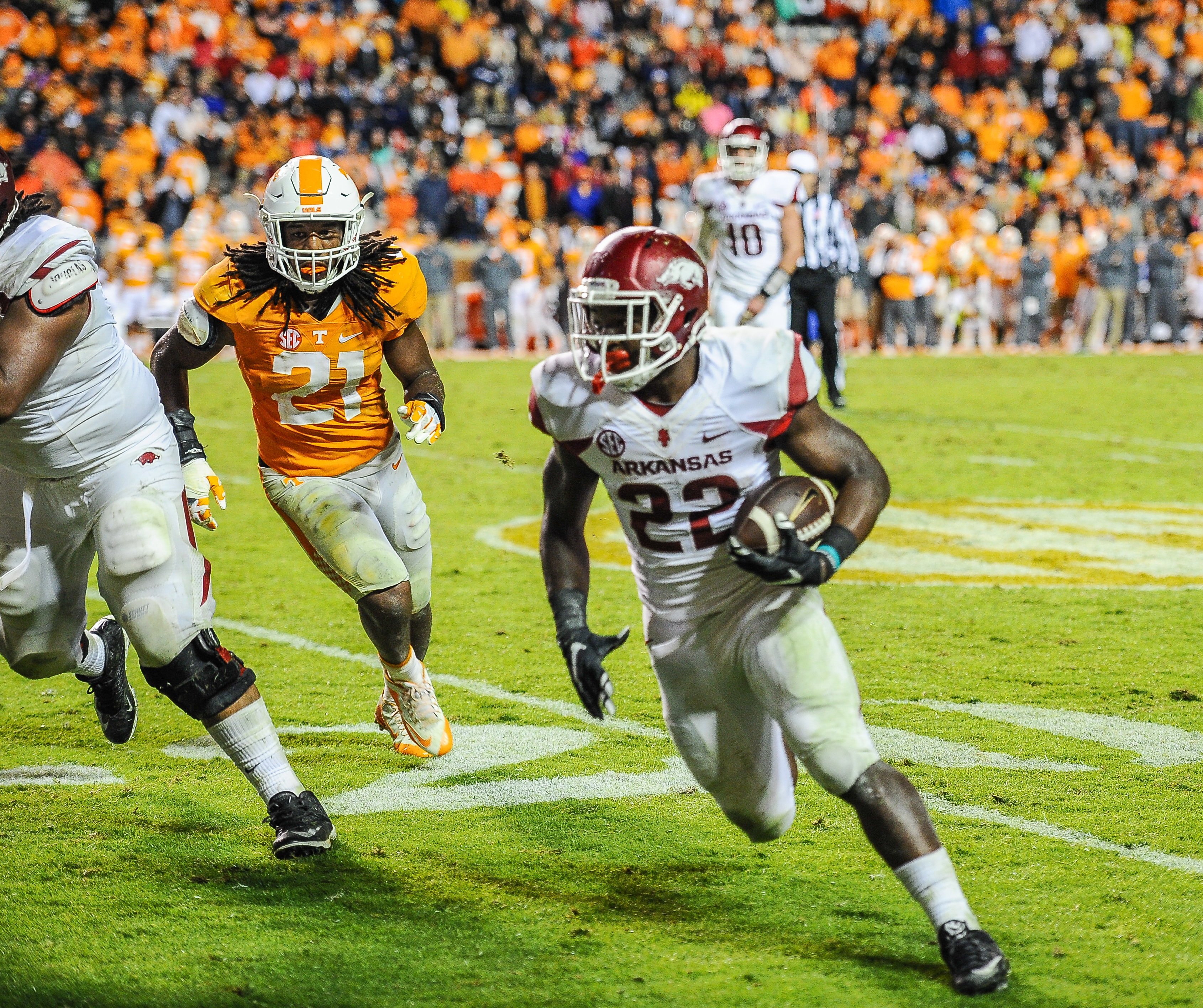 | | |
| --- | --- |
| | |
| | Soph RB R. WILLIAMS |
FAYETTEVILLE - Call them the every-other-day Razorbacks this first week of spring football practices.

The Razorbacks will spread their NCAA-allotted 15 practice dates and conclude with the noon spring game April 23 at Reynolds Razorback Stadium. They practiced Tuesday, were off Wednesday, will complete their mandated non-contact practices Thursday, are off Friday and don full pads with some scrimmaging Saturday.

Sophomore running back Rawleigh Williams, coming off major neck surgery from his season-ending injury during last season's victory over Auburn, did everything the rest of the Razorbacks did Tuesday and will again Thursday.

Williams won't do it all in Saturday's practice in pads. Medically, he's cleared, but Coach Bret Bielema stays on the cautious side.

"I understood it from a coach's perspective and a parent, an adult.," Williams said. "They don't want to mess up my future. In terms of me, when they said that I was cleared, I 'm ready to go. God is good. I'm healthy and I can do everything now."

Borne off on a stretcher into delicate surgery to screw down a disc that had been pushed almost to his spine, Williams was asked if he doubted he would play football again.

"When It first happened, I just didn't know what to expect really," Williams said. "When I got to sit down with the doctor, and he explained everything to me, I was pretty comfortable from that point that I would play again."

"When I was down on the ground. I got hit and I just lost all feeling," Williams said. "So my arms were up and they were kind of moving around. So when I wasn't controlling my arms I kind of panicked. I looked up and I saw my mom and my dad. Obviously it was a scary thing. From the time I was on the ground until I got in the ambulance, I couldn't really control anything. When they put the blanket over me my nerves were so messed up that I kind of - everything burned for ... it took a while. Right before surgery I kind of started to feel everything that was good again. It was a good sign before surgery that I could feel all my body."

Fellow running back Kody Walker, a sixth-year senior because injuries cost him the bulk of four seasons but never with an injury so menacing as Williams', recalled the horror of Williams' injury and his determination to overcome it.

"That was scary," Walker said. "Any time you see a stretcher come out it's scary, but I see the fire in his eyes and he's back and ready to go."

THE NEW ALLEN AT QB
Because fourth-year junior Austin Allen succeeds his graduated older brother Brandon as Arkansas' first-team quarterback, players who know both well are asked to compare their personalities.

Brandon, now auditioning for the NFL draft, was Arkansas' starting quarterback from 2013-2015 with Austin the backup in 2014 and 2015 after redshirting in 2013.

"I feel like Austin is a little bit more laid back, chill," fifth-year senior receiver Keon Hatcher said Tuesday. "Brandon was more demanding. They have their pros and cons, both of them, but I think Austin is going to be a really good quarterback for us."

Austin said their personalities differ, but he would love to match Brandon's passing stats from last year: 244 of 370 for 3,440 yards with 30 touchdowns with eight interception.

"He led the nation in QBR (Quarterback Rating) last year," Austin said. "Why wouldn't you want to duplicate those statistics and the way he led the team? He was a great quarterback for us."




"