HOGS back from long break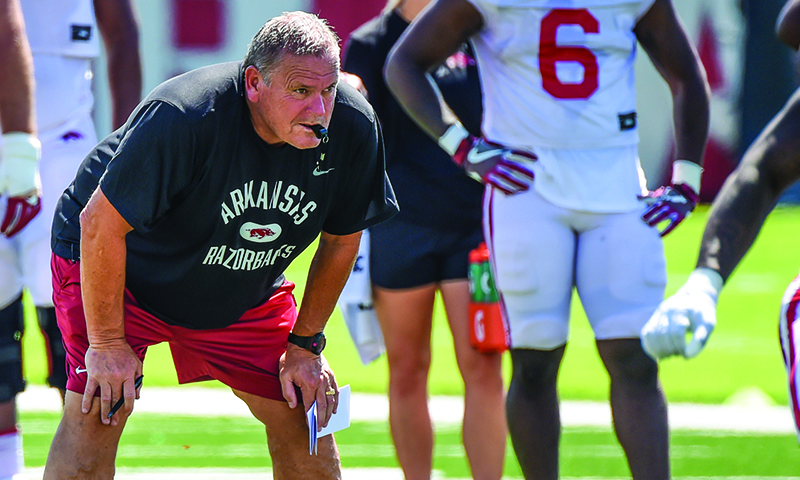 FAYETTEVILLE ­ The Razorbacks returned to the practice field Tuesday afternoon after taking nearly two weeks off for Spring Break, .and the result was about what Coach Sam Pittman expected.
 "I thought we started off slow during inside run," Pittman said. "I didn't feel like we were banging quite like we needed to there."
 Pittman said practice picked up after a short scrimmage, which was followed by work on third-down situations.  Pittman said he knew it would take time to remove the rust off his team.
"It certainly showed that we had been gone for 12 days," Pittman said. "But at the same time, I felt like the kids pushed through and got better as the day went on."
PITTMAN'S ANALYSIS THROUGH FIRST 5 PRACTICES
Pittman said he was not pleased with the timing of Spring Break, which came after the Hogs had completed five of their 15 allotted workouts. But it gave the head coach the opportunity to look back at the film from the first five practices to see both the good and the bad of the team so far. Pittman was impressed with the majority of the team's position groups, but there was one group that stood out.
"I think the thing that stuck out the most was the defensive end play," said Pittman. "I think that we have the guys to where we can be in a four-down rush and they can get to the quarterback."
Pittman was especially impressed with incoming transfers Trajan Jeffcoat (Missouri) and John Morgan (Pittsburgh).
 "Adding Jeffcoat has been a really big addition for the D-line and John Morgan is a pass-rushing guy that has made a lot of plays," Pittman said.
Pittman spoke highly of a number of players, but one who has stood out was Carson Dean (6-4, 232), one of the early enrollees from the freshman class.
"I think he will be able to play for us this year," Pittman said.
Dean accounted for 85 tackles, including 21 tackles for loss along with a sack and 2 interceptions during his senior season. Pittman said he believes that the freshman linebacker has all the right tools to make an impact for the defense this season.
"He's smart and he can run," Pittman said. "He's faster than what I thought he was when he came in and he's really picked it up. He's played with the 1s some and has the size to do so. Normally, guys don't know the defense or they're not strong or big enough to play early in their career and none of those are a detriment to him because he can do all those things."
Dean has the remainder of spring and summer to carve out a spot in a linebacker group that includes returning players Chris Paul Jr (6-1, 230, Cordele, Ga.) and Jordan Crook (6-0, 223, Duncanville, Texas) as well as South Florida transfer Antonio Grier (6-1, 223, Atlanta, Ga).
PITTMAN LOOKS TO EMBRACE FOURTH DOWN
Pittman announced during Tuesday's press conference that the team would be holding another scrimmage Saturday. Pittman said scrimmage will start with the various groups in the current depth chart going against one another, which would then be followed up by situational groups including third-down and red-zone situations. Pittman said that he will have the team practice third-down going into fourth-down situations, for the first time.
Pittman has gained a reputation for being a conservative play caller on fourth down. The Razorbacks went for it on fourth down 20 times last season, converting on 9 of those attempts. The reputation Pittman has gained has not gone unnoticed to himself.
"I've become a guy that is afraid or concerned about going for it on fourth down," Pittman said.
Pittman said this has become a key conversation piece between he and new offensive coordinator Dan Enos. At Maryland, the Terrapins converted on 17 of 28 fourth-down situations. Pittman said he knows Enos will be on board with this new philosophy, saying he's never met an offensive coordinator that didn't want to go for it on fourth down.
Pittman made a point to ensure that fourth-down gambles will not get out of hand.
 "I'm not going to be Lane [Kiffin] ever like at Ole Miss, even though it's worked out well for him or like the late Mike Leach who was willing to do that as well,"  Pittman said. "I don't think I'll ever get to that point, but I want to get to a point where I can go for it on fourth down more, and the only way I know how to do that is to have that situation (in practice)".
FORMER HOGS PREPARE FOR PRO DAY
The current Razorback football team won't be the only athletes looking to shake off the rust as 14 former Hogs are set to participate in the Razorbacks Pro Day on Wednesday. Ten players from last year's team will take part in the event, including five players who took part in the NFL Combine nearly a month ago. Those players include:
WR Matt Landers (6-5, 197, St. Petersburg, Fla.), WR Jadon Haselwood (6-3, 210, Atlanta, Ga.), OL Ricky Stromberg (6-4, 315, Tulsa, Okla.), OL Dalton Wagner (6-9, 331, Spring Grove, Ill.), LB Drew Sanders (6-5, 235, Denton, Texas), LB Bumper Pool (6-2, 232, Lucas, Texas), DL Terry Hampton (6-1, 314, El Dorado), DL Dorian Gerald (6-3, 256, Florence, S.C.), DB Latavious Brini (6-2, 215, Miami Gardens, Fla.), and K Jake Bates (5-10, 202, Tomball, Texas)
Four former Hogs will also look to use this as an opportunity to return to the NFL. These players include: 2017-2021 long snapper Jordan Silver (6-2, 240, Branson, Mo.), 2016-2021 WR Tyson Morris (6-1, 190, Helena-West Helena), 2014-2017 DL Bijhon Jackson (6-1, 339, El Dorado), and 2013-2014 LB Martrell Spaight (6-0, 243, North Little Rock).
The Razorback Pro Day will look much like the NFL Combine with drills such as the bench press, the vertical and broad jump, and the 40-yard dash. The athletes will also be participating in 20- and 60-yard shuttle drills. The players will then move to drills pertaining to the positions that they play. 
Start time for the Razorback Pro Day is at approximately 8:45 a.m. on Wednesday inside Walker Pavilion.