Hogs: Agim moves to DT; QB race; more notes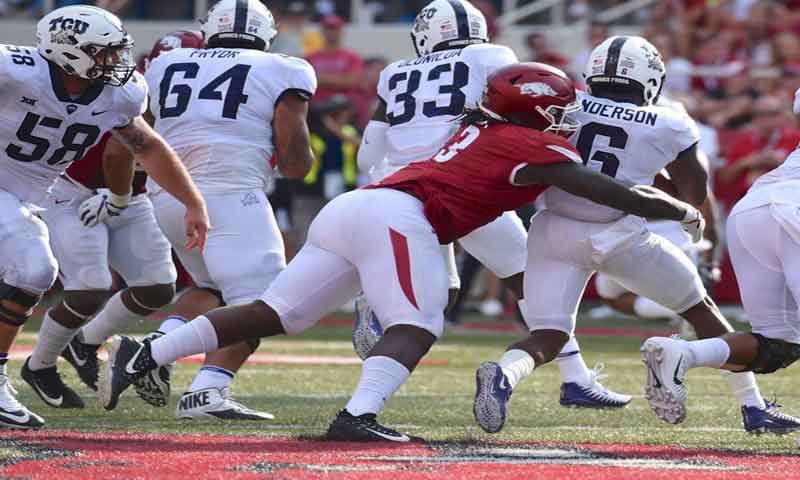 FAYETTEVILLE - Moving its best defensive lineman from end to tackle Wednesday stood out in the rain that fell on Arkansas' spring scrimmage.

Junior McTelvin "Sosa" Agim of Hope moved inside the defensive line to tackle with second-year junior college transfer Gabe Richardson going to an end as the Razorbacks weathered a mist to drizzle that new head coach Chad Morris wish had been worse.
"I was hoping it would be raining harder," Morris said of working outdoors on the practice field turf. "There was no way in the world we were going to stay indoors. So I was really hoping for an absolute, torrential downpour to see how our guys responded."
Agim responded well to his move to the interior line."He's definitely a difference-maker," Morris said. "Just definitely seems that he fits inside. He gives us a lot of depth inside."Is Agim inside an experimental move or one that Morris and defensive coordinator John Chavis consider making permanent?
"With Gabe doing a real good job coming on and the depth we've got to have inside, especially in this league. Coach Chavis would tell you the same thing," Morris said. "We need really eight quality inside guys and seven really talented defensive ends to get through a season. It's our target number. And (Agim) gives us that depth inside. Obviously he's got the capability of moving back outside if we need to. But we've started the last few practices and he's done a really good job. He's really stood out right there. But he still could be moved back outside. So it's a little bit of both."
QB BATTLE
Morris said he won't name a starting quarterback upon the end of spring drills as he continues monitoring fourth-year junior Ty Storey of Charleston and third-year sophomore Cole Kelley, the starter last year in the games that graduated senior Austin Allen missed with injury.

"We've got a pretty good battle going on right there with those two guys," Morris said.
Storey started spring drills in Morris' offense ahead of the pack. Morris said Kelley has posted his best workouts the past three practices, including Wednesday's scrimmage.
Unofficially, Kelley completed nine of 14 passes for 129 yards and two touchdowns without a turnover. Storey completed eight of 21 for 94 yards and an interception by D'Vone McClure, the former Cleveland Indians baseball prospect and Jacksonville High grad returned to the Razorbacks as a linebacker after first trying to be a Razorback receiver in 2016.
TIGHT ENDS - RECEIVERS
Tight ends were prominent among Wednesday's receivers. Third-year sophomore letterman Grayson Gunter, redshirted last year because of shoulder surgery, led with two catches, one a 30-yard TD from Kelley, for 65 yards and third-year sophomore Cheyenne O'Grady caught five for 35 yards with a TD from Storey.

Wide receivers also posted noteworthy days. La'Michael Pettway made two receptions for 47 yards with a TD from Kelley on the goal-line. Freshman Michael Woods caught two passes for 38 yards including a TD from redshirt freshman quarterback Daulton Hyatt. Pettway also dropped one call in the rain.

Tight ends were so prominent in the offense of former coach Bret Bielema that bequeathed so many returning for 2018 that Morris didn't sign any during the December and February signing periods.

That doesn't mean, Morris stressed, that they aren't important to his offense.

"They kind of came in with a question of how much are we going to be utilized?" Morris said. "Now they're asking when's my next sub going to come on the field? I think they understand their role. I told you early in the spring that the hardest position on this offense to play outside of quarterback was the tight end position. There are so many things you have to know and have to understand. We've got depth there."

Morris said junior Austin Cantrell of Roland, Okla., has had a "good spring" and praised O'Grady's work Wednesday and Gunter's versatility and route-running.

"That was a great route," Morris said of the Gunter TD from Kelley. "Did a great job of setting the safety up. He's a guy, in some situational things, you can put out as a bigger receiver. When you're out blocking on the edge and running some 12 personnel, still be able to step him on and off the line of scrimmage and use him in a receiver role."

Morris called it a "run-heavy" two-hour scrimmage. Maleek Williams carried nine times for 79 yards and a touchdown. Chase Hayden had eight carries for 45 yards and a TD. T.J. Hammonds ran eight times for 34 yards. Devwah Whaley carried seven times for 38 yards, and Kendrick Jackson rushed eight times for 28 yards and a touchdown.

"I think T.J.'s doing some really good things," Morris said. "Early in the spring we talked about his (struggles with) pass protection, and he's gotten a lot better at that over the last three or four practices. Obviously, you saw Chase today running the ball. Devwah Whaley, I think he has a chance to be really special as well. We've got a good rotation right there."

PRAISE FOR THE D
Aside from Agim and Richardson, Morris lauded first-team defensive end Randy Ramsey, inside linebackers Dre Greenlaw and Scoota Harris, cornerbacks Ryan Pulley, and safeties Santos Ramirez and Kamren Curl.

"I think Ryan Pulley is as good a corner as there is," Morris said. "He's playing exceptionally well. He's playing with great confidence. Obviously we're working on our other corner. We're having a rotation in there. Chevin Calloway, we've seen him working some there, and also some at nickel. Santos Ramirez at safety. Kamren Curl (a cornerback last year) is at home at safety. He just looks the part."