A-State spring practices open to public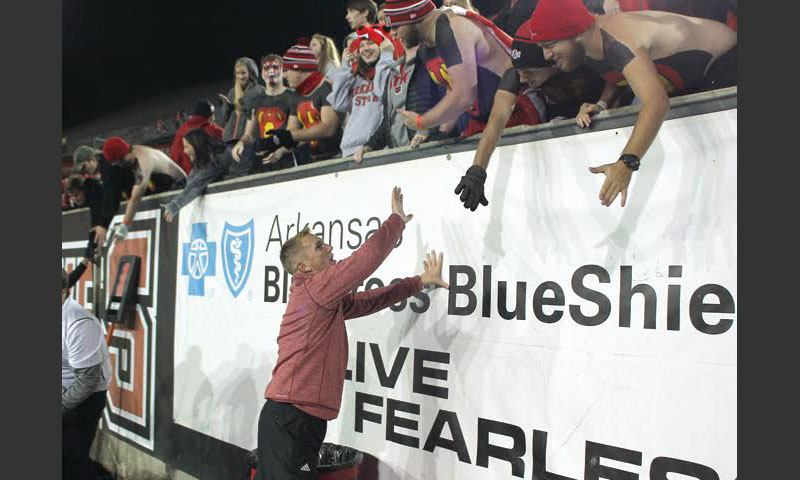 JONESBORO – Sun Belt Conference champions five of the past six seasons, Arkansas State begins tonight its fourth spring camp under head coach Blake Anderson.

The Red Wolves are set to take the field at 6 p.m. for their first team practice since ending the 2016 season with a 31-13 victory over UCF in the Cure Bowl. A-State will hold four practices this week and 13 over the next 24 days leading to its annual Spring Game at 6 p.m. Friday, April 21.

A-State, which returns nine starters and 50 lettermen from last year's 8-5 squad that closed the season by winning eight of its last nine games, will practice on back-to-back days twice this week, including Wednesday (4 p.m.), Friday (4 p.m.) and Saturday (9:30 a.m.).

The next week will include four more practices, including the Red Wolves' first scrimmage on Saturday, April 8, at 9:30 a.m.  A-State won't resume its practice schedule until the following Wednesday (March 12), but will hold six more practices between April 14-24. The Red Wolves will conclude their spring camp with one final player-run practice.

Every spring practice will be open to the public. With the exception of the first practice on March 28 and the Spring Game on April 21, all weekday practices will begin at 4 p.m. Each of A-State's two Saturday practices (April 1 and April 8) will start at 9:30 a.m.

A-State's returning lettermen include seven All-Sun Belt Conference performers from a year ago, including the league's Player of the Year in Ja'Von Rolland-Jones at defensive end. Five midyear signees will take part in spring camp as well, along with Arkansas transfer Kendrick Edwards (WR), who is now eligible for the 2017 campaign after redshirting last year.

The Arkansas State Athletics Department has announced that new season tickets for the Red Wolves' 2017 football campaign are on sale and the renewal period for current season-ticket holders will run through March 31.

Tickets may be purchased or renewed through the A-State Ticket Office, located at the Convocation Center's lower red entrance, in person, by phone at 870-972-2781 or online by visiting AStateRedWolves.com/tickets.

Fans renewing online should use the "Online Renewal" link located on the tickets page. In order for current season ticket holders to maintain their seats, tickets must be renewed in full or on an installment plan by Friday, March 31.
2017 A-State Spring Camp Schedule
Practice #1: Tuesday, March 28, 6 p.m.
Practice #2: Wednesday, March 29, 4 p.m.
Practice #3: Friday, March 31, 4 p.m.
Practice #4: Saturday, April 1, 9:30 a.m.
Practice #5: Monday, April 3, 4 p.m.
Practice #6: Wednesday, April 5, 4 p.m
Practice #7: Friday, April 7, 4 p.m.
Practice #8: Saturday, April 8, 9:30 a.m. (Scrimmage)
Practice #9: Wednesday, April 12, 4 p.m.
Practice #10: Friday, April 14, 4 p.m.
Practice #11: Monday, April 17, 4 p.m.
Practice #12: Wednesday, April 19, 4 p.m.
Practice #13: Thursday, April 20, 4 p.m.
SPRING GAME: Friday, April 21, 6 p.m.