SBC champ A-State opens spring camp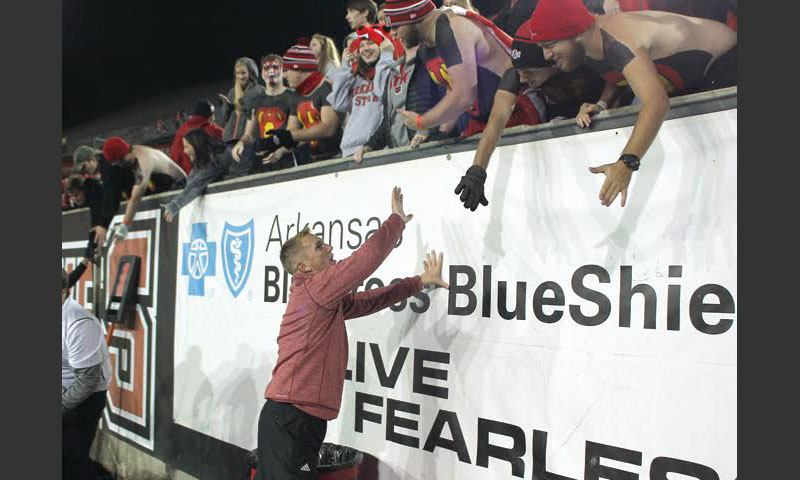 JONESBORO – Arkansas State opens its 2018 spring camp at 5:15 this afternoon, when it will hold its first team practice since completing the 2017 campaign with a school-record seventh consecutive winning season.
A-State, which made its seventh straight bowl-game appearance last year, will conduct 15 practices as part of its spring camp.  The squad will hold three scrimmages, including its Spring Game set for 3 p.m., Saturday, April 21.
The Red Wolves' first scrimmage will take place at 6 p.m. Wednesday, April 4, and their second will be conducted at 9:25 a.m. Saturday, April 14.
Sun Belt Conference champion five of the past seven seasons, A-State will hold three more practices this week in addition to its time on the field tomorrow.  The Red Wolves will also practice at 4:05 p.m. Wednesday and Friday, while wrapping up the week at 9:45 Saturday morning.
Arkansas State returns 12 starters in 2018: seven on offense and five on defense.  The squad welcomes back 10 All-Sun Belt Conference selections, including Offensive Player of the Year Justice Hansen at quarterback.
A-STATE 2018 SPRING CAMP
Tuesday, March 27 (5:15 p.m.)
Wednesday, March 28 (4:05 p.m.)
Friday, March 30 (4:05 p.m.)
Saturday, March 31 (9:45 a.m.)
Monday, April 2 (4:05 p.m.)
Wednesday, April 4 (6:00 p.m.), Scrimmage
Monday, April 9 (4:05 p.m.)
Wednesday, April 11 (4:15 p.m.)
Friday, April 13 (4:15 p.m.)
Saturday, April 14 (9:25 a.m.), Scrimmage
Tuesday, April 17 (4:50 p.m.)
Wednesday, April 18 (4:15 p.m.)
Friday, April 20 (4:15 p.m.)
Saturday, April 21 (3:00 p.m.), SPRING GAME
Monday, April 23 (TBA)