Hogs: Bielema challenges in-state non-producers as spring ball starts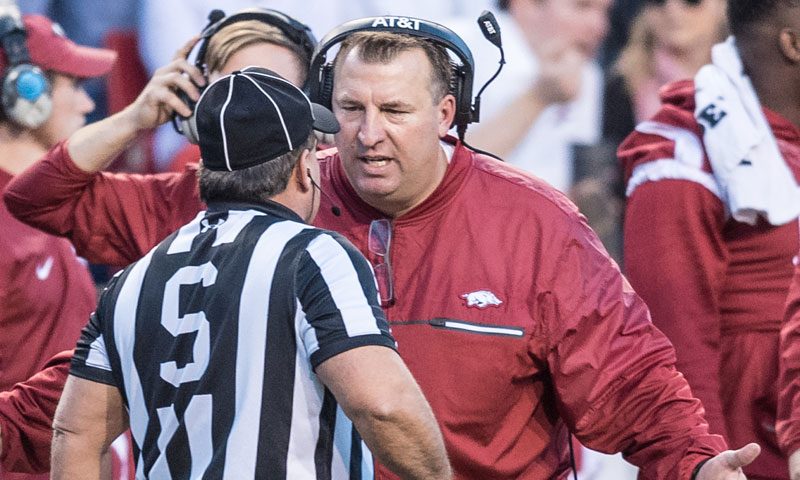 FAYETTEVILLE - The first question Monday to Arkansas coach Bret Bielema on the eve of spring football underscores a different fan focus.
Considering their audience, media normally ask about the quarterback and offense, but the new 3-4 defensive scheme has captured more attention.
Bielema and Paul Rhoads, elevated from secondary coach to defensive coordinator, have switched from a 4-3 to 3-4 base defense and have two new assistants. Defensive line coach John Scott and outside linebackers coach Chad Walker have joined third-year defensive assistant Vernon Hargreaves, who coaches inside linebackers.
With the new alignment comes an extra newness to Tuesday's first day of spring football in Fayetteville. Even a new language.
"Anytime you've got something new, there's always going to be the things you have to work through," Bielema said. "We made a total transition. We may have a coverage that we used a year ago, but it'll be a different verbiage, a different language."
Much of these 15 spring practices will be used to impart the new to the old on defense, while reinforcing what offensive coordinator Dan Enos has been preaching and teaching since 2015.

NEW EXPECTATIONS
"There's no doubt in my mind for the first time in my coaching career there's a little different expectation on both sides of the ball," Bielema said. "We are in year three of Dan's offense, and I think that has helped our kids for the most part. You look across the board. Up front there's Frank (Ragnow the senior center regarded as an All-America candidate) who understands everything we have ever done here in the past three years. Austin (Allen, the fifth-year senior starting QB) understands it and does the same thing. Really, Rawleigh (Williams) at  running back, and you've got J-Red (senior Jared Cornelius) at wide receiver. To a certain extent Austin Cantrell (the third-year sophomore from Roland, Okla.) at tight end. Those guys get it. We've got to bring along those other guys."

THREE NEED TO STEP UP
Speaking of bringing guys along, Bielema was asked about three third-year sophomore native sons: defensive lineman Daytrieon Dean of Fort Smith Northside and tight ends Jamario Bell of Junction City and Will Gragg of Dumas.
"Three Arkansas guys that haven't gotten on the field," Bielema said. "Three different stories. Daytrieon Dean was not a heavily, heavily recruited kid, but a guy we liked. I lit him up pretty good in January about, 'We need to see something out of you. We need to go forward.' He's responded with a very good spring. I'm excited to see where he can go. I think the evolution of a new coach, a new scheme, is going to help him."
Bell, Gragg, tight end Cheyenne (formerly C.J) O'Grady of Fayetteville and Cantrell arrived at the UA together and redshirted in 2015. Only Cantrell played considerably (in every game) last season, though O'Grady came on late to catch three passes for 63 yards, including one touchdown.
"Jamario Bell was obviously a highly-recruited young man that we first had on defense," Bielema said. "I think his mentality and his physicality is better-suited to offense. He'll make some plays offensively that nobody else does. He makes catches, grabs, and then he'll do something that's childish. So I really, really pushed him to grow maturity-wise. … Just physically looking at him, you're like, 'That guy needs to play.' Looks only get you so far, so he's got to learn how to play."
Gragg came extremely highly recruited and has stayed resilient while trying to find his niche.
"I've got to give him a lot of credit," Bielema said. "We really challenged him during the out-of-season and I think he responded favorably. He just had to do some things he never did before. He's always probably been bigger and stronger than everybody else.  C.J. O'Grady got in at the end of the year, but really hasn't done as much as well. I didn't want to play Grayson Gunter (last year's freshman playing in the Belk Bowl when NFL bound senior Jeremy Sprinkle was suspended), but he was better than those three. That's why he played, and that's the challenge I put in front of them."

GUNTER, GREENLAW MENDING
Gunter practices in a green, no-contact jersey this spring coming off shoulder surgery. Starting junior middle linebacker Dre Greenlaw of Fayetteville will be like "an assistant coach" this spring, Bielema said, trying to mend his twice surgically repaired foot to be healed when it counts in the fall.

ANTWINE, MCCLURE DEPART
Tight end/receiver Anthony Antwine and Jacksonville native D'Vone McClure, the receiver joining the Razorbacks last season after his minor league baseball career ended with the Cleveland Indians organization, have ended their UA football careers. Antwine remains on scholarship through the spring semester. McClure was a walk-on since his college is paid via his baseball contract.

NO PADS 'TIL SATURDAY
By NCAA rules, the Razorbacks must practice with no pads Tuesday and Thursday before donning pads Saturday. Bielema is spreading the 15 practice dates out with Tuesday, Thursday and Saturday practices through the Red-White intrasquad game concluding spring drills on April 29.