Hogs: Williams, Bell fit new schemes better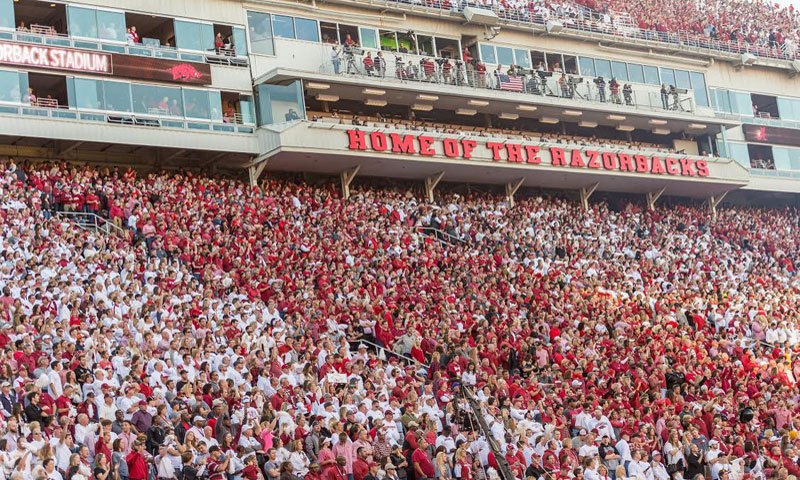 FAYETTEVILLE - Arkansas running back Maleek Williams redshirted last fall despite reporting early as a December 2016 high school graduate and going through 2017 spring practices.
But the Punta Gorda, Fla., native ran ahead of the Razorback pack in Saturday's scrimmage with eight carries for 72 yards and a touchdown in Coach Chad Morris' new offense.
"I've never run that type of offense. It was really fun, though. I enjoyed it," Williams said after Monday's practice in pads.

SPREADING TO RUN
Because Morris' hurry-up no-huddle Spread often is stereotyped as a pass-happy offense compared to the I-formation of the previous UA staff.
Williams' most run productive scrimmage as a Razorback indicates otherwise.
"I think we're still going to run the ball a lot," Williams said.  "It's going to be a lot more snaps. I think it's going to be better. We're going to keep running and passing."

REASONS TO REDSHIRT
Williams was not surprised he had to redshirt last year even with a semester head start. Williams had to shed 15 pounds to be at a tailback 215 pounds instead of the fullback he resembled upon reporting. Then he had to adjust to last year's offense, which was much different from his experience at Charlotte High in Punta Gorda.
"Definitely," Williams said of needing to redshirt in 2017. "Coming from like a Wing-T offense in high school that was really simple, I needed a year to develop myself."
Development, in his case, meant less is more.
"When I came from high school, I was 230 and I hit that diet pretty hard," Williams said.  "I've just been lifting and stuff and I'm more lean this year. I feel really good (at 215). I feel explosive and I feel like I can be more efficient at this weight, rather than just bowl over people and be gassed."
MUTUAL PRAISE
Morris said Saturday that Williams "ran exceptionally hard."
Williams returned the praise Monday.
"Man, he's a cool dude," Williams said. "I had heard good things about him before I came up here, but he's really personable. He talks to you for awhile and gets to know his players."
With Morris, running backs coach Jeff Traylor and offensive coordinator Joe Craddock, Williams has a trio of new bosses to impress by doing all the things a running back must do besides running.
"I think every day is an opportunity to prove something because these coaches are always watching you," Williams said, noting he still has much work to do. "I'm definitely not where I want to be, but I'm definitely going in the right direction."
Indeed. Senior defensive end Randy Ramsey compared Williams to former Miami Dolphins running great Ricky Williams.
"He reminds me of Ricky Williams," Ramsey said. "The physicality, he's real tough to tackle. You've got to bring it when you're trying to tackle Maleek Williams."

RANDY RAMSEY EXCELLING
Ramsey was subject of superlatives after Saturday's scrimmage. Arkansas defensive coordinator John "Chief" Chavis, who turned out NFL defensive players like a factory over 25 years at Tennessee, LSU and Texas A&M, acknowledged Ramsey has more ability than he initially believed.
"He's showing up a lot," Chavis said.
Ramsey said: "I was amazed because Coach Chavis has coached some of the top elite guys at LSU. For him to compare me, he coached Myles Garrett (the former Texas A&M Aggie starring for the Cleveland Browns) – so for him to compare me to those type of guys, I was like 'Wow!"
BELL FREE TO CHIME
Jamario Bell, the fourth-year junior from Junction City, was shuttled to several positions during the Bielema regime and broke his foot to end his 2017 season. Bell drew public praise Saturday from Morris.

Bell acknowledged it's a new beginning for him in Chavis' defense, which he says is less restrictive than the previous schemes when he practiced at outside linebacker and on the line.
"I feel like there is more freedom," Bell said Monday of the presser defense that Chavis espouses. "You just play. There's not a lot of thinking out there. Just play and it's fully wide open."
SOME AILING RETURN
Sophomore defensive end Briston Guidry and redshirt freshman offensive tackle  Dalton Wagner and redshirt freshman running back Maleek Barkley all practiced full contact Monday for the first time this spring.

The Razorbacks wage a closed practice Wednesday and then take during the UA's spring break, which begins Friday.