Hogs: Morris evaluation realistic after 2nd scrimmage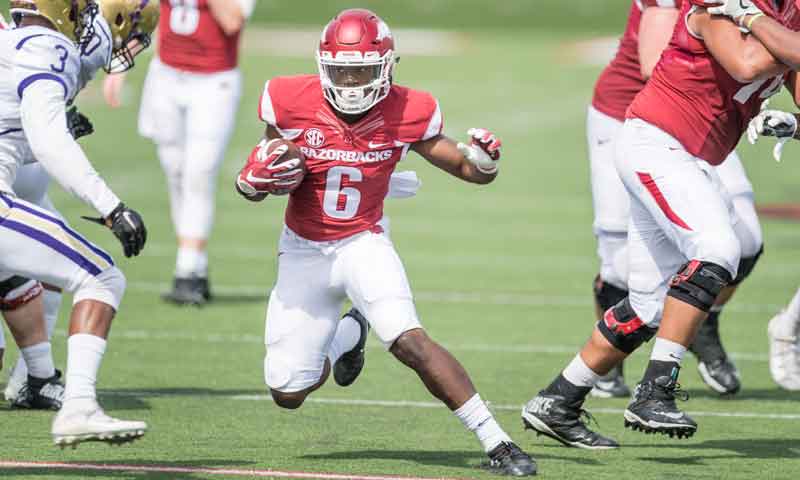 FAYETTEVILLE - New Arkansas head coach Chad Morris and his staff finally have scrimmage football film to evaluate.
There will be much to compare from now to spring drills' conclusion next month, Morris said after Saturday's two-hour scrimmage.
"I thought we competed well," Morris said. "A lot of good things we saw, and there's a lot of things we've got to improve on, don't get me wrong. But it was definitely a great starting point for us. It was a chance for us, when they stuck their face in the fan, to see exactly where they were. They had to think on their own. They had to respond on their own."
The Razorbacks tried to respond from fatigue on both sides of the ball as Morris stresses a fast-paced, hurry-up offense contrasting to the no-hurry, huddle-up pace of former coach Bret Bielema.
"I thought we got tired early after that initial surge," Morris said. "It hit us all, offense, defense, everybody. But I was really pleased to see them push through. So, that was promising. A long way away from where we need to be. But definitely doing a lot of really good things right now in a lot of different avenues."
Some of the different avenues have altered paths that seemed set following the 2017's finish.
Third-year sophomore quarterback Cole Kelley, the only returning QB who has started a game, operates co-first team with fourth-year junior Ty Storey of Charleston, a career reserve but taking the first snap Saturday.
Morris explained planning to start the scrimmage on seniority but added, "I will say Ty works his ever-loving butt off. He's always in the film room. He's in the indoor on his own, going through his reads, going through his progressions. It's fun to watch the battle right now. They're taking advantage of the opportunity they've been given."
Storey, Kelley and all the QBs, including redshirt scholarship freshman Daulton Hyatt and walk-ons Austin Aune, Jack Lindsey and Connor Proctor, are "consistently inconsistent" at this stage, Morris said.
That didn't seem to surprise the coach, considering the schemes. Morris said all the QBs "did some good things."
Statistically, Kelley completed 10 of 13 passes for 137 yards and four touchdowns, while Storey completed eight of 13 for 122 yards and a TD. Proctor threw an 8-yard TD on his lone pass, and Lindsey completed a 35-yarder to Tobias Enlow on his lone pass.

Aune completed three of 27 for 38 yards, and Hyatt two of six for 17 yards.
Walk-on junior college transfer wideout Tyson Morris led receivers with two catches for 60 yards and a TD, but Morris brushed him got with the inconsistent tag he applied to the QBs though none of the QBs threw an interception. The offense did not fumble.
"Tyson Morris did a couple of good things early, made a couple of guys miss, caught a ball in traffic," Morris said. "But he needs to finish through the goal line. He let up early, and that's not what we're about. He'll continue to get better on it. Tobias Enlow did some good things, but he got tired. We've got to push through that."
Morris praised tight ends Will Gragg, Jeremy Patton and Cheyenne O'Grady for catching a TD each. Sophomore receiver Jarrod Barnes of Cabot also caught a TD during goal-line drills.
Redshirt freshman running back Maleek Williams, eight carries for 72 yards, led all rushers, while sophomore Chase Hayden carried eight times for 68 yards.
Both "ran exceptionally hard," Morris said.
As a combo runner-receiver, junior T.J. Hammonds led with two TDs among his 17 rushing yards and logged 51 yards receiving on four catches. His pass protection, however, drew criticism.
"Nobody's going to play unless they can pass protect and run the football and that goes for everybody," Morris said.
On defense, senior end Randy Ramsey, a sack among his two tackles, netted the most praise. Fourth-junior reserve end Jamario Bell delivered a scrimmage-leading three sacks.
Of Ramsey, the new Arkansas defensive coordinator John Chavis said Bell "is a natural. He has a chance to be special."
Ramsey bounced around at linebacker and situational end in previous Arkansas schemes, but will man an end slot with this staff.
"Randy Ramsey has found a home," Morris said. "There's no doubt about that. This guy is freaky athletic. He needs to write Coach Chavis a thank you note for what he's doing right there because this guy is doing some really good things. He's extremely difficult to block as he comes off that edge. You know Sosa (Agim, the junior defensive end from Hope with a sack Saturday) is another one with his motor always full throttle."
Morris volunteered praise for Bell: "Jamario Bell, think he had a strip sack, scoop and score or whatever it might've been. He keeps showing up, and it's good to see."
CURRENT UA DEPTH CHART
OFFENSE
QB: Ty Storey OR Cole Kelley, Daulton Hyatt
RB: Devwah Whaley, Maleek Williams, Chase Hayden
TE: Jeremy Patton, Austin Cantrell, CJ O'Grady
WR: Jonathan Nance, Tyson Morris, Michael Woods
WR: La'Michael Pettway, Brandon Martin, Jordan Jones
WR: De'Vion Warren, Deon Stewart, Gary Cross
LT: Colton Jackson, Shane Clenin
LG: Hjalte Froholdt, Kirby Adcock
C: Dylan Hays, Ty Clary, Audry Horn
RG: Jalen Merrick OR Johnny Gibson
RT: Brian Wallace, Tyler Hall
DEFENSE
DE: McTelvin Agim, Michael Taylor II, David Porter
NG: Jonathan Marshall, Armon Watts, Deion Malone
DT: T.J. Smith, Jake Hall, Isaiah Nichols
DE: Randy Ramsey, Gabe Richardson, Jamario Bell
WLB: Dre Greenlaw, Dee Walker, Alexy Jean-Baptiste
MLB: De'Jon Harris, Grant Morgan, Bumper Pool
SLB: Derrick Munson, D'Vone McClure, Deon Edwards
CB: Ryan Pulley, Britto Tutt, Byron Keaton
CB: Chevin Calloway, Nate Dalton, Jordon Curtis
FS: Santos Ramirez, Montaric Brown, Ryder Lucas
SS: Kamren Curl, Micahh Smith, Jayden Menchew