Hogs: Greenlaw likes his new LB coach; notes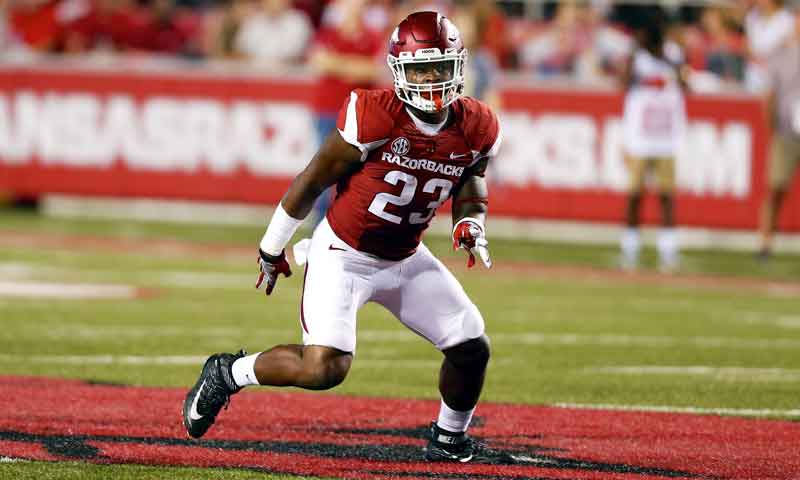 FAYETTEVILLE - Arkansas sophomore Kamren Curl runs first-team safety this spring after starting 11 games last year at cornerback for then injured Ryan Pulley.
Following Tuesday's practice, senior Santos Ramirez, last year's strong safety, said he's moved to free safety, while Curl of Muskogee, Okla., brings his 6-2, 188-pound body to strong safety.
"So far Kam has really learned that position very fast," Ramirez said. "He's a very coachable kid. I feel like Kam is a natural safety. He has nice size and nice strength to him, and he is adjusting to it very well. I'm amazed with what Kam is doing with it so far."
Ramirez cautioned that any defensive back switching positions has to be focused on his responsibilities.
"For Kam the main thing right now is to make sure his eyes are in the right place," Ramirez said. "When Kam can get his eyes in the right place, Kam can be a shutdown safety. He's not afraid to put his nose in that box and make plays. Like I told him, he gets his eyes a little better … then he's going to be good to go there."
Ramirez played free and strong safeties in schemes under former Arkansas head coach Bret Bielema and former defensive coordinators Robb Smith and Paul Rhoads.
Under new head coach Chad Morris and defensive coordinator John Chavis, Ramirez has worked this spring strictly at free safety.
Smith coordinated a 4-3 defense, and Rhoads a 3-4. Chavis operates a 4-3 with more blitzing than his predecessors, Ramirez said.
"We're going to apply way more pressure with Coach Chavis out there," Ramirez said. "He has a very aggressive mindset, and I love the mentality he brings to our defense. He lets us go out there and compete and play at the highest level possible. You make a mistake and he just goes out there and lets you experience those mistakes and learn from them, and that's the main thing you can get as a player. "
CALLOW A FIRST-TEAMER   
Sophomore Chevin Calloway has promoted to the first-team corner spot vacated by Curl. Senior Nate Dalton, the No. 2 corner behind Calloway, intercepted a pass during Tuesday's live contact portion of practice, senior linebacker Dre Greenlaw said.
GREENLAW LIKES POSITION COACH
Greenlaw, also a veteran of Bielema, Robb Smith and Rhoads, says he's enjoying having a coordinator who is also be his linebacker coach. Rhoads coached the secondary the past two years, and Smith's background was secondary oriented.
"Just having a defensive coordinator as a linebackers coach, it really helps," Greenlaw said. "It helps you understand the defense more and any kind of questions we have concerning defense this season we can just go talk to him and he'll have a lot of answers. This is my third defensive coordinator, but I think it's an advantage to have him as my actual position coach."
QBs WILL GET HIT
Although the quarterbacks wear black jerseys denoting they should not be hit, Morris said there will be situations in Saturday's scrimmage where they can be "thudded," though not tackled to the ground.
Bring on the contact, exclaims Cole Kelley (6-7, 263), the third-year sophomore running first-team as the only QB with starting game experience.
"I love getting hit, honestly," Kelley said, noting his first significant playing time last season came when Bielema installed the "Steamboat" package using Kelley's size as a goal-line and short-yardage runner. "That's how I started playing on this football team was just running the ball in between the tackles and stuff. I've always loved running the ball and getting hit. I feel like I get soft in practice when we can't get hit. I LOVED the Steamboat. I loved that package so much."
Has this staff floated a "Steamboat" plan by him?
"No," Kelley said.  "I'm just trying to focus on being No. 1 now, trying to battle and win the job."
STOREY COMPETING, TOO
Fourth-year junior Ty Storey of Charleston has taken some first-team reps. Storey closed last Saturday's live period throwing a touchdown pass to January enrolled freshman receiver Michael Woods.
"It was a blast, just being able to get out there, back with the team," Storey said of last Saturday. "It's been a while since we could really roll through that. Obviously, Mike Woods made a great catch and scored. So it was good."
Both Kelley and Storey maintain they've stayed close friends even as they battled to be Austin Allen's backup last year and battle for the starting job now.
"I've always liked Cole. We're pretty big good buds," Storey said.