Hogs: Morris puts hammer down in 1st practice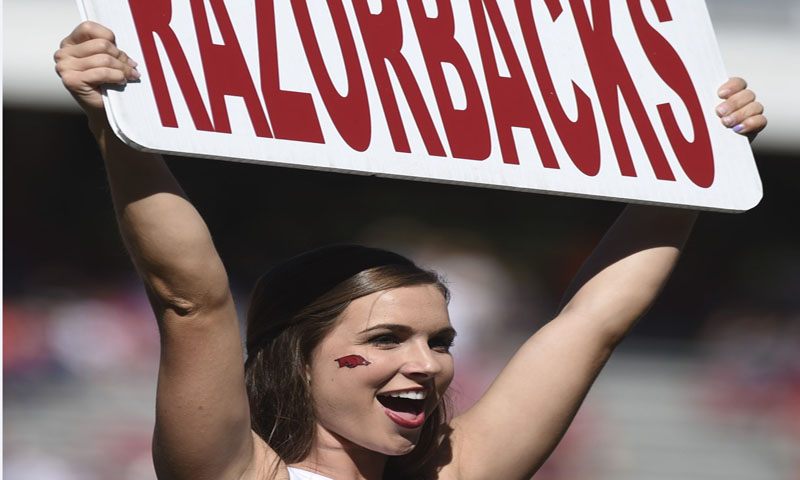 FAYETTEVILLE - On Arkansas's first spring practice under new head coach Chad Morris and defensive coordinator John Chavis, 2017 senior and team captain Kevin Richardson practiced with the Razorbacks and at a variety of positions.
Richardson and the former coaching staff thought he played his last college game when the Razorbacks lost the 2017 finale to visiting Missouri.
And Richardson practicing Thursday does not mean he's certified eligible for the 2018 season, yet.
"No, not fully," Morris said. "But he's been cleared to practice. And so he's got to go through, I guess, a meeting that's coming up. But he's been cleared to practice."
In addition to redshirting as a freshman walk-on in 2013, Richardson missed the entire 2016 season after tearing pectoral muscles during the season opener.
On the basis of Richardson missing two seasons in five years, the UA is petitioning the NCAA and SEC for a sixth season and has him practicing this spring.
Richardson will work at outside linebacker and safety in Chavis' 4-3 scheme, Morris said, "and coach's nickel-sam position."
The return of Richardson, with three lettering seasons advancing from walk-on to on scholarship and then senior captain, would be a huge plus for the Razorbacks on and off the field in 2018.

FULL PADS SATURDAY
Thursday's first of 15 spring practices was NCAA mandated to be non-contact in shorts.
The Razorbacks, off Friday, will be in full pads Saturday.
"There will be what we call a 50/50 day," Morris said. "Half the practice we could go live, the other half would be a non-live practice, a 'thud' practice. That's when we say keep them off the ground. And periods will vary. It won't be like the first half is live. We may have period one live, and then we may not go live again until period 12.
"I'm anticipating probably about 20 minutes, about five maybe four or five periods of live work Saturday just to see them in some live situations."

A WORKING DRONE
Drones hovered above practice Thursday. Morris explained he used drones as part of practice filming while he was offensive coordinator at Clemson and then head coach at SMU.
"It's always been a great teaching tool for us," Morris said. "So we'll do a whole lot of video study with our drone film. There's different level that we will fly it out. Some will fly at about eight, nine feet high to where it kind of gives exactly what the quarterback is looking at. Other times we fly it extremely high because, especially in special teams, we want to get a great top down look and it moves with the ball. It's a great video teaching tool."

FAST-PACED PRACTICE
The sped-up practice pace of Morris' Hurry-Up, No Huddle offense is a novelty at Arkansas, and Morris had to adjust for awhile Thursday.
"We slowed down a little bit there to kind of get them lined up and going from drill to drill" Morris said. "We had to stop a few things and kind of say, 'No, this is the way we do it.' But for the most part we went through all our periods. Some of the periods were a little bit longer than what I wanted to. But I knew Practice One would."
Morris said those on the staff who he didn't bring with him from SMU acknowledged the pace was new to them, too.
"I definitely think our coaches, especially those who haven't been with me in the past, they were just as awestruck by the pace of practice as the players were," Morris said. "And that's OK. As a matter of fact, I had a couple of them say, 'Man, I got plenty of exercise in practice running around here. So great energy. I was really proud of our players the way they responded to the first day."

CAPPS AND GUIDRY OUT
Because of injuries, defensive tackle Austin Capps and end Briston Guidry are not practicing at the spring drills' outset.