Hogs: Bielema names D line coach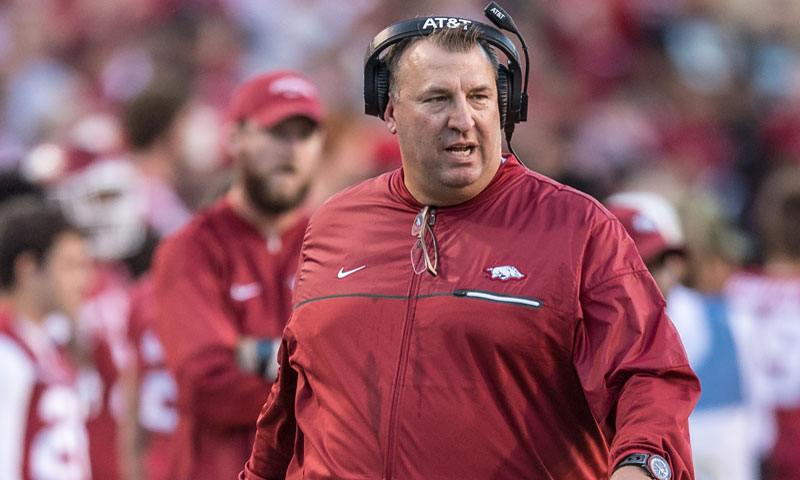 FAYETTEVILLE - Arkansas coach Bret Bielema said he was talking to NFL assistant coaches as possibilities for his two defensive staff opening and Tuesday he hired one.

Bielema has named John Scott Jr., the New York Jets' assistant defensive line coach, as the Razorbacks defensive line coach.

Scott succeeds Rory Segrest, who was not retained after three seasons coaching the Razorbacks' defensive line.

Since Paul Rhoads, elevated to defensive coordinator but continuing to coach the secondary, Bielema has one vacancy to fill since former defensive coordinator Robb Smith departed last month for the same position at Minnesota.

Since Bielema is switching Arkansas' base defense from a 4-3 to a 3-4, he likely will hire another linebacker coach to divvy inside and outside linebacker responsibilities with returning coach Vernon Hargreaves.

The Jets operate a 3-4 defense with tackle Muhammed Wilkerson earning All-Pro honors as did cornerback Darrelle Reavis, an alum of the University of Pittsburgh when Rhoads was Pitt's defensive coordinator.

"I'm grateful for the opportunity to be part of coach Bielema's staff and begin working hand-in-hand with coach Paul Rhoads and the rest of the staff on making this a great defense," Scott said. "I've been fortunate to have worked with Todd Bowles and Kacy Rodgers (a former Arkansas defensive line coach under Houston Nutt) the last two years to enhance my knowledge and develop players in the 3-4 scheme. Over half of my coaching career has been teaching the 3-4 scheme and I'm excited to implement the knowledge I've learned in the pro and college ranks at Arkansas. I'm looking forward to being part of something great at the University of Arkansas and I'm excited to work with the defensive lineman and rest of the players."

Bielema said Scott's 3-4 experience was significant.

"With our transition to the 3-4 scheme, John was a candidate that I came across early in the process," Bielema said via the press release. "After his interview and further research on his familiarity with the 3-4, he rose to the top and will be a great addition to our defensive staff."

Scott graduated in 2000 as a four-year letterman and All-Southern Conference defensive lineman at Western Carolina.
Scott played three years of Arena League football during which he coached high school ball in the fall.

Scott has coached defensive lines at Western Carolina, Norfolk State, Louisiana-Lafayette (where he earned masters degree in education), Georgia Southern and Texas Tech and coached outside linebackers at Missouri State before joining the Jets in quality control in 2015 and promoting in 2016 to assistant defensive line coach.