Signing Day: Hogs beat Ole Miss, Texas for top defenders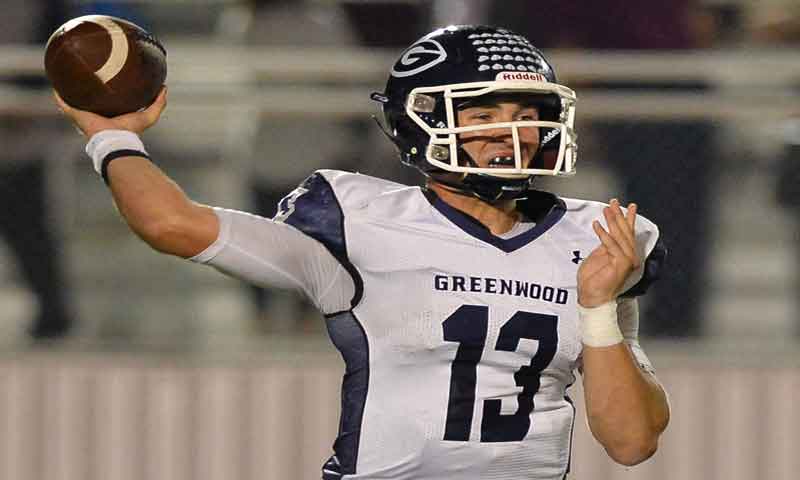 FAYETTEVILLE

-

Coach Chad Morris says

the eight players Arkansas added Wednesday to go with the eight who inked in the early signing period would be a recruiting class he wanted, even if he'd had more time

.



"These 16 guys right here are valuable to the success of our program moving forward." Morris says. "When we reflect on this class over the next two to three years, I think you'll realize their impact. I'm excited. I would take these guys all day."

On the job just 61 days, Morris managed to ink two top defenders on Wednesday. Defensive back Joseph Foucha of McDonogh High School in New Orleans went to the recruiting wire between Arkansas and Ole Miss. Linebacker Andrew Parker, of Sophie B. Wright High School in New Orleans came down to the final day between Arkansas and Texas.

There were six never wavering commitments, including

Jonesboro offensive lineman

Noah Gatlin,

Dallas Highland Park quarterback

John Stephen Jones

, Trussville, Ala.,

defensive back Myles Mason,

Memphis Christian Brothers High School

offensive lineman Ryan Winkel,

, Owasso, Okla.

, defensive linemen Courtre' Alexander and junior college running back Rakeem Boyd, a Stratford, Texas, native who will transfer this summer from Independence (Kan.) Community College.

Morris had been at Arkansas just 14 days and was still putting together a staff on Dec. 20 when signed four in-state recruits, Springdale DL Isaiah Nichols, Greenwood QB Connor Noland, Ashdown DB Ladarius Bishop and Fordyce DL Billy Ferrell and from Texas offensive lineman Silas Robinson, Yoakum; linebacker Bumper Pool, Lucas, and receiver Michael Woods, Magnolia, Texas; and on Dec. 22 defensive lineman Nick Fulwider, Tyrone, Ga.



SIGNING DAY COUPS


Getting linebacker Parker, who committed to Arkansas but got such a strong push from Texas that it was speculated he might flip on signing day, was a Wednesday recruiting coup.

"Andrew was a sought after young man," Arkansas recruiting coordinator/cornerbacks coach Mark Smith says. "Those are the kind of guys we want to recruit, those who have an interest from a lot of different schools. At the end of the day he had a comfort level about us and our staff and being here and so did his family."

Foucha, who had not committed during the courtship by Arkansas and Ole Miss, was a coup to go with Mason in the secondary.

"To get Joe was critical," Morris said. "And Myles, that guy leaves a mark when he gets there. I anticipate both of these young being able to come in here and make an immediate contribution."

Mason played for (Birmingham)

Hewitt-Trussville

coach Josh Floyd, the former state championship coach and state championship QB at Shiloh Christian in Springdale. "He really likes (defensive coordinator John) Chavis," Floyd says.

NO STARS, NO PROBLEM
Morris chose only to sign 16 but says: "We're not done yet. We'll potentially have a few more," and because lone 4-star recruits Noland and Pool were signed in December, the Razorbacks Wednesday didn't create a national or even SEC high rankings.

Recruiting services consistently ranked Arkansas' recruiting 14th among the SEC's 14 teams.

Morris maintained he's unfazed whether his recruiting ranks high or low with the recruiting services and those putting the number of recruiting stars by which they rate prospects.

"Zero," Morris replied to a question if he relied on number of recruiting stars associated with a recruit. "Absolutely none. I don't care what other people think of other programs. I care about our program. What excites me is the fact that what we can do as we build this program up. Are we a better football program right now than we were 61 days ago? And the answer to that is yes. And that's the only thing that matters to me is, 'Are we going to get better today?' And we are. We signed eight guys that are going to make a contribution to this football program added to the eight in December and those 16 guys are going to come in and they're going to make people uncomfortable." They're going to push people that maybe have gotten comfortable on this roster. When you get that, you've created some competition."



QBs AND RBs


Boyd (6-0, 200), Arkansas only junior college signee, has three seasons eligibility, transferring to Independence Community College after redshirting his freshman year at Texas A&M. Morris called Boyd "a dynamic" addition to a running backs stable returning Devwah Whaley, Chase Hayden and T.J. Hammonds.

Jones, the son of former Razorback and Dallas Cowboys executive Stephen Jones and grandson of Jerry Jones, the  Dallas Cowboys owner and offensive guard for Frank Broyles' 1964 national champion Razorbacks, stands only 5-11. But Jones loomed large to Morris after quarterbacking Highland Park to consecutive Texas state high school championship and completing 37 of 58 passes for a Texas state championship game record 564 yards with four touchdowns.

"The thing that really intrigued me about John Stephen is the guy is a winner," Morris, who coached high schools in Texas for 16 years, said. "When you are playing in that league and at that level and you put the numbers up that you put up and you are able not just to compete but to win back-to-back state championships, that says enough."

Adding Jones and Noland gives Arkansas five scholarship QBs returning junior Ty Storey of Charleston, sophomore Cole Kelley, backing up graduated 2017 senior starter Austin Allen, and redshirted freshman Daulton Hyatt and adding walk-on Austin Aune, a former baseball player in the New York Yankees organization, to walk-ons Jack Lindsey and Connor Proctor.



MORE LINEMEN NEEDED


Morris touted  the offensive line potential of Gatlin and Winkel with Robinson and even with them said the linemen numbers must increase offensively and defensively even with Alexander added to Nichols, Ferrell and Fulwider.

"We signed some big offensive linemen and I'm excited about them," Morris said. "Defensively we were able to sign four linemen and we're hoping to get a couple of more. We need depth in the D-line to be successful, to build that defense back up."



ARKANSAS FEB. 7 SIGNEES


1. Rakeem Boyd RB  6-0, 200 Independence  (Kan.) CC
2. John Stephen Jones QB 5-11 185 Dallas Highland Park
3. Myles Mason  DB  6-2, 205  Trussville, Ala.
4. Courtre' Alexander  DL  6-5, 260   Owasso, Okla.
5. Ryan Winkel  OL  6-6, 286  Memphis Christian Brothers
6. Noah Gatlin  OL  6-7, 300 Jonesboro
7.Andrew Parker LB  6-2, 225, New Orleans Sophie B. Wright
8. Joseph Foucha DB 5-11, 190 New Orleans McDonogh



DECEMBER SIGNEES


1. Isaiah Nichols    OL 6-4, 275 Springdale
2. Connor Noland   QB 6-3, 205 Greenwood
3. Ladarrius Bishop DB 6-0, 189 Ashdown
4. Billy Ferrell          DL   6-3, 331 Fordyce
5. Michael Woods  WR  6-2, 180  Magnolia, Texas
6.  Silas Robinson  OL  6-4, 300  Yoakum, Texas
7. Bumper Pool      LB   6-2  213   Lucas, Texas
8. Nick Fulwider     DL   6-7, 249   Tyrone, Ga.